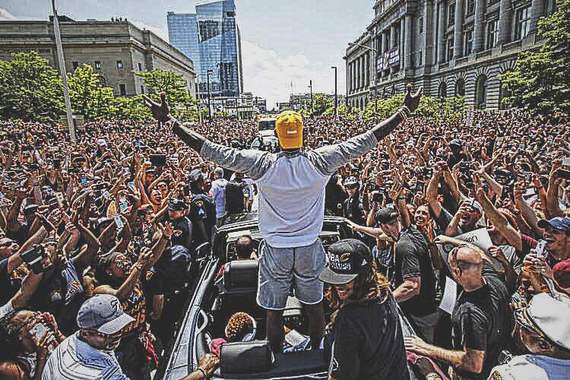 I couldn't let too much more time pass before I gave my thoughts on the NBA Finals.
Everyone and their mom (unless you're a LeBron James or Cleveland Cavaliers fan or one of those people who live for "I told you so" moments) figured the city of Cleveland was about to endure yet another year without a championship team. The sound defensive play of the Cavs to compliment their outstanding work on the other side of the ball helped them pull off history against the Golden State Warriors.
So here's an obvious nugget for you:
The Golden State Warriors slayed the regular season. We all know this.
They went 73-9, and Steph Curry crossed the 400 3-pointers made in a season threshold while winning his second straight MVP award. Klay Thompson quietly dropped 276 3s of his own, good for 3rd all-time in a season. They were an offensive juggernaut with a stifling defense. It was just a season of out of this world play. This was the dream season of all dream seasons for a record-breaking, well-oiled machine that is the Warriors. Turns out that the allure of ending yet another championship drought in professional sports was too much to overcome. All hell broke loose after Game 4. Was this a classic example of karma? Maybe, or maybe I'm reaching.
The same Warriors that lived by the three, indeed died by the three. It served as a necessary evil. It bit them in the butt. The Splash Brothers, who make the most "no don't shoot that!" shots were nowhere to be found in the latter stages of Game 7 in particular. You know, the game of all games. Coupled by Curry's bonehead behind-the-back pass to Thompson in the corner, which went out of bounds in the critical moments of the game, and his 1-for-6 fourth quarter, the Warriors didn't adjust. You would think they would try to get the ball inside and utilize a fundamental inside-out approach, but they didn't. They've never had to. I guess those aren't the types of adjustments you make on the fly, especially if the three has proven to get the Warriors out of trouble even when it's what got them there. Scoring the three opened up the lane for guys like Livingston and Barbosa the slasher. Not in Game 7. The Cavs didn't respect the Warriors inside personnel, but who are the Warriors threatening with the NBA's best actor in Anderson Varejao and ol' clumsy Bambi, I mean Festus Ezeli?
Maybe it was a consequence of being shook. I know, I know. "How could you call the greatest shooter and his sniper of a teammate shook?" Think about it. The pressure of losing three straight games in the NBA Finals and finally being on the losing side of history is honestly a legit explanation for the aforementioned sharpshooters' missing of open jumpers and other shots they'd been making in their sleep for the past two seasons. Maybe they truly didn't respect the Cavaliers after Game 4, expecting LeBron James to just lay down when his legacy too was on the line. This series wasn't a formality and history is fun and inevitable. Ask J.R. Smith how he has enjoyed the fun side of making history.
It was important that everyone outside of LeBron James did what Tristan Thompson mentioned: being a "star in your role". As great as LeBron James is, had any of his cast of goons gone missing, the Warriors probably close the Cavs out with the "gentlemen's sweep" in Game 5. But the work on the boards done by Thompson, the key shots made by J.R. "No Shirt" Smith, who by the way ignited the Cavs' second half with back-to-back threes to begin the third and the bucket after bucket. . .after bucket getting effort by Kyrie Irving. Kevin Love also made the most of the opportunities he was given. He stayed on the boards, got to the line and not to mention, he arguably made the most important play of the game by locking up Steph Curry when he needed to be clamped up the most. He also kept his mouth shut and played through the criticism and write-offs he constantly received every time he did something ineffective.
All of the above proved to be just what James needed to join the elite three-ring club.
Draymond Green and his "give two-f@#%s" attitude produced 13 triple doubles throughout the season. Green showed up and showed out in Game 7 as an honorary Splash Brother, pacing the Warriors with a monstrous 32 points 15 rebounds and 9 assists including 6 triples. He was his usual self. He flexed on a beautiful "and 1", and continued to talk his trash, which was unjustifiable in Games 3, 4 and 6 while he was a literal no-show in Game 5 due to his suspension. That same hardcore attitude exhibited by Green throughout the season probably cost the Warriors a Game 5 win with his actions in Game 4. That reckless emotion turned recklessness put Kerr and his team in a bind. The Warriors, who were already without starting center Andrew Bogut were forced to overplay non-impactful roster fillers in James McAdoo and Festus Ezeli in Green and Bogut's absence, playing one too many minutes in a game not built for their inconvenience: Game 7. Ezeli in particular was lulled to sleep by LeBron on one key possession that ended up in Ezeli fouling James on the 3-point line, a moment where the Warriors were up 4. As great as LeBron is, I'll live with him taking threes, especially those pull-up dead in your mouth, disrespectful threes, á la Steph Curry. Instead James made all three freebies, cutting the crucial lead down to one. The Warriors would score two more points after that to the Cavs' 7. What a game-changer Personally, I would have liked to see more of Mo Speights, at least he can put the ball in the bucket from many places on the court, including from 3. The Warriors have yet to prove they could win without Green (0-3 without him).
While the Cavs can go off from three themselves, they smartly voted against getting into a shootout with the Warriors, a battle you just won't win. Instead, Cleveland succeeded at scoring inside in Game 7. They succeeded at drawing fouls on the Warriors thin front line. You could say the Warriors were exposed, to a certain extent, leaving them an area to improve upon: MAKE TEAMS RESPECT YOUR INSIDE GAME FOR THE NIGHTS THAT THE SHOTS AREN'T FALLING. Curry and Thompson limited themselves. There aren't too many people in the league capable of keeping Curry in particular out of the painted area, a range where he can finish among the trees and also get to the line. He did neither. He and Thompson combined to take a single free throw in Game 7. Not a recipe for success. It wasn't like the Warriors needed some skilled center to dump the ball down to, they just needed to find a way to put more pressure on the defense and getting into the lane and drawing fouls would have been my chosen alternative on a night where even Harrison Barnes' 3-for-10 performance didn't seem too bad. As a result, the Cavaliers outscored the Warriors 40 to 22 in the paint.
A lot of respect has to be given to a great defensive effort by "All the King's Men". Sure, LeBron and Co. may have gotten away with things they may have not gotten away with in the regular season like holding the Warriors shooters on off-ball screens, but it threw them off of their rhythm. I feel them. I'm not just going to let Steph Curry continue to come off screens clean either, that's a recipe for 40 from the Chef. Did we forget Klay Thompson dropping 37 in a quarter? Applause to the Cavs for playing until the whistle.
This article would be incomplete without dedicating a few lines to Harrison Barnes' horrible play and the death of Harrison Barnes' possible max contract. I don't even want to entertain the thought of Barnes reaching the 15mil or more plateau. It was disheartening to see Barnes basically point shave for the last three games. Five for Thirty-Two? In the NBA Finals?
Harrison Barnes had one job: hit open jumpers. It was clear that once Barnes missed enough jumpers, it was no point in guarding him. Barnes became the epitome of letting that one kid playing pick-up basketball that your eyes light up for when he makes one shot because, well, nobody expects him to. Literally. It was as if Barnes was playing for the Cavs.
Do the Warriors boot Barnes? I think yes. I could see the Warriors convincing Kevin Durant to take his talents to the Bay. If not, there's other Harrison Barnes upgrades out there. The thought of every free agent you and I would both judge as upgrades to Barnes turns down a chance to play with Steph Curry and Co. is far-fetched. He's a desperation signing for the Warriors. That's just me.
Did the Cavs find the kryptonite? I'm not about to get into that debate, that's for another time. It wasn't like the previous six games, which were all decided by double digits, this one was a bit ugly by these teams' standards. Most Game 7s are. What they did was put in tons of more effort and did a much better job of paying attention to detail. What they did was show up when it mattered most.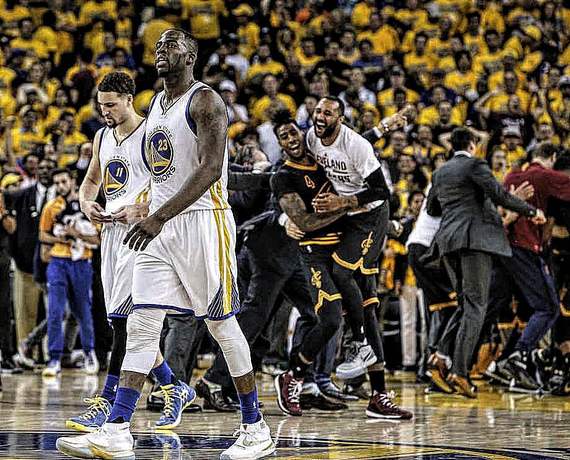 Get ready for an exciting offseason, outlandish contracts and all.
REAL LIFE. REAL NEWS. REAL VOICES.
Help us tell more of the stories that matter from voices that too often remain unheard.