Everyone's abuzz talking about the disastrous Fyre Festival. At this celebrity endorsed festival, attendees were promised (by organizers Billy McFarland and Ja Rule) a luxurious once in a lifetime live music experience with celebrities, models, five star food and accommodations on the beach of a private island that supposedly Pablo Escobar owned in the Bahamas. So cool right?!?
When attendees arrived on the island, much to their dismay they didn't find anything resembling a festival, but instead found themselves standing in an empty gravel pit with a lot of disappointed, lost and confused people. Pretty much the opposite of what they were expecting. Curiously watching from home as the whole situation went down, I found a V-log of an attendee and his friends' experiences where they declared multiple times that it was the WORST 24 hours of their lives while partying, laughing, sleeping, and enjoying some modern conveniences. I heard rumors of people getting robbed and attacked at the festival (that was not the case for this particular V-logger) and for those people the experience was justified as being one of the worst. As for the people in the video? Not so much. Here's an account of what happened:
The V-logger and his friends were extremely excited and anxious to get the party started. Their plans were quickly dampened because shortly after arriving to the airport, they found out that their original flight was delayed by four hours.
When they arrived and they found out the luxurious villa they paid for didn't exist, they were given a tent instead and then later on other people occupied it leaving them homeless for a couple of hours.
Their luggage went missing.
Yes. They were given the run around and didn't know what was going on for a little while.
Things were so bad that they decided to take matters into their own hands, leave the festival and go home. It wasn't as simple as that. They had to sit on a plane with water and air conditioning for hours and even had to get off and re-board a couple of times.
I really do get that all of those things totally sucked. BUT I have to say if those were the WORST 24 hours of their lives, things are going pretty well for them.
I have compassion for these attendees of Fyre because as an avid music festival goer myself, I understand when the experience is different than expected. High ticket prices paired with all the saving and planning it takes to attend an event like that adds even more fuel to the fire when things don't go right.
For example, I waited over 48 hours in traffic on the side of a highway where there were no bathrooms in sight to get into a festival. When I got there, my campsite was miles from the concert field and I was in mud up to my thighs. Those weren't the worst 24 (x2) hours of my life.
Arriving at a festival in the pouring rain, there was a shuttle that would take us to the festival grounds. They didn't plan for enough shuttles so the line was hundreds deep. Instead of waiting in the rain and complaining about it being the worst, we went back to my friend's van, played games and made new memories. Those weren't the worst 24 hours of my life.
While my husband and I were setting up our tent at a festival in the dark (because it had taken so many hours to get in), we realized there were red ant hills everywhere. Every time we left or got in our tent, no matter which route we took, those pesky ants found us, bit us and caused us a lot of pain. Those weren't the worst 24 hours of my life.
After days of cold rain at a festival, a stream decided that my tent was a great place for it to run through. Already shivering from the cold, I simply moved over and continued to try to sleep. At that same festival, most of the bands got cancelled because of lightening. Those weren't the worst 24 hours of my life either.
What I experienced had all the makings of a super sucky time, but even though I complained and whined a little bit, I never declared them the worst times of my life. If I did, I would have to check myself. Finding out that a loved one has a terminal disease or passed away tragically are valid reasons for having a horrible 24 hours. Being inconvenienced and out a little (or even a lot of cash) isn't the same thing. Not even close.
I mean, how lucky am I and these particular Fyre attendees? We had the means to go to a music festival in the first place. And we didn't have to be there. We chose to be there. We had water. We had food. We had friends (I know this wasn't the case for everyone who attended Fyre and I'm not talking about them). Anything that got ruined by the rain, got lost or was stolen, we had the money to replace them. When it was all over, we could all return home where a hot shower, a warm meal and a comfortable bed was waiting for us. For me, some of those experiences turned into some of the best of my life because I chose to be grateful for what I have and to dance in the rain!!!
I don't know any of the people in that V-log personally, but I'm thinking that maybe with the little taste they got of how so many people live on a daily basis, that maybe, just maybe, they'll see just how lucky they are and feel grateful for it. Or maybe not. Or maybe they already do.
Taraleigh is a weird and wild sequin-and-feather wearin' live music fanatic living in Burlington, Vermont. When she's not at home practicing yoga, enjoying the local live music scene, watching sunsets or hanging out with her hubster or her friends, she can be found galavanting around the world leading retreats for live music fans with a healthy twist, presenting talks and workshops, writing or dancing at music festivals. Life wasn't always this magical. It's given her some majorly sour lemons that kicked the sparkles out of her and caused her to fall from her unicorn onto her sweet ass. But she got up, dusted herself off and started to realize that good times don't have to end when the festival does. Her newest book The Sweet Ass Self-Help Book: An unconventional guide to taking life's sh*t and turning it into sparkles is slated for release this fall.
Find out more about all of that and get some sparkles, smoothies & rock-n-roll from Taraleigh >>> HERE.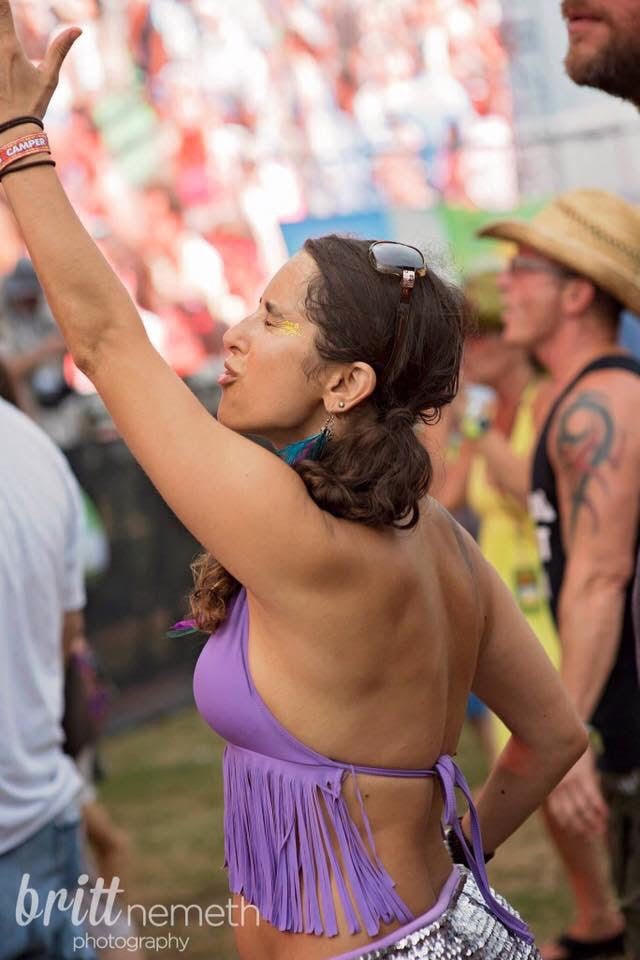 Calling all HuffPost superfans!
Sign up for membership to become a founding member and help shape HuffPost's next chapter