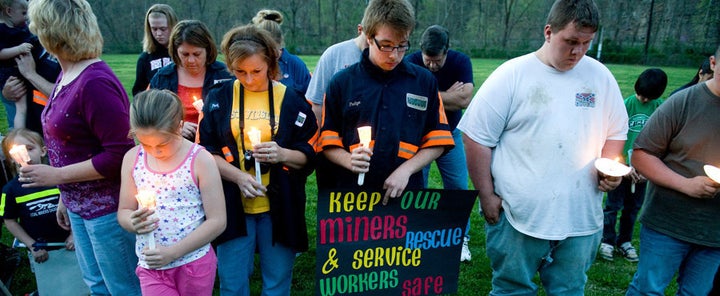 Back in January, three months before the massive explosion that killed 29 miners at a Massey Energy mine in West Virginia, a federal mine safety inspector got an up-close look at both the mine's flawed ventilation system -- and Massey's cavalier approach to a potentially deadly problem.
The inspector found that the Upper Big Branch Mine's airflow -- key to keeping deadly gases and coal dust from rising to explosive levels -- was going in the wrong direction. And everyone had simply been told not to worry about it.
The mine foreman asked the superintendent "and he was told not to worry about it," the inspector wrote in his official notebook.
Miners, who the inspector pulled aside to talk to privately, "informed me that they questioned management about this condition and they were told it was fine, not to worry about it."
The Charleston Gazette's award-winning mining beat reporter Ken Ward Jr. first reported about the inspector's notes late Tuesday, describing them as being among a "dribble" of documents that the Mine Safety and Health Administration (MSHA, pronounced em-sha) is finally releasing to the public "as federal and state officials begin a long and complex effort to figure out what caused the worst U.S. coal-mining disaster in 40 years."
The violation the inspector described in his notes was fixed later that same day; the company was cited for "unwarrantable failure" to follow safety rules and fined a hefty $70,000.
But the inspector's notes -- a particularly valuable source of information that the government used to routinely make available on request -- weren't released to members of the public or to journalists until more than a week after the mine exploded.
If those notes had been available, journalists like Ken Ward or Ellen Smith (the managing editor of Mine Safety and Health News) or someone else just might have brought some much-needed attention to Massey's evidently casual attitude toward such a life-threatening issue. And maybe a disaster would have been averted.
"This is life and death stuff," said Steven Aftergood, a secrecy specialist at the Federation of American Scientists. "And by withholding this information from the public domain, the government's capacity to spur corrective action was blocked."
MSHA had been a paragon of disclosure until the Bush administration dropped a gigantic veil of secrecy across all government agencies in the wake of the 9/11 terrorist attacks. Suddenly, MSHA wouldn't release even basic information about inspections and investigations. And despite promises of transparency by the Obama White House, the agency is still evidently operating by Bush disclosure rules.
President Obama has called MSHA Director Joe Main and Main's boss, Labor Secretary Hilda Solis, to the White House on Thursday. Main and Solis will make a preliminary report to the president about the cause of the Upper Big Branch explosion and, presumably, MSHA's failure to prevent it.
One thing they could do right there is announce an immediate MSHA-wide rollback to the status quo ante Bush when it comes to freedom of information -- in practice, not just in theory.
The Obama administration, Aftergood told HuffPost, "is making an effort to change the culture of secrecy that prevailed at many agencies, and I believe they're sincere about it. But there is obviously a long way to go. And it's not going to happen spontaneously.
"Everyone needs to learn from experience. And what experience is teaching us in this case is that an excess of secrecy is dangerous to the public health."
Patrice McDermott, director of openthegovernment.org, told Huffpost: "The companies are never going to tell the miners or the communities around them what they're doing to strengthen their bottom lines. It's the government that serves as that counterweight for the public, so the government has to be open."
The particular irony when it comes to MSHA is that the agency used to recognize that part of its basic function was public disclosure.
"I always said MSHA was a model of freedom of information," said Ellen Smith, the managing editor of the well-respected Mine Safety and Health News newsletter. "They were the best of the best."
Smith has covered mine safety for 23 years. "We always used to say why can't OSHA be more like MSHA? Why can't the FDA be more like MSHA?"
But during the Bush administration, with the 9/11 attacks either as a reason or a pretext, the executive branch clamped down on the release of all sorts of information. On October 12, 2001, then-attorney general John Ashcroft issued what is now known as the "Ashcroft Memo," instructing agencies to err on the side of non-disclosure.
This was apparently taken quite to heart at MSHA. "They just said, 'we're not going to give you information anymore,'" Smith recalled. "It was a total clampdown of information we could get."
Certain reports that previously had been freely available to the press were only released after formal FOIA requests and months of waiting, while crucial evidence such as inspector's notes and accident investigation interviews weren't released at all.
And it wasn't just the journalists and miner advocates who complained. Even the mining companies were unhappy, because they were being denied information about inspections that historically helped them determine whether they should contest violations.
"Everybody complained. We've all complained," Smith said.
Then everybody just waited for the next administration to turn things around. Smith, for instance, re-filed one of her longstanding Freedom of Information requests "the day that Obama came into office," she said, hoping for a different resolution. No dice.
Smith and others were again hopeful when Joe Main, a longtime United Mine Workers of America safety official, took the reins at MSHA in October. But when Smith had a chance to ask Main about her FOIA requests, Smith recalled, "Joe's answer was, 'Well, there are privacy concerns that I never thought about.' And I'm like: 'I'm sorry. Crap. You drank the Kool Aid.'
"When Joe was working for the UMW, he wasn't saying that. Those are the people who changed the policy giving him a line, and he bought it."
In fact, Smith thinks disclosure has actually gotten worse under Obama. Her latest outrage is that MSHA won't release the names of the dead miners or the preliminary reports on the accident. "Since 1969, it's something that the agency has always done," she said. "We just cannot understand what is going on."
But it's the nonrelease of the inspector's notes -- like the ones that documented Massey's "don't worry" policy -- that bothers Smith the most.
"This is my whole thing; If they would post these notes -- and I asked for this when Obama's people asked for what changes should be made on Web sites and what information should be made public -- what I requested from MSHA was to be able to click on a citation number and get the language that the inspector used to describe the violation," Smith said.
"I think it's important. And if miners want to go home at the end of the day and see what their own mine was cited for, they should -- and that's very important."
On his first full day in office, Obama expressed a full-throated commitment to transparency and specifically directed executive-branch officials to err on the side of making materials public rather than looking for reasons to legally withhold them.
Attorney General Eric Holder formally overturned the Ashcroft Memo in March 2009.
But on the front lines, MSHA doesn't appear to be alone in continuing to operate on an autopilot programmed by the Bushies.
A March Associated Press review of annual Freedom of Information Act reports actually found Team Obama making more excuses to deny fewer requests than in the last year of the Bush administration. "The agencies cited exemptions at least 466,872 times in budget year 2009, compared with 312,683 times the previous year, the review found. Over the same period, the number of information requests declined by about 11 percent, from 493,610 requests in fiscal 2008 to 444,924 in 2009."
Smith has written extensively in her newsletter about MSHA's disclosure problems. (The newsletter is not available online, but Smith has started blogging for the Huffington Post here.)
She wrote in a May 2009 editorial:
The nation may have a new President with grand ideas about the Freedom of Information Act, but let's be clear: at MSHA, nothing regarding the freedom of information, has changed. The same people are obviously still in charge of FOIA. Despite a memo from U.S. Attorney General Eric Holder, MSHA is offering ridiculous redactions and refusing to divulge information which, previous to 2002, was openly shared with the public....

Mine Safety and Health News has several outstanding FOIA requests -- one dating back four years when Labor Dept. employees were given a one-day training seminar on FOIA. A tape was made of the training seminar and in part, we asked for a copy of the video tape. To this date, nothing has been released......

The Mine Act is very clear that information regarding mining and mining conditions is to be made public to help keep miners safe. However, more than safety is involved. There is also the issue of good-will. Access to information leads to trust on all sides. There cannot be wheeling and dealing when all information is public. If a decision is made, then the public has a right to know how the decision was made.
*************************
Popular in the Community