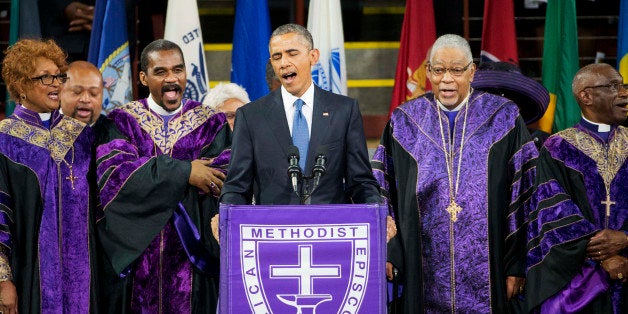 In the wake of the Emanuel AME Church attack, President Obama chose to address this unfathomable spasm of racial terrorism in a eulogy that was passionately attuned to the cadences of the black church. We often turn to religious leaders to understand tragedy. What meaning can we possibly find from this suffering? The killing in Charleston was so tragic that even profound words of regret, much less an array of political solutions, would have seemed inadequate to the painful soul searching of the nation.
So Obama reached for something larger. Presidents do not generally aim for religious transcendence, much less attempt to plumb the purposes of God, but Obama's eulogy was undergirded by another president's difficult grappling with the meaning of overwhelming violence.

Towards the close of our Civil War, President Lincoln gave, in his Second Inaugural address, a stunningly short meditation that mystified his listeners. He could have offered a victory summation that justified his administration's conduct of the war, but Lincoln chose instead to ponder the unexpected shedding of blood for both North and South -- and how God's purposes might be somehow glimpsed in the severity of this conflict. Instead of elevated political discourse, Lincoln instead plunged into the treacherous deep waters of theology, asking how such a massive toll of death could be understood?
The audacious aspect of Obama's eulogy was not his singing 'Amazing Grace,' but his willingness to follow Lincoln into religious mysteries.
In Obama's (appropriately) longer first half section, he reflects on the life of Rev. Clementa Pinckney, and in doing so he is inevitably led to the moment Pinckney's heroic life ended. There Obama faces a fundamental challenge: how to handle the incomprehensible evil that was committed?
Lincoln took his listeners through what caused the war, the deep injustice of slavery, and then confronted the carnage that was so much bloodier than either side could have imagined. It is here that Lincoln made his leap, in proclaiming, "The Almighty has His own purposes." The war could have quickly ended, with little loss of life -- it didn't, and so Lincoln wondered if God willed it to continue "until every drop of blood drawn by the lash shall be paid by another drawn with the sword..." The crimes of slavery were so vast, Lincoln submitted, that only the convulsions of war could somehow mitigate and answer the sin. This was not what his listeners were expecting to hear. It somehow still shocks us today.
President Obama faces the Charleston killings with a leap that equally surprises, as he attempts to fathom what meaning such an act could possibly have. He does not shirk from a task he could so easily have evaded. Obama could have said that none of us can know or possibly understand such things, but instead Obama declares, "Oh, but God works in mysterious ways. God has different ideas." The killer "didn't know he was being used by God." This act has somehow functioned to open our eyes, our moral imagination, to how hatred blinds us. Dylann Roof's apparent racism is more than narrow and stunted; it is radically blind, morally blank.
As the old hymn says, "I once was blind, but now I see." This theme runs through the rest of Obama's eulogy, echoing Lincoln's long ago words to act "as God gives us to see the right."
In Lincoln's time and perspective, God's purpose was the ending of slavery, which both sides were unknowingly being used to accomplish. For Obama, God's strange and unexpected purpose is to shock our moral vision alive again, to show how love and forgiveness can overcome the blindness of our bigotries.
Both presidents humble us and ask that we accept these larger currents moving through us even when we don't fully understand them. But neither absolves us of responsibility to act; neither suggests passiveness in the face of God's will. Both call us towards recognition and reconciliation.

Lincoln invites us to turn from violence to a new moral ground, "With Malice towards none."
Obama turns to grace as the only way he can explain the dignity and forgiveness of the victims' families. In them, Obama sees the magnificent grace of God. He tells us that grace is not earned -- the killer certainly did not earn it from them. We are sinners too -- in lesser ways than Roof but still significant -- yet we are given overpowering grace, unexpectedly, beyond all earthly understanding.
What do we do now with that grace we have been given?
In the midst of terrible circumstances, President Obama reminded us of God's grace. By doing so with the same modesty towards Divine purpose that Lincoln displayed, he transformed his eulogy into the rarest of Presidential orations: a speech that will be remembered as a venture into the mysteries of God. As Frederick Douglass said to Lincoln after hearing his Second Inaugural address, "Mr. President, that was a sacred effort."