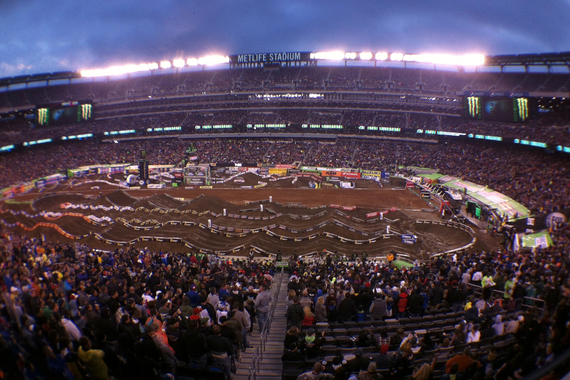 The first Supercross race to take place anywhere in the Northeast in 23 years is now in the record books. The second to last round of the 2014 Monster Energy AMA Supercross Championship went down at MetLife Stadium in East Rutherford, NJ on April 26 and was, without a doubt, a success. Heck they even crowned the 2014 450SX Champ, Ryan Villopoto, at the end of the night. This had nothing to do with the success of the event turnout, but it was still a great way to usher in a new era in Northeastern motocross. The Supercross series and its promoters avoided making stops in the region for so long for various reasons, but one of the major reasons was the weather.
The Northeast United States has some of the least predictable weather in country, as was evidenced by Saturday's race. The temperature fluctuated by 30 degrees, it was rainy, sunny, calm, windy and there was even a lightning storm that forced people to seek shelter (the stadium actually did a PSA telling people to move away from open spaces. I've never heard that before. Thanks New Jersey for looking out...you rock...like the Boss!).
As a NJ native, I have long been a fan and proponent of major motocross events that work their anywhere near my home state. Although I now reside in SoCal, any new MX race taking place in the Tri-State area or New England still hits home for me in a big way.
When I was a kid and first discovered motocross racing, it was extremely rare to see a dirt bike...ever. Finding someone who actually knew about MX was like finding a long lost sibling who was separated at birth and had somehow grown up speaking a different language than anyone else around him. Compare this to all of the SoCal kids who were surrounded by dirt bikes, speaking the same bro-brah lingo, and were more likely to know how to do a kickflip than how to hit a homer. Southern California is the center of the American motocross world (and action sports in general). That market is saturated to a point that if an AMA Pro Motocross National or Supercross round is not at a preferred venue, enthusiasts would choose just to watch the race at home rather than drive 30 minutes to attend in person. Not so back East.
For a very long time, the closest SX race to the Northeast was Indianapolis, and more than a few moto heads would make the five or 10-hour trek just to see their favorite riders in person. Granted, there are several outdoor motocross Nationals in the region, but that number is shrinking (since 2007, rounds in New York, Pennsylvania, and most recently in Massachusetts have been relocated to other states). Supercross, though, has eluded hardcore Northeast fans for far too long. However, it's not the hardcore fans that make an event big and important, it's the larger mainstream audience that determines the success and popularity of any particular happening.
A big turn out for any motocross National is about 30,000, even for the most storied and popular venues. The inaugural MetLife Supercross brought in more than 62,000 fans. SX has an easier to follow format, occurs in a more compressed period of time, has 90-100 percent viewing, and all takes place in the comfort of a stadium with assigned seating (or for the ballers, in heated suites with nom-nom and brew service). Add to this the convenience of not having to hoof it out to East Bumblf*!k, systemized parking, and even direct train access (at least for MetLife Stadium) and you have a form of motorsport that is far more appealing to John Q. Public.
For me and the thousands of other NJ Sand People including the numerous pros to have stepped out the Pine Barrens (Mickey Kessler, Barry Carsten, Joel Dengler, Jim McIlvaine, Jerry Seip, Christ Hunter, Dave Ginolfi, Chris Prenderville, Bryan Wallace, Dakota Kessler...and yes, even Jason Lawrence) this particular race was more like a homecoming and vindication of all the years we've spent living in obscurity as die-hard fans of a sport that we know through and through but the greater public is only just realizing exists.
Nostalgia aside, what happened in the NJSX itself? Well, in 250SX East the points leader heading into the race, Monster Energy/Pro Circuit/Kawasaki's Martin Davalos, hurt himself something awful in the days prior and had to sit out (and could very well be out for much of the year). This effectively handed the reigns over to GEICO Honda up-and-comer, Justin Bogle who took the opening and ran with it, scoring the big win in the 15-lap Main Event. The OK Kid also took over the points lead. With the final round of the season taking place this weekend in Las Vegas, Bogle has a huge cushion over his next closest rival and will likely bring home the fourth East 250SX title in a row for the GEICO crew.
In the Ryan Villopoto class...I mean the 450SX class, the song was just about the same as it has been for the last several rounds. Attrition is the name of the game in the ultra competitive premier class, and there has unfortunately been a lot of it this season. What started out as toss of the dice every weekend, where predicting the top three finishers was a practice in Chaos Theory, has whittled down to two major players: Ryan Villopoto and James Stewart.
The days that Stew is on, he cannot be touched. Period. For three races in a row and five total in 2014 so far, James has been the same rider that brought him so many titles and wins earlier in his career. Not only would he often be the fastest rider on the track, he would also jump rhythm sections that no one else attempted. Unfortunately, when he doesn't clear those sections properly, reality can jump up and bite...hard. As has often been the case throughout his career, Stewart has been his own worst enemy in 2014. Consistency is crucial across the board and also the shortcoming of so many other potential frontrunners as well.
Premier Class rookie, Ken Roczen had his run with the red number plate and even claimed a couple wins along the way, but several bad finishes ruined his chances at a title. The same could be said for Ryan Dungey, Justin Barcia, and even Chad Reed (although he was looking strong before a nasty last lap tumble in the San Diego whoops took him out of the series).
Back to the point...what happened in New Jersey? Ryan Villopoto walked away with his third win in a row and his fourth AMA Supercross Champion number one plate...that's what! Four SX titles in a row is something only the King of Supercross, Jeremy McGrath, had accomplished until last Saturday night. One more round remains, but since the title is all wrapped up for 450SX, all eyes will be on the East and West 250SX title hopefuls this Saturday in Las Vegas at Sam Boyd Stadium.
So, was the New Jersey Supercross a success? Yes, and as long as the weather continues to cooperate, it will continue to be hopefully for years to come. In fact, the date for the 2015 race has already been announced: April 25. Be there! I know I will be.
REAL LIFE. REAL NEWS. REAL VOICES.
Help us tell more of the stories that matter from voices that too often remain unheard.