Social media has been giggling since Louisiana Governor Bobby Jindal made the horrible blunder of inviting questions via the Twitter hashtag #askbobby.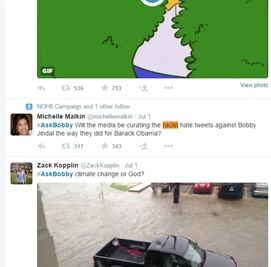 The flames were fanned by young activist Zack Kopplin who has made it his mission in life to fight Jindal's imposition of creationism on Louisiana schools.

The vast majority of the questions were snarky trolling of the governor. It made for entertaining reading, interrupted every few hundreds tweets accusing the "left" or "liberals" of being racist for attacking Jindal. The strange thing was, in the thousands of tweets I read (they were so funny that it was kind of like eating pistachios -- hard to stop until the bag was empty), I didn't see any tweets that were racist.

The only snarky questions that even mentioned his race were from people of color, mainly South Asians, who questioned by Jindal whitewashed his official portrait and won't use his birth name of Piyush. In other words questions why Jindal seemed to want to hide his Indian origins. (Personally, I'll call Mr. Jindal whatever name he wants, the same courtesy I'd afford Caitlyn Jenner.) I don't like my birth name either and tend to introduce myself in social settings with my nickname.
I did not see any serious questions -- anyone trying to interrupt the litany of mockery by asking for real answers. And I also thought this spoke volumes: apparently no one could think of a question to #askbobby that might provoke an answer that would give the governor a chance to respond in a thoughtful and possibly even presidential way. And not one tweet that I saw attempted to defend or justify Jindal's appalling performance in running Louisiana.
And I did not see any tweets saying Jindal was an idiot for being of Indian ancestry. These tweets calling the attack on Jindal racist implied that any verbal attack on a nonwhite person is by definition racist. No; attacking an Indian for stupid positions isn't racist. I voted for a black man (Obama) but would mercilessly attack another black man (Ben Carson). My support of one and disdain for the other has nothing to do with the color of their skin. It has everything to do with their stances on important issues.
It's hard to call the trolling an "attack" when Jindal's campaign pinned the "Kick Me" sign on his back, but if Rick Santorum, Donald Trump or Mike Huckabee (all Caucasians, as far as I know) has a campaign manager as dumb as Jindal's who is willing to invite abuse by starting a Twitter Q&A, I think the sarcastic trolling will be largely the same.
And I have a secret that most liberals and I share. All us being equal, we'd vote for the person of color. Because straight white men are over-represented in government, give us a woman, minority or LGBT candidate and they will likely get our vote. But all else has to be equal. The left was not fooled into voting for a ticket that included Sarah Palin just because she is a woman. Nor would we vote for Ben Carson just because he's black. Although I consider myself a gay activist, I actively campaigned against a gay candidate for Congress last year because his positions and personality are so much in opposition to everything I believe in.
The fact that those on the right assume that any attack on a person of color is racist is in itself racist: It looks no further than the color of his skin. When I look at Bobby Jindal the first thing I think of isn't his color. It's the way he ignores what he learned to earn his degree in biology from Brown to pander to the creationist, homophobes he hopes will vote for him.
Calling all HuffPost superfans!
Sign up for membership to become a founding member and help shape HuffPost's next chapter