UNITED NATIONS – Warning major portions of the world were "going to hell," President Trump fired salvos at North Korea, Iran, Venezuela and Cuba during his first speech to the 193-member UN General Assembly.
He also championed putting "America first …just like you, as leaders of your countries, will always and should always put your countries first." Speaking to a body created for multilateralism, Trump appeared to be in campaign mode, at times talking to his domestic base.
Sweden's foreign minister Margot Wallstrom told reporters, "This was a bombastic nationalistic speech. It must have been decades since one heard a speech like that in the UN General Assembly."
On North Korea, some delegates gasped when the president threatened to "totally destroy" North Korea if the United States is forced to defend itself or its allies." He said Washington was "ready, willing and able" but "hopefully this will not be necessary."
"Rocket man is on a suicide mission for himself and for his regime," Trump said of North Korea's leader, Kim Jong-un, using labels often reserved for his political opponents.
While all speakers condemned North Korea's nuclear ambitions, most hoped for negotiations, not war, and there were few signs Trump was seriously considering this.
Richard Haas, president of the Council on Foreign Relations, immediately typed out a tweet: "Threats vs N Korea, ridiculing its leader more likely to persuade NK to increase its nuclear weapons & missiles than limit them/give them up."
The delegation from the Democratic Peoples Republic of Korea (North Korea's official name) sat in the front row, but left the hall when Trump began to speak.
Iran Deal Is Embarrassing
The president also could not resist trying to wipe his cerebral predecessor off the map. Without mentioning former President Barak Obama by name, Trump said that since his November election the American economy had flourished. He also pounced on the deal to curb Iran's nuclear ambitions as well as relations with Cuba.
"The Iran Deal was one of the worst and most one-sided transactions the United States has ever entered into. Frankly, that deal is an embarrassment to the United States, and I don't think you've heard the last of it ― believe me.
Trump will meet the signatories to the agreement on Wednesday evening but there is no hope that the months of negotiations would be unraveled.
"The Iranian government masks a corrupt dictatorship behind the false guise of a democracy," he said. "It has turned a wealthy country with a rich history and culture into an economically depleted rogue state whose chief exports are violence, bloodshed, and chaos. The longest-suffering victims of Iran's leaders are, in fact, its own people."
Trump's sole supporter was Israeli Prime Minister Benjamin Netanyahu, especially on Iraq. "Fix it or nix it," he told the General Assembly. "Change it or cancel it."
On Venezuela, Trump said the corrupt socialist dictatorship of President Nicholas Maduro had brought the nation to the brink of collapse. He also called Cuba corrupt and said sanctions would not be lifted until it undertook reforms.
But some of the harshest criticism of Trump's views came from UN Secretary-General António Guterres and France's president, Emmanuel Macron. Both men were making their maiden speeches.
Guterres, who appeared before Trump, and speaks in fluent paragraphs in at least four languages, said the crisis in North Korea must be solved through a political process.
"This is the time for statesmanship," he said. "We must not sleepwalk our way into war."
Guterres, a former prime minister of Portugal and the former head of the UN refugee agency, UNHCR, said he was "pained to see the way refugees and migrants have been stereotyped and scapegoated - and to see political figures stoke resentment in search of electoral gain."
Shortly after taking office, Trump moved to put a 120-day halt on the U.S. refugee program, bar Syrian refugees indefinitely and impose a 90-day suspension on people from six predominantly Muslim countries.
Without naming any country, Guterres said that, "instead of closed doors and open hostility, we need to reestablish the integrity of the refugee protection regime and the simple decency of human compassion."
"I myself am a migrant, as many of you are. But no-one expected me to risk my life on a leaky boat or cross a desert in the back of a truck to find employment outside my country of birth," he said. "Safe migration cannot be limited to the global elite."
Macron: No Renegotiation On Climate Deal
Macron in his speech and his press conference was careful not to criticize Trump, who did not mention climate change but has vowed to withdraw from Paris agreement. For Macron, the deal could be enriched but was "not up for renegotiation."
With the U.S. the world's second largest polluter, Trump has appointed officials who rely on charlatan scientists. They have abolished Obama's regulations on fossil fuels, automobiles, workers and scientific studies.
Macron said the planet "is taking its revenge on the madness of man."
On Iran, he said the nuclear deal "was essential for peace and France would "not close any door to dialogue" with North Korea.
Countering a unilateral view, he said "We need multilateralism" to work on global warming, war, terrorism and other issues. "We can only address those challenges thought multilateralism "not through survival of the fittest."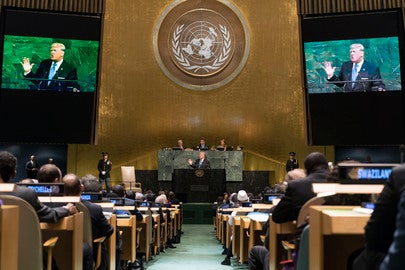 REAL LIFE. REAL NEWS. REAL VOICES.
Help us tell more of the stories that matter from voices that too often remain unheard.
BEFORE YOU GO