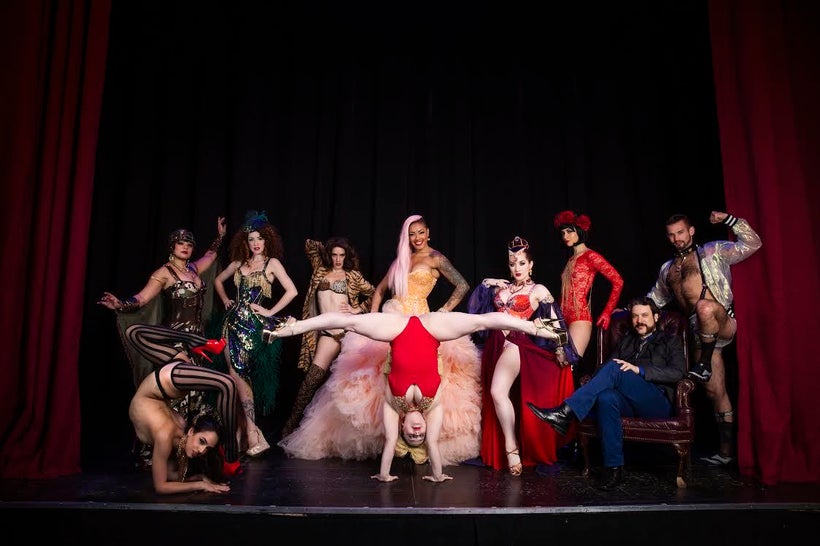 Burlesque is considered a taboo by some but to others like myself its another art form of self expression through memorable performances that cause a reaction. Burlesque dancers are role models of sensuality and beauty - the reason why burlesque is so widely celebrated is because it's a daring way of showcasing beautiful women and men of all kinds. With a gorgeous aesthetic, they make your night special and fun - it's exactly like going to a concert. You get to break away from reality for a few hours and walk away with something special.
I caught up with one of the show's main producer and performer, Sydni Deveraux. Check it out below!
You guys do an incredible job with showcases. When prepping for new ideas for your events, are there team brainstorming sessions or does each performer have a set idea of what they'd like to perform?
When it comes to the curation and theme of a show, each of the producers for Wasabassco have the ability to make those choices independently from each other, though we do bounce ideas around. We are like a family and we each hold a piece of the Wasabassco collective together. There are 4 producers here in NYC (Doc Wasabassco, Nasty Canasta) and one in Nashville (GiGi La Femme)- we also have shows in Atlanta! Each producer has their own unique flavor though because we all understand what our company's brand is so it travels through each show. When it comes to individual acts it can vary, though most of the time performers create their own acts from their own ideas and inspirations from music. When we do thematic things we may say "the theme is Classic Rock" and the performer will go from there. Sometimes it's something like "we are doing MacBeth and I'd love for you to be a witch and do an act as a witch"- and from there the ideas flow. As a producer I love giving some direction, but most of the time I am doing curation. We pick the acts we love from performers we love that fit within our individual visions.
To join the lovely Wasabassco team, are there specific requirements a performer must meet? Do they audition for you?
Currently unless they are traveling performers that we know and love, our roster is closed- and that's simply because we need more productions than we already have in order to accommodate all the wonderful humans that we have the privilege of working with. When people do seek to work with us at other times we require to see video, photos, website- very much like a person would apply for a job, because this is a job! It's a fun, creative and sexy job- but a job nevertheless. When we seek out Wasabassco talent we are searching for the best of the best- but I always think the thing that makes our shows and performers unique is that they all have a very memorable spark, that 'je ne sais quoi', that thing that doesn't fade away even when they are in a cast of 8 other incredible human beings. We love a great first and last impression!
As your House of Deveraux at Le Poisson Rouge are rock infused, would you ever perform with live band? Given the space, of course. If so, any band in mind?
Yes! My production within Wasabassco, House of Deveraux is super rock infused. I do often take contemporary music within my shows, but I prefer my cast to rock out as much as possible. Just this last year for our Led Zeppelin tribute show, Take the Led Off! we had the best time collaborating with a live band- but it's rare to get the privilege as budgets get high and so does space on the stage. If I had the budget to every time though I would have a live band playing for my performers, absolutely. Burlesque started out with live music over a hundred years ago and there is truly nothing more magical to me than getting to dance with a live band on stage. My ultimate bands would be Led Zeppelin, ACDC, Black Sabbath, The Black Keys….you might see a bit of a dirty blues trend from me, heh. I love dancing to the dirty blues!
What do you want your audience to remember most about your performances?
For my shows I want them to have a great time seeing a whole bunch of gorgeous and sexy humans entertaining them. I want my audiences to leave the stress of the day and the world behind while having a blast partying with us. As for my own solo performances, I want my audience to feel like I am performing just for them and that I love them (because I do love my audience!). I want them to connect with their sexy selves and take that ignition and go flirt with the world. I want to turn people on emotionally and spiritually. Show them that connecting with their sexuality is powerful, important, silly and fun!
Burlesque dancers have sultry, provocative names - how do they go about getting their name?
Well, I actually don't think that's always the case, after all, my name is Sydni, which is actually pretty androgynous! Some performers choose tongue in cheek names, some play off of famous sayings or works of art- literally the sky is the limit with choosing, though we always hope that people will do their research before they choose theirs. One of the fun things in burlesque are our "tag lines", they are a kind of second name and that's where more fun comes in. Mine, for example is "The Golden Glamazon", and I would say it fits me pretty well as I'm 6'8" in heels and mostly golden in skin….Often tag lines will point to some memorable feature or attribute- the tag line in my opinion is supposed to help you remember the performer, even when their name slips your mind.
When you're not performing burlesque, are you working on any other side projects you're passionate about?
Well, I'm one of the lucky ones in that being a burlesque performer and producer is my main gig- keeping me busy about 4-5 nights a week. The upkeep of being a full time performer and producer takes up most of my day- this is a full time job for me. I also do a lot of modern pin up photography and naughty boudoir shoots for my Patreon- prior to becoming a burlesque performer I was modeling both commercially and in the alt world, and I've only evolved to be able to continue it in more fun ways, including shooting my own stuff and sometimes my friends. I also am slowly coming back from a long writing hiatus, my patrons being my target audience for now. It's not always easy being a full time artist- but it can give me times where I have many projects and then there's sometimes where there is only burlesque on my plate. I do stay busy with it though- and truly all I've ever wanted was to be able to entertain people, to be a creative human in this world. So I use my assets (pardon the pun) in all the ways to do that!
Follow Wasabassco's adventures below!
REAL LIFE. REAL NEWS. REAL VOICES.
Help us tell more of the stories that matter from voices that too often remain unheard.
This post was published on the now-closed HuffPost Contributor platform. Contributors control their own work and posted freely to our site. If you need to flag this entry as abusive,
send us an email
.