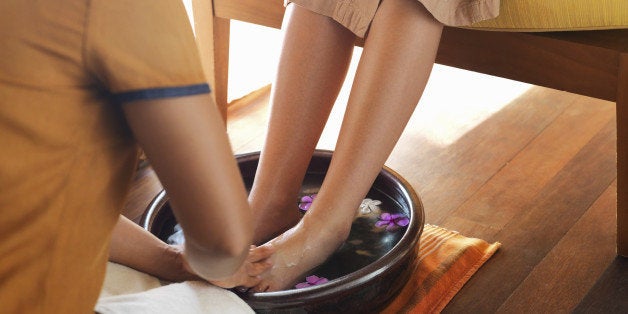 At nine years old, I moved to Canton, Georgia, where my mother shifted from working in the restaurant business to doing nails for the affluent Southern women (and men) of Cherokee County. By the age of seventeen, I was joining her on weekends, apprenticing at multiple nail salons through the latter half of my high school career in order to pay for my college education.
Most days were frustrating, filled with the judgments and racism of a predominantly white Christian county, which I considered set in its ways. Of course, my assumption that caucasian Baptists were racist combated some possibilities for discussion at the beginning of my apprenticeship, and I came away from the day-to-day experiences with a renewed sense of shame -- shame for both my foreign family and my growing wariness toward the people around me.
One day on a drive home, my mother asked me a troubling question: "Lam, why is it that my clients don't greet me in public?"
The question was painful to hear as a first-generation Vietnamese American. Today, you can ask my mother what the best country is, and she won't hesitate to say, "Why, America!" My father flies an American flag at the front of every house in which the Ho family resides. When she asked this question, she didn't realize how ironic it seemed to me. My parents, who were forced to learn English and adapt to the American work force after the Vietnam War, are proud American citizens.
My mom was (and is) a popular pedicurist at the salon, always finding -- and keeping -- loyal clients. After work one day, my mother, initially quite happy to run into a client outside of the nail salon, greeted her client with enthusiasm. The two were in a local Publix super market, where a many Canton residents from different backgrounds shop. Yet my mom didn't even receive a wave in return from a woman who was talkative whenever she crossed the threshold of Diva Nails. To my dismay, my mom was now looking to me for the answer to her question: "Why?"
I realized that this was not the first time she had experienced a client ignoring her -- many had, probably because of our family's socioeconomic class or Buddhist background. Perhaps it was even because of the subordinate stereotype people often put pedicurists in, even accidentally. I had no answers, only the pain of a daughter whose mother's occupation or origin was interpreted as an embarrassment.
But what I consider most often today, three years later, has very little to do with that institutionalized racism. When I think about those days, and the summer breaks during which I still work as a manicurist and pedicurist, I remember what makes it a cultural bond: the washing of feet.
The intimacy of washing feet is a concept that spreads across a number of cultures, but in my life if stands as a symbol of love in both my Vietnamese background and my Christian faith. Spending my preadolescence in the Bible Belt exposed me time and time again to the story of Jesus washing the feet of his disciples.
I often reflect on the moment when Jesus washes Peter's feet. He says, "If I then, your Lord and Master, have washed your feet; ye also ought to wash one another's feet. For I have given you an example, that ye should do as I have done to you. Verily, verily, I say unto you, The servant is not greater than his lord; neither he that is sent greater than he that sent him" (John 14-16).
In this passage, I hear Jesus telling us that we are all equals, capable of washing each other's feet (and having our feet washed) in a symbolic practice of humility and equality.
As a young girl, I remember a relative showing me a wedding photo in which her husband washed her feet in a ritual of compassion. Stemming from that same humble love, the image has stuck with me through my life and pops into my head when I feel discouraged after a long day of work at the nail salon. To her, washing feet was a symbol of unity, binding her marriage in an act of cultural togetherness. Her background, like mine, blended Vietnamese conservatism with American romance.
Both metaphorically and literally, I think, the love we show for one another and the understanding we express through our words are equivalent to the cleansing of a pedicure. This is not to say that working in the nail salon was not a transaction of a service, but a reminder that if we can treat professors, therapists, and doctors kindly (which I understand is not always the case), then perhaps we can reconsider how we see pedicurists, massage therapists, and dental hygienists.
Perhaps I come from a Buddhist household. Perhaps English is not the first language I knew as a young girl. Perhaps I am the one washing feet. But that does not imply that I shouldn't be greeted at the grocery store.
Next time my mom tries to greet a client -- and she has not given up on such a thing -- that person, even on the most fundamental level, will see her for what she is: a strong, competent, and unique person, not an inferior, lowly servant. This should not have to transcend a rivalry between whites and Asians or Christians and Buddhists; it is a simple and trite argument for equality for all, including and between you and me.
Now, during my college recesses, I drive to Birmingham, Alabama, to work in the nail business with a better understanding of what it means to be a manicurist and pedicurist for people I once resented. It takes a great deal of patience on the days when clients don't see how we are all, in fact, surprisingly similar, but now I know how not to judge too harshly and that most people are extremely kind. And on some days it takes remembering, as my mother always taught me in the red light of a Buddhist shrine: all beings are equal.
Calling all HuffPost superfans!
Sign up for membership to become a founding member and help shape HuffPost's next chapter