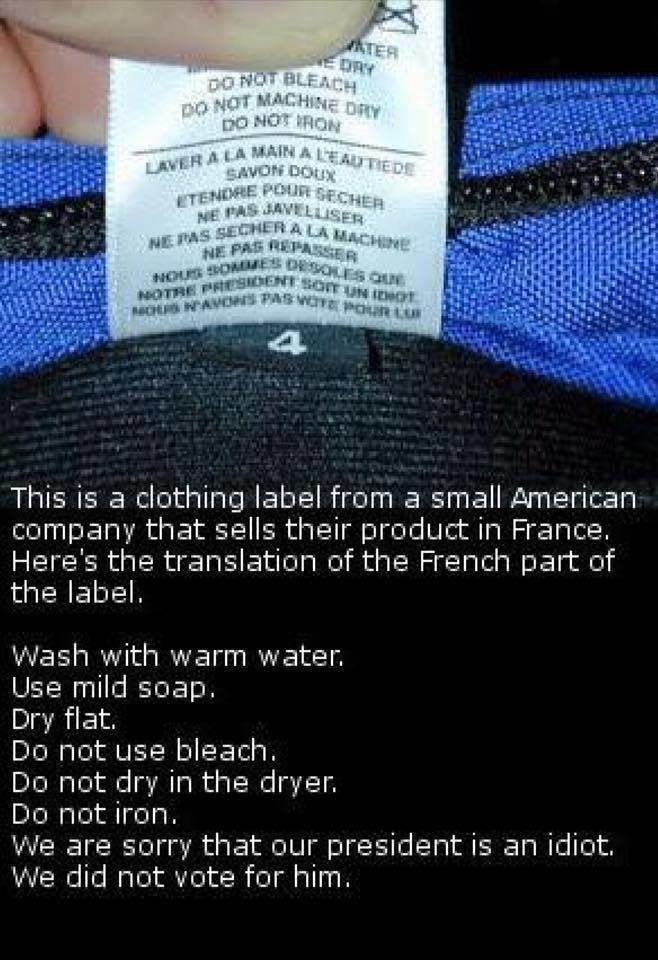 A new social media darling is an American-made canvas bag's washing instruction tag that apologizes in French for our "idiot" president. But it turns out that the intriguing tag was created after President George W. Bush took office, not Donald Trump.
The tag affixed to a bag produced by the Tom Bihn company after Bush's election said at the bottom: "Nous sommes desoles que notre president soit un idiot" — we're sorry our president is an idiot. "Nous n'avons pas vote pour lui" — we didn't vote for him.
A spokesman for the Port Angeles, Washington, company, which sells its products throughout the U.S. and Canada (hence the French instructions), told The Huffington Post that the tag was produced only in 2004, but the image of it keeps popping up on social media.
Owner Tom Binh said then that he initially wasn't aware of what the tag said because his French was weak. He insisted to The Ottawa Citizen at the time that the president referred to was him but added that he was "not opposed" to similar sentiments about Bush, The Florida Times-Union reported when interest in the tags perked up again during the Obama administration.
The tag struck a chord all over the world in 2004, including in France, where some assumed it referred to then-French President Jacques Chirac, Bihn told the Citizen. "People out there think a number of presidents are idiots. It's a universal message."
Sales of the product carrying the so-called "treason tags" surged.
As for politics now, the company — which manufactures backpacks, laptop carriers, duffel bags and other travel gear — is offering a 3-inch scrap-fabric origami "donation crane" to consumers who want to give $20 to progressive causes. Tom Bihn promises that for each crane purchased the company will send the entire amount to organizations including the NAACP, the Electronic Frontier Foundation, Equality Now, UNICEF and the Human Rights Campaign. Though tiny, notes the online catalog, the cloth bird "reflects our larger desire to do a good thing."
Related
Popular in the Community