WASHINGTON ― Dozens upon dozens of political obsessives lined up inside a bookstore in the nation's capital just before midnight on Friday to be among the first to own a copy of an explosive new book about the Trump administration that President Donald Trump didn't want them to read.
Michael Wolff's Fire and Fury: Inside the Trump White House was released ahead of schedule, following a Trump attorney's cease-and-desist letter attempting to block dissemination. But the D.C. bookstore Kramerbooks & Afterwords ― which, to borrow an overused phrase, is located just blocks from the White House ― is open until 1 a.m. That meant it could begin selling copies of the book when the clock struck midnight.
"It might not be available in a couple of hours," joked Liz, who works for the National Park Service and didn't want to give her last name. Liz, decked out in full winter gear to combat the frigid temperature outside, learned she could grab a copy of the book at midnight the way most people here did: Twitter. She tried to convince her husband to join her. He wasn't into the idea. But Liz "thought it would be fun," she said. "A nice protest."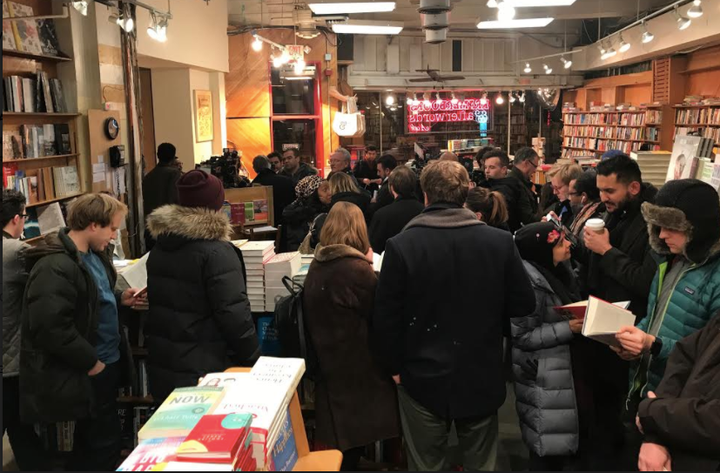 Wolff, a controversial author who has chronicled the lifestyles of the rich and famous in New York City, obtained extraordinary access to Trump's White House, and walked away with blockbuster stories that have figured prominently in political news for the past couple of days.
"For the past, what, 24-48 hours, this is all people are talking about," said 25-year-old Phillip Carlisle, sipping an Allagash White beer as he stood in line waiting for his copy. "It seems like a mess."
Wolff's track record for accuracy has been disputed, and there have already been a few factual issues identified in the book. Liz guessed maybe 90 percent was accurate. Carlisle speculated maybe 70 percent. But the fact that it's plausible that such craziness happened should be concerning, he said.
"I think that the fact that we're not sure how much of it is true and we won't immediately be sure how much of it is true or false should be very disturbing," Carlisle said.
He pointed to a parody tweet from @pixelatedboat that purported to be an excerpt from Wolff's book. The fake excerpt included a quote from a (non-existent) White House insider claiming that Trump watched "the gorilla channel for 17 hours straight," often kneeling four inches from the screen and and speaking to the gorillas. "I think he thinks the gorillas can hear him," the fake "insider" said in the made-up quote.
"People believe it!" Carlyle said of the fake excerpt. "Because it's so believable."
Ryan Greeney, 38, who works for the U.S. Army, drove in from Springfield, Virginia, to buy the book. "I realized I live in one of the few places that has this as an option," Greeney said. "So why not, I'll see what's going on."
Greeney said he thinks the "overwhelming gist" of the book is "generally true," even if some some details here and there got lost in translation. "In a dispute over truth, I'm probably going to believe the author," Greeney said.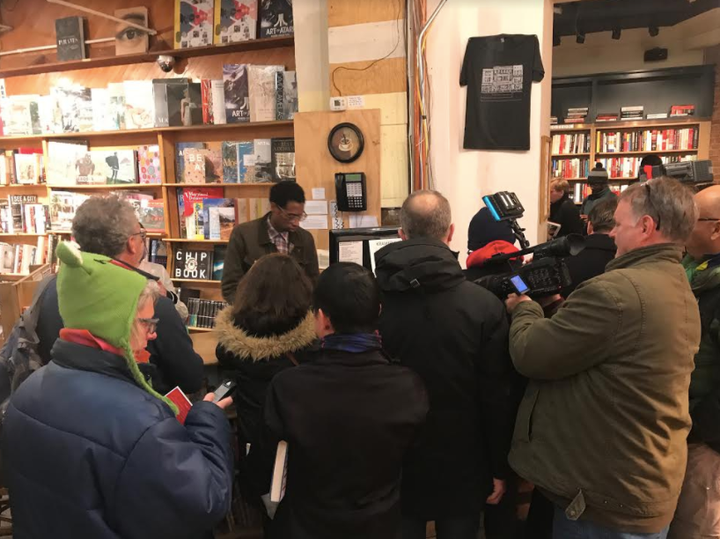 Kramerbooks sold out of the book shortly after midnight. Jane Vallinas, 28, was one of the unlucky who arrived too late. She said she'd been "glued to the Internet" for the past few days reading about the book, and was hoping to check it out.
"My parents are really big Republicans and this has been a really weird time, and I'm hoping this pushes some people over the edge, to reality," Vallinas said. "I was planning on staying up all night."
She's still pumped about getting her own physical copy of the "juicy" book, and said she planned to wake up early on Friday to hunt for a copy at another store.
"It's really exciting," Vallinas said. "The last time I went to a book release was Harry Potter."
CORRECTION: An earlier version misspelled Phillip Carlisle's last name.
Popular in the Community