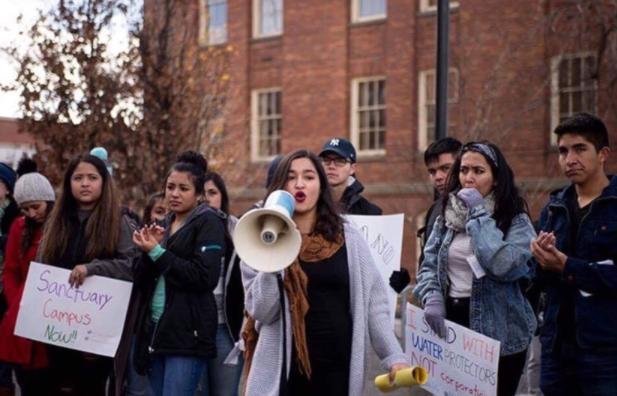 President Donald Trump has signed executive orders that have proven he will deliver some of his biggest campaign promises.
One of his campaign promises remains unfilled: To repeal former President Obama's executive order on the Deferred Action for Childhood Arrivals (DACA), and to start the deportation process of about 750,000 young immigrants, who grew up in the United States after being brought here as children.
During his campaign, Trump railed against the program even in the face of political backlash. Since the election, Trump's language on DACA has softened. In his first interview as president-elect, he suggested he would replace DACA with something that would allow young immigrants to stay in the United States.
On Tuesday, news broke that 23-year-old, Daniel Ramirez Medina, was detained by immigration and Customs Enforcement Agents in Tacoma, Wash., he was registered under the DACA program.
"How can DACA recipients feel safe when one just got detain, and was detained for a long time," Keyla Palominos, a Washington DACA holder, said. "They knew he shouldn't have even stepped foot in that detainment center."
For DACA recipients, any action on their immigration status is paused, which often includes deportation, for a renewable period of two years. DACA also provides accessibility to higher education for certain undocumented students, and to work legally. Many qualifying students are hesitant to apply from fear of their information being available to the government.
Last month, a draft of an executive order was leaked on Vox website. That draft called for the elimination of DACA.
"We are assuming that the DACA list might become a deportation list," immigrant activist, Carolina Silva, said. "If this were to happen, our community is completely unprepared. We are taking a lot of precautions, but we also face a lot of uncertainty."
A Global Strategy Group poll found 58 percent of voters support keeping DACA in place, and 28 percent want it repealed.
"I just don't know what to believe anymore, and especially after the Muslim immigration ban," Palominos said. "I'm just living day by day, and mentally preparing myself for the worst."
"It's important that DACA holders and undocumented immigrants do not let fear and paranoia get to them while pursuing their dreams," Mariany Morales, a Washington DACA holder, said.
DACA holders have become a vocal political group that has mobilized undocumented immigrants and provided a face to the immigrant rights movement.
"People assume DACA was handed to us, but our generation fought for it and made it possible," Silva said. "We were here before DACA, and we will be here after."
Calling all HuffPost superfans!
Sign up for membership to become a founding member and help shape HuffPost's next chapter