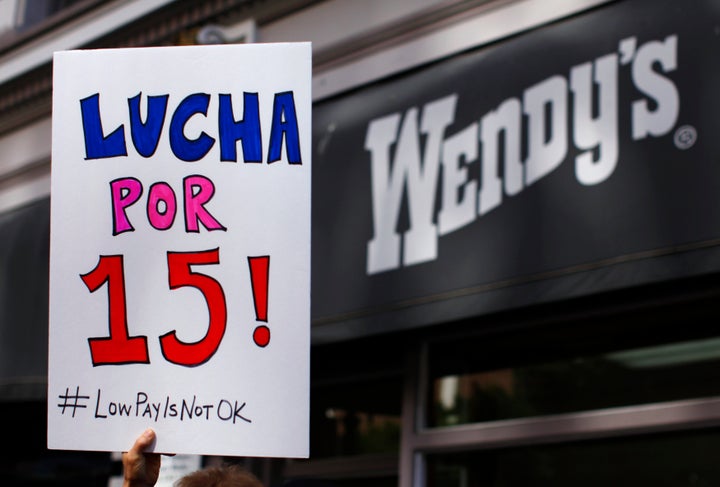 WASHINGTON -- District of Columbia Mayor Muriel Bowser (D) signed legislation Monday that will gradually hike the city's minimum wage to $15, the latest in a string of victories for the union-backed Fight for $15 campaign.
At a signing ceremony at a D.C. pizzeria, Bowser argued that cities should lead the way in raising the minimum wage, just as they have in recent years.
"City councils and mayors can get the job done when it's not done in Congress," Bowser told a crowd of supporters and union members.
D.C.'s minimum wage had already been slated to rise from its current $10.50 to $11.50 per hour later this week. Under the new law, it will continue to increase each year, until it hits $15 in 2020. After that, the rate will be adjusted annually according to an inflation index. The schedule of hikes will put the wage floor in D.C. -- one of the country's most expensive cities -- far above the federal minimum wage, which remains $7.25.
It was only 2 1/2 years ago that the D.C. Council passed a different bill that would increase the minimum wage by more than $3 an hour, and tie it to inflation in perpetuity -- one of the most liberal measures in the country at the time. But in a sign of just how far the minimum wage debate has moved since then, city lawmakers took up a new, more aggressive proposal this year that would boost the wage floor more rapidly.
Not long ago, the thought of a $15 minimum wage was practically unimaginable. But labor unions and worker advocacy groups have had tremendous success pushing ambitious plans through city councils and state legislatures, despite strong opposition from business groups that say such an unprecedented wage floor will hurt employment. Seattle, San Francisco and Los Angeles all have passed $15 laws, as have the states of California and New York.
Like in Seattle, D.C.'s minimum wage plan succeeded in large part because of the threat of a ballot measure. The plan signed by Bowser on Monday will have only a modest minimum wage increase for tipped workers, rising from its current $2.77 to just $5 per hour before tips (employers are obligated to make up the difference if tips don't put a worker over $15). Labor groups wanted $15 for all workers, and could have put such a measure before voters. In a win for the city's restaurant industry, Bowser and members of the council precluded that with the legislation signed Monday.
The minimum wage tends to poll very well, and voters in many liberal cities have not shied away from $15. Delvone Michael, director of D.C. Working Families, said a ballot measure likely would have succeeded, taking the fate of the minimum wage out of legislators' hands.
"Without pressure from working families, the council would not have acted," Michael, whose group campaigned for the ballot measure, told The Huffington Post. "Sometimes it takes people to show the council the way."
Michael said the raise for restaurant workers was a "step in the right direction," though not as significant as backers had wanted. The city's bars and restaurants launched a campaign aimed at beating back a dramatic rise in the tipped minimum wage, which is lower than the normal minimum wage in the majority of states. The industry warned that a $15 minimum wage would effectively end gratuities for servers and bartenders. Labor activists have been campaigning to end the tipped minimum wage at the federal and local levels, arguing that it creates a two-tier system and exacerbates income inequality.
The effects of the D.C. minimum wage law will be vast. The Economic Policy Institute, a left-leaning think tank, says the law would boost the hourly pay of roughly a fifth of the city's private-sector workers. The D.C. Chamber of Commerce, meanwhile, has predicted that employers would cut benefits and reduce hiring to compensate the higher wages they must pay.
One local business that wasn't buying that argument was &pizza, the D.C.-based pizza chain that hosted the bill signing. Liam Patrick, the company's CFO, told HuffPost that &pizza, which has 15 locations in the area, campaigned for $15 because it already paid above minimum wage, and managers felt they could stand to pay more. Asked if that was a lonely position to stake out as a business, Patrick laughed and said, "There's not that many that want this to happen."
"Your employees really fuel the growth of the brand and not everybody sees it that way," Patrick said. "We think that over the long term, you will grow and you will build your restaurant through your employees. Paying them the bare minimum doesn't cut it."
Before You Go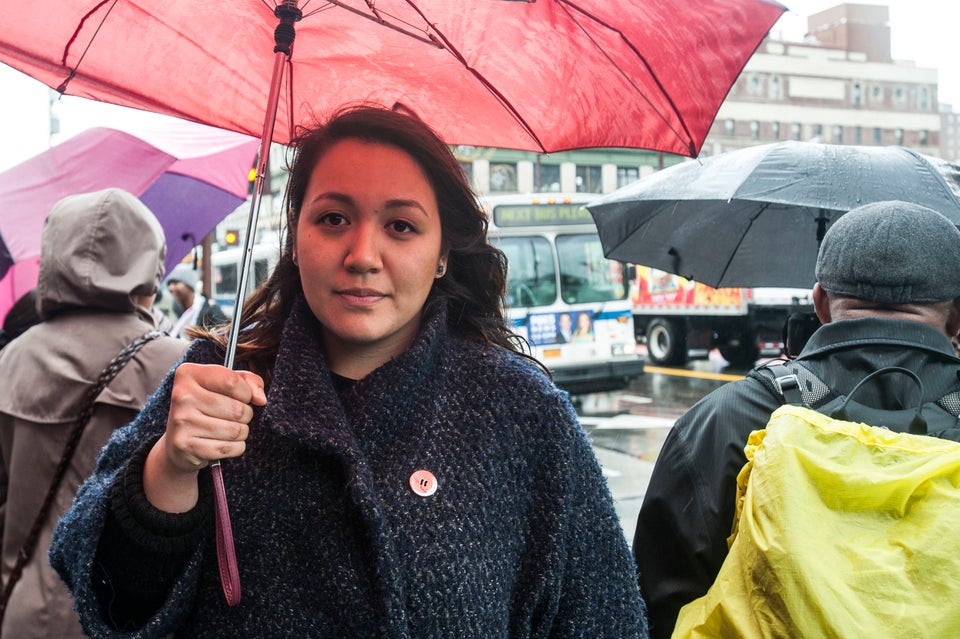 The Faces of the Fight for 15 Movement
Popular in the Community