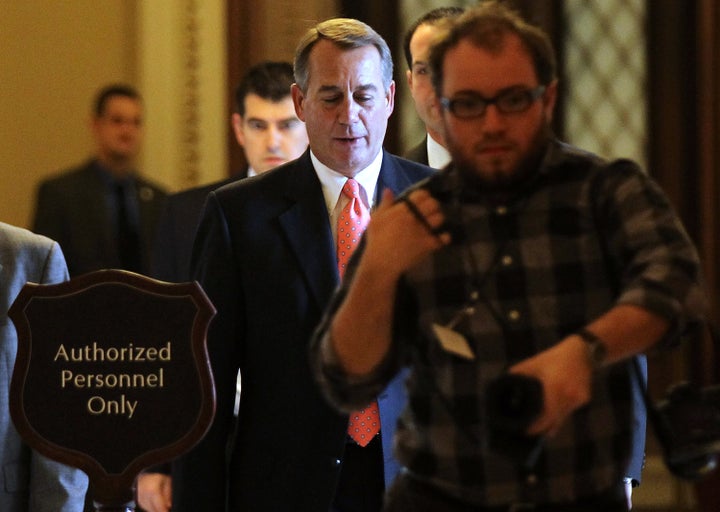 House Republicans pushed a federal spending bill through on Friday that will ban Washington, D.C., from using its own locally raised funds to subsidize abortion care for low-income women. The policy has been in place in D.C. since budget negotiations in the spring, when the federal government nearly shut down over the issue of abortion.
The new abortion rider sparked protests on Capitol Hill Friday, not only because of its policy implications, but because D.C. is now the only locality in the country without autonomy over how it spends its money. D.C. faced a possible shutdown on Friday if Congress was unable to pass the spending bill, because it can't spend any of its local funds without congressional approval.
"We're outraged," said Ilir Zherka, the executive director of advocacy group DC Vote, which organized the protest. "Congress has yet again negotiated a deal on the backs of D.C. residents. Most Washingtonians are tired of being used as a bargaining chip."
Republicans were considering attaching other politically-motivated riders to the bill that would limit D.C.'s ability to spend its own money, including a prohibition on funding for needle exchange programs and restrictions related to marriage equality and medical marijuana, but none of those riders made it into the final bill.
The ban on abortion spending means that for another year, low-income women in D.C. would not be able to use their Medicaid coverage to pay for abortions. A non-profit organization called the D.C. Abortion Fund, which provides grants to women in the D.C. metro area who cannot afford the full cost of an abortion, says it has received double the amount of requests for help since the ban took effect in April.
"That's over 2,000 people -- women and girls -- calling our helpline," Val Vilott, president of DCAF, told HuffPost in November. "Those who previously would have been able to go to a clinic and use Medicaid are now faced with raising the full cost on their own, or in collaboration with community organizations like us."
Del. Eleanor Holmes Norton (D), D.C.'s only congressional representative, has traditionally supported reproductive rights, but she has poured most of her focus onto the issue of the city's spending power. Although she has no vote in Congress, but she has a bill pending that would keep the D.C. government open in the event of a future federal government shutdown, and she told colleagues on Thursday that she was not going to give up D.C.'s autonomy without a fight.
"A redux of the near-shutdown of the District government, coupled again with dictating to our residents how to spend their own funds, should be unthinkable," Norton said. "It is outrageous enough to pay taxes without representation in the national government. When Congress compounds the injury by confiscating the District's own funding judgments, do not expect us to go quietly into the night."
Calling all HuffPost superfans!
Sign up for membership to become a founding member and help shape HuffPost's next chapter