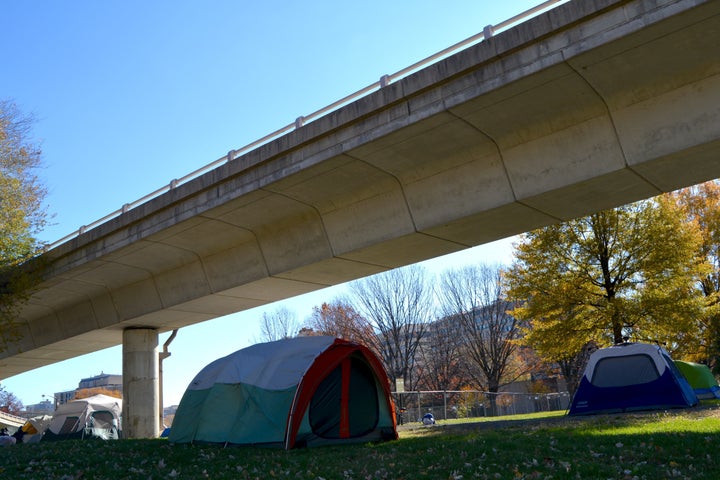 WASHINGTON -- The District of Columbia has had enough of homeless people camping in tents pitched behind the Watergate Hotel.
The city began clearing the tents over the weekend -- calling the encampment unsafe -- after having spent months connecting a dozen tent city denizens with other forms of shelter. The city also erected a fence around the area that had just been vacated.
Not everybody left though. On Monday, several tents remained beneath a Whitehurst Freeway overpass on both sides. James Bannister, 38, said he'd been there for a month and three weeks since finishing a prison sentence for drug charges and isn't ready to leave without knowing where he'll stay. He refuses to go to a shelter.
"When the city came to move people, the ones that got up and moved -- they got moved," Bannister said, standing next to his tent, which had been donated by a good samaritan. "The ones that stood their ground is the ones you see out here."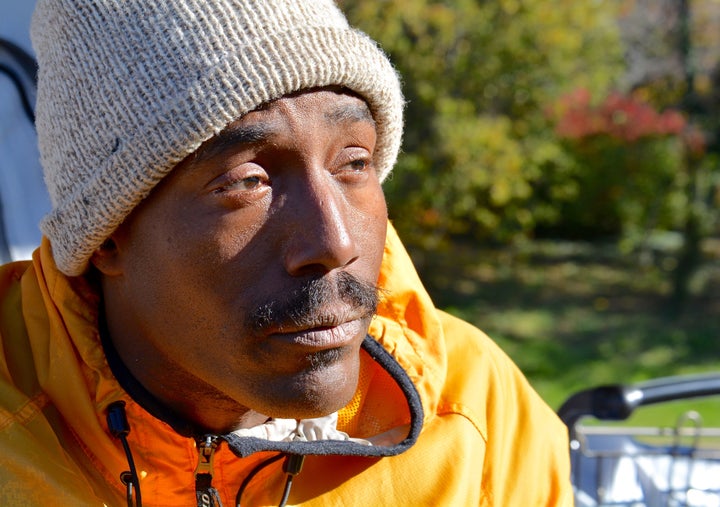 Bannister and his next-tent neighbor don't think their dwellings, pitched beneath an offramp, are in a dangerous spot. They said the occasional car accident in their backyard is as good as television. Inside, Bannister's got a Sealy mattress propped up on milk crates, covered with a patterned comforter. He said he keeps warm with small canisters of jellied methanol typically used to warm chafing dishes.
"They told me to prepare for the weather, so I'm doing my best," Bannister said.
The handful of tent inhabitants still on the other side of the street declined to be interviewed, but they offered reporters some of the peas and rice they were heating over an open fire.
Two weeks ago, the city put up signs saying the area would soon be cleaned and that all personal items "shall be cleared and disposed of at any time." Bright orange flyers said the tents violated city ordinances against camping and would be cleared on Nov. 20.
"Without bathrooms or running water -- or adequate protection from the elements -- this area is unhealthy and unsafe for individuals staying there," Brenda Donald, D.C.'s deputy mayor for health and human services, said in a statement.
Donald said that in the past several months the city has helped 14 former campers move into housing, apparently in a mix of apartments, shelters and hotels. Donald said the city would continue to "clean encampment sites." A city spokeswoman didn't respond when asked if there were any plans to forcibly relocate campers who refused to leave.
As for the fence, Donald said it went up because the city's water department had plans to repair an underground conduit. No construction had started as of early Tuesday afternoon.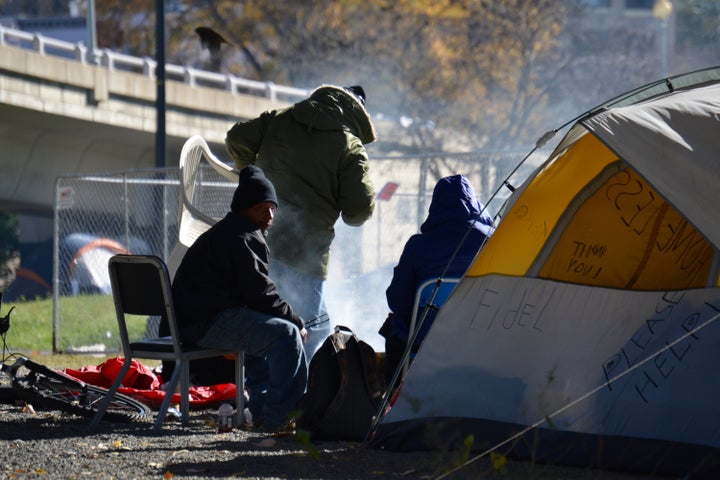 In a letter to city officials, a coalition of groups led by Miriam's Kitchen -- a community service nonprofit -- praised the city for trying to coax homeless individuals into more suitable housing, but questioned the approach to clearing the camp, since some people don't want to go to shelters.
"Although shelter exists, many people who are homeless report that they do not feel safe entering shelter due to fear of violence, theft, and other hardships," the letter said. "People living in encampments have been given conflicting messages about whether life-saving materials, including blankets and tents, will be taken from them. This uncertainty exacerbates the stress already experienced by those whose daily lives are focused on survival."
Homelessness advocacy groups like the National Law Center on Homelessness and Poverty say using things like anti-camping ordinances to forcibly remove homeless people from public property amounts to criminalizing homelessness itself. The District of Columbia is, however, more generous than most jurisdictions when it comes to guaranteeing shelter instead of jail for homeless families and individuals.
D.C. Councilmember Elissa Silverman said she worries taking people's tents could harm their relationships with social workers hoping to help them connect with permanent supportive housing.
"Our ultimate goal is to get these residents into safe, permanent housing, and that is harder to do when people don't trust us to do right by them," Silverman said in an email.
Bannister said he'd be willing to move into an apartment -- the city does provide permanent supportive housing to some chronically homeless individuals -- but he doesn't want to ditch his tent before he knows where he'd be staying. He said the city had shown him an apartment but told him it needed an inspection before he could move in.
He said he didn't have any plans for Thanksgiving.
"To me it's another holiday," he said. "I mean, in prison, they don't do nothing different, so I don't expect them to do nothing different out here."
PHOTO GALLERY
Artist Redesigns Signs For Homeless People
REAL LIFE. REAL NEWS. REAL VOICES.
Help us tell more of the stories that matter from voices that too often remain unheard.