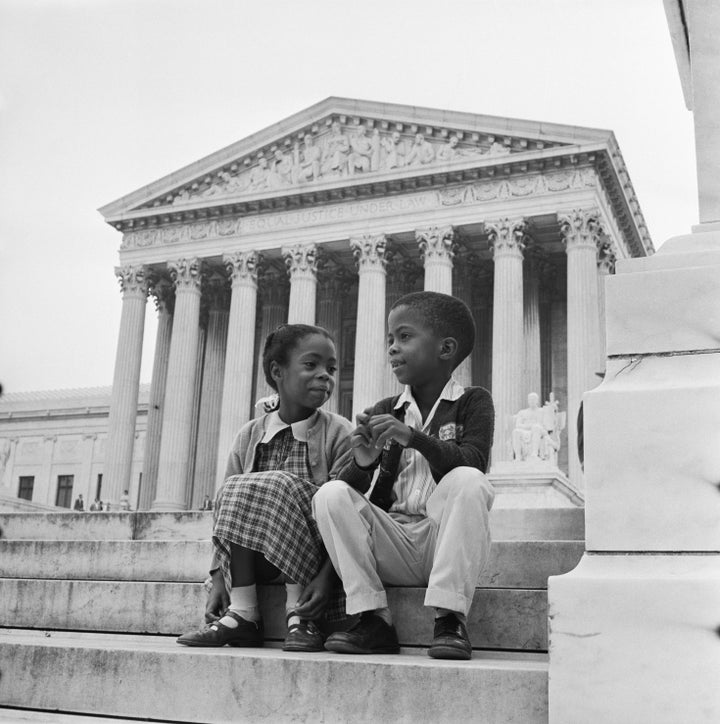 Even several decades ago, it wasn't hard for Gary Orfield to convince white parents in his Washington, D.C., neighborhood to send their kids to a racially segregated black school.
At the time, his eldest daughter was one of only a handful of white students in her neighborhood elementary school. Most of the school's students were black and low-income, but Orfield's daughter had a positive experience. She had good teachers and a dedicated principal.
Still, Orfield, now a professor and co-director of the Civil Rights Project at UCLA, was invested in increasing the school's diversity. It's not that Orfield had a problem with his daughter attending an all-black school. Rather, he knew that integrated schools can have academic and social benefits for black and white students. Orfield decided to organize a group of local white parents around the issue. He sent them notices about the school's highlights. He held a meeting at his house with the school's principal, and invited friends to attend.
At the end of the night, "we had signed up enough people to integrate the first grade and the second grade," Orfield said.
In subsequent years, the school remained racially mixed, having an indelible impact on the surrounding neighborhood, Orfield said. However, Orfield's story is an anomaly, and in surrounding areas, most of Washington, D.C., did not follow his lead. A new report, written by Orfield as part of the UCLA Civil Rights Project, highlights the persistent and pervasive patterns of school segregation in the nation's capital.
In Washington, D.C., Brown v. Board of Education, the Supreme Court case that made state-sponsored school segregation unconstitutional, did not spur contentious change. The city's students were never forced to attend schools with children of different races. White and black children continued to occupy different spheres, especially as the city became overwhelmingly African American.
In the decades since, not much has changed, aside from the city's demographics. The city is now substantially more white than it was decades ago ― opening up new opportunities for school integration. There has been slow and incremental progress on the issue of desegregation, although most schools are still isolated by race and class.
In 1992, over 90 percent of black students went to what the report dubs "apartheid schools," where the student body is almost completely nonwhite. By 2013, this number dropped to 71 percent, although that figure is also high.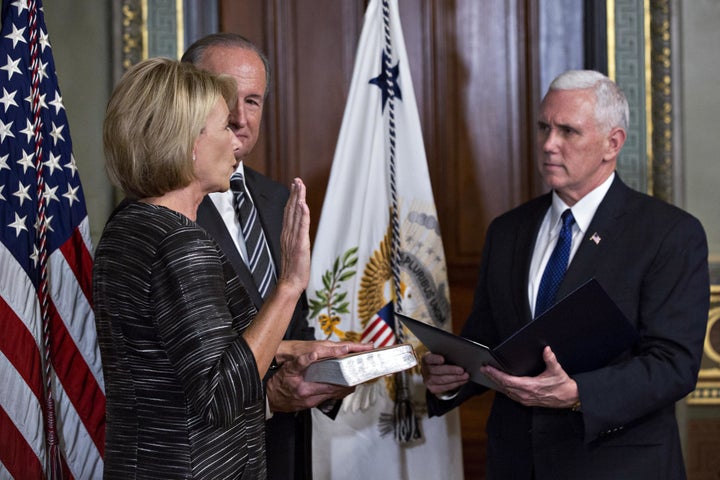 The city's school segregation problem has been exacerbated by school choice policies like the ones currently championed by President Donald Trump and his secretary of education, Betsy DeVos. Charter schools in D.C. are overwhelmingly black. The city's small voucher program ― which allows kids to attend private schools using taxpayer money ― is designed to serve low-income children, but has actually underserved black kids, the report says.
One way to offer children effective school choice, Orfield said, would be to give them the opportunity to attend high-quality, integrated institutions.
"Whether or not you believe in private schools and so forth, if you really believe in choice ... why not offer choice that would actually be successful? Integrated schools that are stable and lasting simply offer a better opportunity to prepare for multiracial society than any other option," Orfield said.
The benefits of desegregated schools are well-documented. Schools that have mostly students of color tend to be low-income. These schools tend to get less funding, have less qualified teachers and poorer physical facilities. A stew of these factors lead to these schools posting lower test scores and achievement rates.
On the other hand, racially mixed schools are proven to benefit both white students and students of color. These institutions improve achievement rates for students of color, and play a role in fostering tolerance by promoting interracial relationships. Previous studies showed that after attending desegregated schools, black students attained higher earnings and better health outcomes ― while white students who went to desegregated schools did not show any disadvantages.
"Usually only children of color end up in such schools where they never have a fair chance whatever their real ability may be," Orfield writes in the report. "There are, of course, a few schools segregated by race and poverty that achieve high test scores at least for a time, especially in elementary grades, but none that really train students to live and work and succeed in higher education in institutions that are middle class and heavily white and Asian."
Washington, D.C.'s recent influx of white students make it ripe for desegregation opportunities, the report concludes. The report suggests voluntary options for helping to foster integration, like the creation of intentionally integrated magnet schools. People in D.C. probably don't want to actively contribute to segregation or send their kids to private school, but "they're people who don't want their kid to be the only white kids in a high poverty, nonwhite school," even if they describe this sentiment in euphemisms, Orfield said.
Like when Orfield organized his neighbors to help desegregate a school, he believes there are natural opportunities to convince people of integration's virtues, "if you can create a critical mass of people who are interested."
"They say they're in favor of choice, but a choice that has never really existed for black students in D.C. is the choice of an integrated middle-class school. That choice simply hasn't been there," Orfield said. "We're proposing expanded choice to something that actually works."
Popular in the Community