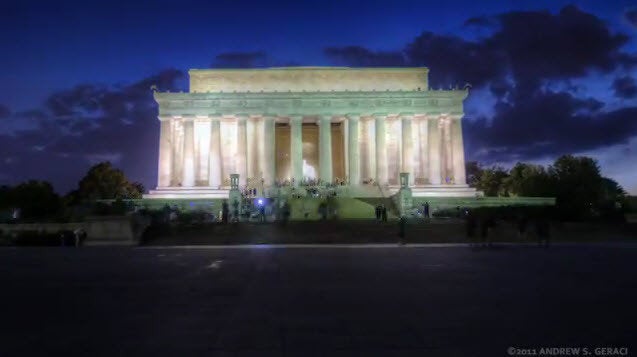 Politics aside, Washington, D.C. is a beautiful city, with charming historic buildings punctuated by stately monuments. In this time-lapse video, Andrew Geraci captured the vibrancy of this buzzing, transient city after dark in "District Nights."
"The main reason I chose to time-lapse DC is that it has some of the most iconic and memorable memorials in the world," he told HuffPost Travel. "Since not everyone can travel and enjoy these memorials, I wanted to create a piece that really showed-off their beauty, especially at night."
Geraci, a multimedia producer at The Washington Times, is behind the site The Voder, which seeks to inspire and teach those interested in digital media.
On his YouTube profile, Geraci writes that it took nearly three months to film the sunsets, and he concentrated on buildings and monuments around the National Mall. Throughout the process he was hassled by the police 27 times and received 5 parking tickets. Apparently, there's some pesky regulation that prohibits photographers from standing in one spot for longer than 5 minutes.
He adds that the greatest difficulty -- harassment aside -- "is toting around my giant 6-foot metal slider through the city. It usually requires me to carry anywhere from 45 to 60 pounds of gear, all of which make you look like a crazy person when you're setting it up."
We think it was worth it. Check out his video below.