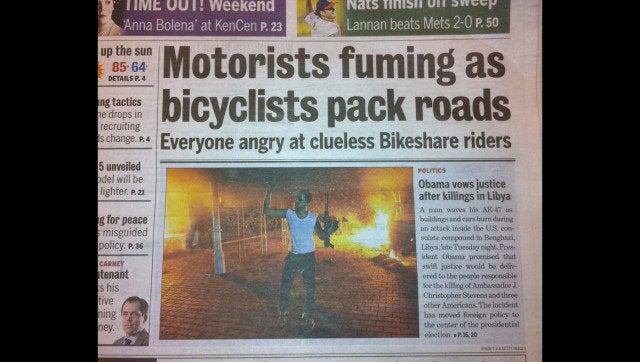 An article by transportation writer Liz Essley gets the front page bump, which is certainly an honor for any journalist. But Essley's article -- which is about the expected conflicts between cyclists and drivers on area roads as cycling becomes more widespread -- appears on the front page under the banner headline, "Motorists fuming as bicyclists pack roads, everyone angry at clueless Bikeshare riders."

A little hyperbolic, right? But to make that worse, the front page editors didn't include a picture of a bicycle or a car, but rather of a gun-wielding protester standing in front of a fire. Sure, the picture is meant to accompany an article about anti-American protests outside of U.S. embassies in the Middle East, but from afar you'd be hard-pressed not to think that the Examiner is discretely trying to make another point. (A fair one, too. Last time I got caught behind a cyclist in my car I thought of lighting something on fire while prancing around with an automatic weapon, but that's just me.)
Indeed, it does appear that the man with the AK-47 is pointing his gun at the headline, as if to suggest that, yes, everyone -- even an armed Libyan militant -- feels angry at the Capital Bikeshare's upscale, unhelmeted, supposedly socialism-promoting cyclists, because they and car drivers haven't yet figured out how to safely share the District of Columbia's increasingly crowded roads.
This is not the first time that the Examiner's main headline and cover photo has made for an odd juxtaposition. In DCist's comments, a poster going by the name of gringo_locodc says that collecting the Examiner's covers has even become a hobby:
For the past year and a half, I've actually been taking pictures of the Examiner's front page and making a facebook album of all of the ridiculous combinations they have of a sensational headline paired with an unrelated picture. I first caught on to this (intentional?) editorial idiosyncrasy when their bold headline said "BLOODY KILLING SPREE IN PG COUNTY" and then below it had a picture of a cute 2-year old hispanic kid playing in the water park in Columbia Heights.
Or, you know, perhaps not: