The Twitter account of the Washington Examiner, a conservative news site, had some unusually feisty words for President Donald Trump on Monday morning, saying that he is "going to hell" for failing to obtain "God's forgiveness."
"Trump is going to hell," the tweet read. "Anyone who ever read the bible can tell you where it stands on rich adulterers. The key to God's forgiveness is repentance. Trump's entire political career has been about the exact opposite of that."
"Also this paper is garbage for promoting 'Trump and God,'" the tweet continued.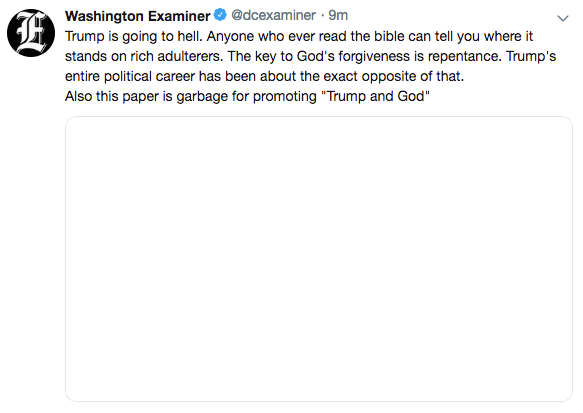 The site deleted the tweet roughly two hours later before sending out a statement saying it had been hacked.
"The Washington Examiner's Twitter feed was hacked and a tweet was posted that did not come from our staff," Hugo Gurdon, editorial director for the Examiner, said in a statement to HuffPost. "We are taking appropriate action and will issue a further statement if necessary." 
The rogue tweet was relatively short-lived, but that didn't stop some Twitter users from sharing their sassy responses.
"The Washington Examiner had two scotches too many last night," one Twitter user wrote.
Calling all HuffPost superfans!
Sign up for membership to become a founding member and help shape HuffPost's next chapter