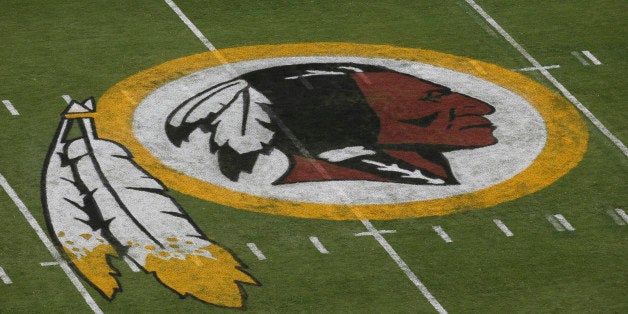 Washington's professional football team has lost another fight over its name.
The board found at the time that the name was "disparaging to Native Americans" and thus violated federal laws that prohibit trademark protections for demeaning or offensive language.
The franchise countered that decision by suing the plaintiffs who originally brought the case, arguing in court filings that the Trademark Board's ruling violated the First Amendment's protections of free speech. The Justice Department intervened in the case to defend the constitutionality of the Lanham Act, the trademark law in question. District Judge Gerald Bruce Lee, of the U.S. District Court for the Eastern District of Virginia, rejected the First Amendment claims in his decision Wednesday.
Like the Trademark Board last year, Lee found sufficient evidence that the term "may disparage" Native Americans. His ruling cited dictionary definitions, media references and statements from individuals and large groups like the National Congress of American Indians, which has long opposed the team's use of the name.
Jesse Witten, an attorney for the Native Americans who are challenging the name, called Lee's decision "a victory for human dignity and for my courageous clients who have waited so long for this ruling."
"Today's ruling by the District Court resoundingly affirmed the Trademark Office's decision that the team's trademark registrations should never have been issued," Witten said Wednesday.
"The team's ability to use its famous name and enforce its trademark rights are as intact now as they were before the ruling," team attorney Bob Raskopf told The Huffington Post, adding that the team plans to appeal the ruling "on all grounds" and that it "will be vindicated on appeal."
"We look forward to winning on appeal after a fair and impartial review of the case," team president Bruce Allen said in a statement Raskopf provided. "We are convinced that we will win because the facts and the law are on the side of our franchise that has proudly used the name Redskins for more than 80 years."
The decision to cancel the trademarks will not go into effect until the team finishes the appeal process, which it could try to take all the way to the U.S. Supreme Court.
Native Americans began challenging the team's trademark protections in 1992, when activist Suzan Shown Harjo petitioned the Trademark Trial and Appeals Board to cancel them. The board invalidated the team's trademarks in 1999, but a federal judge later overturned that decision.
Related
Popular in the Community