"Vodka or Chardonnay?" asked Lissa Muscatine, co-owner of Politics and Prose, the popular Washington bookstore.
Next question: "Trump or Putin?" Clinton's response was no less expeditious:
"I'd have to take that under advisement, as I ran against both of them."
Clinton got about as close as she's going to get to the White House this year when, on Monday, she appeared at the Warner Theater in downtown Washington, a mere four blocks from the executive mansion and a stone's throw from the Trump National Hotel.
The appearance marked the beginning of the 15-city book tour in support of her new memoir, What Happened, in which the erstwhile Democratic presidential nominee dissects her ill-fated campaign against now-President Donald Trump and her own emotional recovery from the shocking defeat.  
A peculiar feeling hung in the air ― somewhat sad, somewhat nostalgic and somewhat hopeful ― as throngs of mostly younger Clinton supporters filed into the theater, clad in all manner of campaign garb. It was as if a 10-year college reunion had been scheduled at the same time and place as a grave unveiling. In interviews with HuffPost, they spoke of the event as welcomed source of comfort in a troubling political environment.
"For me personally, it's more therapy and closure," said Elsie McGuire, an administrative assistant at a law firm, before the event began.
"I get up every day, look at my Facebook, I miss being able to see unicorns and kitties, and now I just see this angry man going completely nuts and I wonder, 'Is North Korea going to bomb us? Is everything going to be OK?'" said McGuire's daughter, Jennifer, a bank teller.  
It called to mind the customs of shiva ― the weeklong Jewish period of mourning ― that dictate that no conversations be broached with the mourners until they speak first. In many ways, it felt as if the former secretary of state had herself been sitting shiva for the last 10 months, her attendees eager for their healing to begin with her words.
"It's like your family is coming home after a big, tumultuous experience," said Chris, an attendee who chose not to give his last name but said he manages finances for a local restaurant chain. He added that he wanted to "give Hillary a big hug."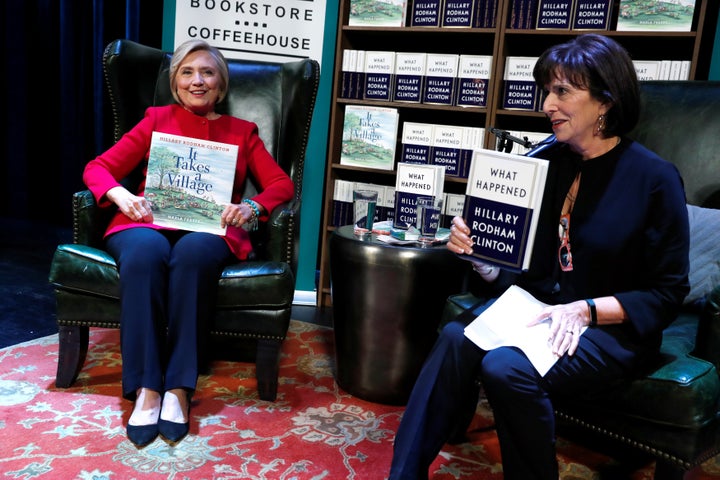 Clinton's appearances are being billed, per the book tour website, as "HILLARY CLINTON LIVE," which sounds less like a political rally and more like a Netflix stand-up special ― as if audiences can expect Clinton to pace about a wooden stool while going off on the pitfalls of airline travel and Tinder dates. Despite the bittersweet pall that hung over attendees filing into the theater, Clinton proved that analogy a not completely inappropriate one.
"I really do highly recommend it!" Clinton said of alternate-nostril breathing, a relaxation exercise she took up after the election. "Google it!"
"This isn't a question," one attendee asked Clinton in a note read by Muscatine, "but I'm drinking Chardonnay with you in solidarity." The audience erupted in rounds of laughter. 
Like Clinton on Monday night, What Happened is an often thoughtful, sometimes intimate and occasionally sassy account of what will likely be the final chapter of her political career. In addition to her widely reported analysis of, well, what happened on Nov. 8 (short answer: her own mistakes, shoddy journalism, Vladimir Putin, James Comey, a bruising primary battle with Bernie Sanders, sexism and voter suppression), the book offers compelling insights into her campaign operation (in particular the extent to which then-President Barack Obama and his aides were involved in her early campaign) and intimate looks into her day-to-day mindset and life.
Among those looks are examples of how supporters tried to comfort her ("Pam from Colorado sent me a box of a thousand handmade origami cranes ..."), what her friends suggested she do to cope ("Friends advised me of the power of Xanax and raved about their amazing therapists.") how she coped ("It wasn't all yoga and breathing. I also drank my share of Chardonnay."), opinions on contemporary culture ("I think selfies come at a cost. Let's talk instead!"), and explanations of her iconic business attire (Pantsuits "make me feel professional and ready to go. Plus they helped me avoid the peril of being photographed up my skirt ...").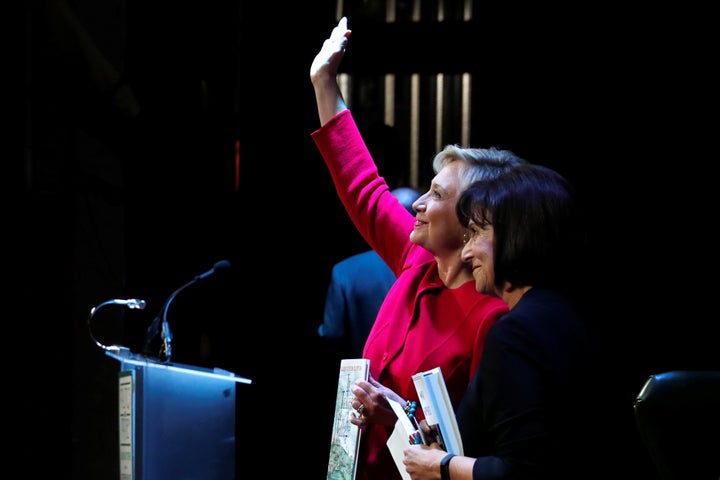 What Happened doesn't entirely avoid the mistakes of many political memoirs, with its share of ponderous self-aggrandizement and a "who, me?" treatment of her own controversies that should be very familiar to followers of the genre ("It was a also a chance to meet interesting people," Clinton writes of her paid speeches to, among others, Wall Street executives).
But for many attendees Monday night, it was clear that the exact content of the book mattered less than the mere public presence of Clinton so soon after such a painful loss.
Janelle Johnson of Bowie, Maryland, told HuffPost she escaped an abusive marriage in 2016 and proceeded to volunteer at the 2016 Democratic National Convention. Johnson said that Clinton's campaign had been a source of strength during a very traumatic period.
"When I saw her get up at the inauguration, it encouraged me as a woman to know that if you go through a really difficult time, you can get up," Johnson said. "If she can get up and the whole world knows that she suffered an embarrassing defeat, surely I can get up, too."
Clinton's warm reception ― there were a scant two protesters outside the theater ― stands in sharp contrast with the capital region's response to Trump and his allies, whose arrival have occasioned a far chillier reception. Trump's newly opened hotel, the Trump International, is the site of near-daily protests, and D.C'.s homes have become as much residences for its 600,000-plus citizens as crash pads for out-of-towners ready to participate in the seemingly endless stream of protests against the new administration.
Washington residents' outsized role in the nation's politics did not go unremarked. When one audience member asked if Clinton had any advice for federal workers worried about losing their jobs under cuts proposed by the Trump administration, Clinton urged them to "stick it out."
"There seems to be a total disregard, even a contempt on the part of many in this administration, for what federal workers know and what they've done and the advice that they can give," said Clinton.
Even the disproven "Pizzagate" conspiracy theory about Clinton and her former campaign chairman, John Podesta, running a child sex ring out of a pizza parlor basement was discussed. Muscatine announced that Clinton and her husband, former President Bill Clinton, had purchased a number of pizzas from the establishment to show support after a gunman fired shots inside it. The pizzas were delivered to a local after-school literacy program, Muscatine added.
"This is a terrible example of what can be done by people who are malicious, unacquainted with the truth and pursuing their own agendas," said Clinton.
Nissa Koerner, a native of California who has been interning in the U.S. Senate for the last year, said Trump's election has, if anything, further animated the city's already politically engaged liberal population.
"It's nonstop even more now than it was before," said Koerner. "You have your own message and you have your plan for the day, and suddenly something happens and everything changes."
"I guess I'm just looking for another kind of rallying cry," added Koerner. "After the election when she gave her concession, I know the line that stuck most with me was, 'To all the little girls out there, never doubt that you are powerful and strong,' and I guess I'm just looking for another big message to go along with that."
Calling all HuffPost superfans!
Sign up for membership to become a founding member and help shape HuffPost's next chapter
BEFORE YOU GO
PHOTO GALLERY
Hillary Clinton Was Every Woman