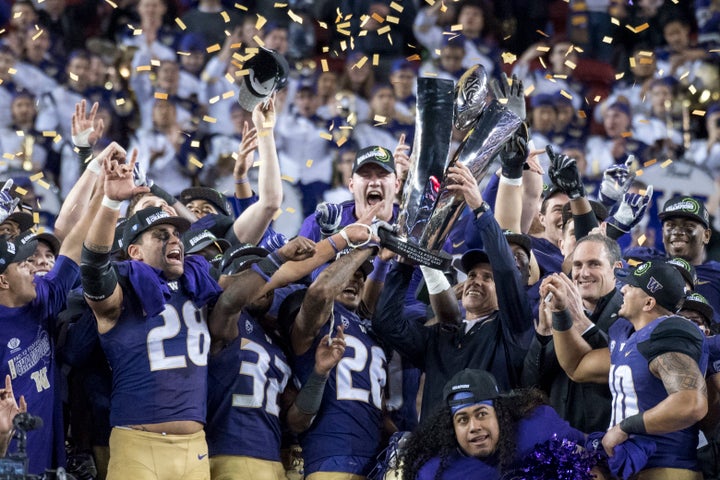 The third year of the College Football Playoff offers its biggest point spread yet. There's a 16-point line separating undefeated Alabama from 12-1 Washington as they prepare to meet in Saturday's national semifinal game at the Peach Bowl.
Point spreads don't tell the whole story.
Yes, the Crimson Tide, hoping to capture back-to-back national titles, have been the undisputed No. 1 all season ― despite being led by the first true freshman quarterback ever to start under head coach Nick Saban in Tuscaloosa.
The fourth-ranked Huskies, meanwhile, nearly missed out on the playoff all together to a two-loss Penn State team. Washington's head coach, Chris Petersen, recently said of his team's upcoming opponent, "There's no weaknesses out there." And he may be right.
But if you're ready to write off Petersen's Huskies, look at history: His teams thrive on that. 
So here are three reasons why the Pac-12 champs could actually topple the heavy favorites out of the SEC ― and deny Saban his sixth national title overall and fifth with the Tide.
Quarterback Edge
Despite a sluggish two-game stretch, Washington's sophomore quarterback, Jake Browning, has thrown touchdown passes at a higher rate than anyone else in NCAA history. He has tossed a Huskies-record 42 touchdown passes (putting him second nationally this season), to go along with his 176.5 QBR (the fifth best in college football). Browning, who also holds the national prep record for touchdown passes, was the rare recruit who spurned Alabama's offer.
We knew the team would be really good this year in large part because Browning plays just like Petersen coaches: impossibly steady, focused on finding ways ― sometimes unconventional ― to win. Boosted by a superb offensive line, Browning is a beacon of accuracy and just mobile enough to escape pressure.
It's true that Alabama has the best defensive line in college football, and perhaps the best player, too, in supremely gifted defensive tackle Jonathan Allen, the Chuck Bednarik Award winner as the nation's best defensive player. But given Browning's ability to withstand a murky pocket, he represents one of Washington's undisputed advantages.
The Tide's freshman quarterback, Jalen Hurts, has proved a dual threat, with 22 passing touchdowns and 12 rushing. But he's also prone to erratic stretches, as we saw in the Ole Miss and Texas A&M games. And he's tied for worst in the country with 10 fumbles.
Plus, Hurts hasn't been asked to play from behind much. Browning has a tendency to put pressure on opposing offenses: The Huskies offense averages 44.5 points per game, good enough for fourth best in the FBS rankings.
Turnover Margin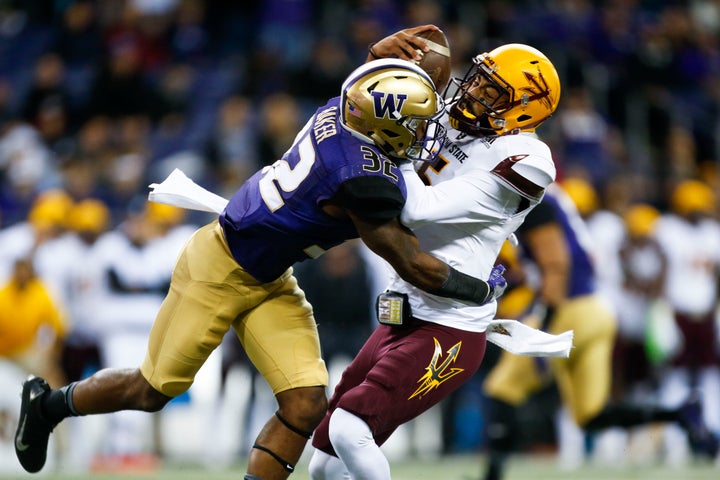 The Huskies are down a couple of terrific players defensively in injured linebackers Azeem Victor and Joe Mathis. Even still, their dynamic blend of team speed and ability to rally to the football have helped them earn a plus-21 in turnover margin, which is the best in the country. Not coincidentally, they also rank in the top 10 nationally for third down defense. 
And the Huskies have done it by employing legitimate NFL talent at every level of that defense. The secondary offers their best crop of talent, led by First-Team All-American safety Budda Baker, along with corners Sidney Jones and Kevin King. Jones, who is a Sports Illustrated Second-Team All-American, is perhaps the best cover man in America. An NFL general manager was gushing to me recently over his ability.
The Huskies are an extremely sound tackling group and pride themselves on putting pressure on quarterbacks. Hurts will have to be careful with the football, because his opponent has a slew of ball hawks. Freshman All-American safety Taylor Rapp, in particular, is coming off a two-interception game, including a pick-six, against Colorado in the Pac-12 title match.
For his part, Browning has tossed just seven interceptions all year.
The Big Play!
As good a bowl coach as Saban has been, Petersen, with two Fiesta Bowl wins at Boise State, isn't too shabby either. We can expect an onslaught of creativity from him.
Watch out for what he does with wide receiver/speed demon John Ross III, the AP Pac-12 Player of the Year and First-Team All-American, who has scored 17 touchdowns this year. Keep an eye, too, on Dante Pettis, a dynamic wideout who can make spectacular plays. He owns the school record with five career punt returns for TDs, including the game-winner over Utah above.
But the overlooked power of the Huskies is their running game. Petersen leans on two very capable, very different backs ― strong and shifty sophomore Myles Gaskin (1,339 yards, 10 TDs) and junior Lavon Coleman (an average 7.8 yards per carry).
Trick plays will most definitely be on the table as well ― to neutralize Alabama's beef up front and maximize Washington's sensational speed. The Huskies won't hold anything back, which means fans should look for the craziest of upsets in Atlanta.
Calling all HuffPost superfans!
Sign up for membership to become a founding member and help shape HuffPost's next chapter