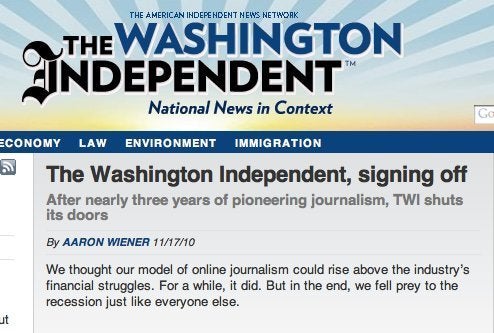 Sad news today, as the three year-old Washington Independent is closing its doors. Launched with the noble goal of providing substantive reporting on a number of very underserved issues, the Windy garnered recognition and launched careers. But in the end, it seems that they were a victim of the very financial downturn that they covered, exceptionally. Editor As Aaron Wiener explains in his sign off post:
But TWI was not just a journalistic experiment; it was also a financial one, and ultimately, the successes of the former couldn't sustain the strains of the latter. Our first year was marked by a kind of exceptionalism, the feeling that we were expanding as other newsrooms were contracting, that this new model of journalism would survive as our dead-tree colleagues struggled. But in the end, we fell prey to the recession just like everyone else.

TWI has always relied on donations, primarily from foundations seeking to promote journalism in the public interest. Those donations began drying up long ago. I'm grateful to the American Independent News Network for keeping TWI alive long past the point when its expenses began exceeding its receipts. But it wasn't sustainable, and today the bosses informed us they're pulling the plug. On Dec. 1, TWI will begin mirroring the content of our network's other national site, The American Independent. TWI's reporters and I will look elsewhere for work.
For my part, I'd say that the work that Wiener and his staff have done over the years has been welcome, and exceptional. The Windy had a real nose for filling in the gaps that the traditional media left blank. In areas such as immigration and national security policy, for instance, the Washington Independent did stand-out work, providing full-flesh coverage of stories that tended to only get tidy cable-ready soundbytes elsewhere. And they fostered a ton of talent -- some of which Wiener highlights:
I have seen a great many changes in my more than two years at TWI. I've worked under three inspiring editors with three very different styles -- Allison Silver, Laura McGann and Mary Kane -- before being given the privilege to lead the team myself in July. But through it all, there's been a deep conviction that good, solid reporting is more important than capitalizing on the latest scandal to drive traffic. I've had the tremendous honor of working with some of the best young reporters in the country: Spencer Ackerman, whose tenacity as a national security reporter is completely unrivaled; Dave Weigel, who defined the modern conservative movement and understood it like no one else; Mike Lillis, whose tireless coverage of Congress was underscored by a desire to root out stories of injustice; Annie Lowrey, who showed us that an economy reporter is more valuable when writing about the underprivileged than when covering Wall Street; and many more. It's no surprise that these TWI alums are all making waves at top national publications.

But I'll miss the current TWI team most of all. We've only been together a few months, and it feels like we were just getting started. Andrew Restuccia is a scoop machine on the environmental beat, but he grounds his coverage in the news that truly matters, sexy or not. Jesse Zwick is a masterful storyteller who has managed to distill an enormously broad beat into important and meaningful narratives. And Elise Foley has quickly transformed herself into one of the best immigration reporters in the country, and in the process, she's proved just how critical and undercovered a topic immigration is.
American Independent CEO David S. Bennahum expressed his dismay at having to share the bad news, but noted that the decision to shutter the Washington Independent was one of raw economic realities. TWI's work, he explained, was subsidized for a long while, but in the end, it wasn't something that enough people were willing to pay for. As for the larger Independent network, Bennahum told the Huffington Post that, "the other state sites with the exception of New Mexico are going to persist, and the reason is because they are paid for, those are working."
"This is a function of doing what we do best," Bennahum explained. "Personally, we're heartbrooken because the site was exceptional...we had melded the seriousness of purpose with the dynamism of blogging. The changes we've gone through are not a reflection of the quality of the work."
He continued, "Aaron's post today, is a wonderful representation of the dignity and ability of the entire TWI staff, a real reflection of all of the fine people that have worked there. We are grateful for their work, and we expect them to find work elsewhere very quickly."
Popular in the Community