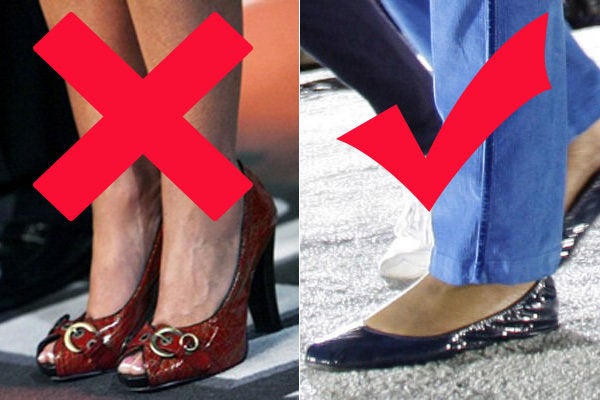 America has gone hog wild for Michelle Obama's flat shoes. With all the hoopla you'd think she'd sprouted wings out of her ballerinas like Hermes. Have Americans never seen a flat before?
It may be surprising, or admirable, to some that our first lady is greeting dignitaries in a flat, but if you live in Washington, you know that they are the city's official footwear. In the warmer months, there are so many toes tucked into Tory Burch or J. Crew ballerinas that you wonder if the District's women all have plans to pirouette with Baryshnikov after work.
Washington is a preppy town, and the flat is a very preppy shoe. Those outside the beltway may not realize it, but D.C. summers are full of whale pants, seersucker, Nantucket red and yes, brightly colored ballerina flats. Michelle's classic style is what Washington is made of. We are not a high fashion city but a town with a lot more emphasis on being put together than sexy. Capitol Hill and Georgetown are full of women sporting sundresses and pearls with nary a heel in sight. And they don't get tarred and feathered for their choice of footwear by Anna Wintour, because before January 20th 2009, the fashion world didn't know where Washington was.
Washington had style before the Obamas came to town, and the flat shoe was not birthed with the current first lady. But never mind the details. Barbara Bush had her pearls, Nancy Reagan her low BMI and Michelle Obama her ballerina flats. We've seen her in beige ones, silver ones, black, patent and lace ones, and then of course there are the flat boots and flat sandals. (See a slideshow to this effect.) Why has Michelle Obama picked the flat as the head cheerleader of shoes? Is it because she doesn't want to tower over her husband? Because she wants to be conceived as casual? Or does she have foot issues she would rather not share with us? The world may never know.
What we do know is that a political woman's footwear can put the media in a tizzy. When Sarah Palin wore her sky-high heels, she was scrutinized down to her bunions. I understand why our first lady is not following suit. She can't exactly strap on a platform gladiator sandal and have Midwestern moms and podiatrists chide her for her choice. So she has chosen the Miss Congeniality of footwear and showed us that there's something refreshingly modern about a first lady in flats.