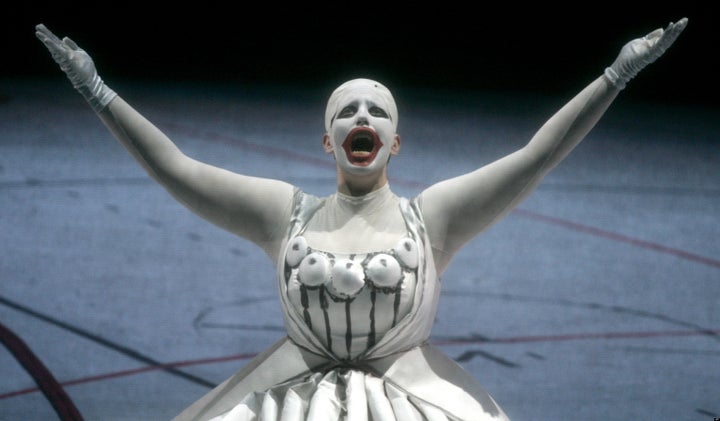 Francesca Zambello ranks among the world's most prolific opera and musical theater directors. Revered for her fearless dramatic intensity since her Houston Grand Opera debut in 1984, she seems to move effortlessly from her role as artistic and general director of the Glimmerglass Festival in central New York, to her position as artistic advisor at the Washington National Opera (now part of the Kennedy Center), to freelance assignments at all the major houses.
Zambello is in constant demand. This year she has already staged Show Boat at Lyric Opera of Chicago, an acclaimed production she will reprise in Washington next May, and La Traviata at Opera Australia, a unique open-air version at Sydney Harbor. In the fall she returns to Broadway to co-direct the musical, Rebecca, which she premiered in Vienna in 2006, and December will find her at the Met restaging her 2003 Les Troyens.
When I caught up with the director in D.C. last month, she was about to meet with the artistic staff at Washington National Opera, while also preparing to direct Aida, which opens the Glimmerglass Festival on July 7. Her new season will run through August 25 and also features productions of The Music Man, Armide, and Lost in the Stars.
Though Zambello lives in Cooperstown during the summer, she makes her home in Manhattan with attorney Faith E. Gay, whom she married last December. She has formed a close bond with Gay's son, and she looks forward to sharing the sylvan riches of the Otsego Lake region with her family as the season unfolds. What follows is a condensed version of our freewheeling chat.
In the 1980s you and Stephen Wadsworth ran the Skylight Opera Theatre in Milwaukee. Have you learned new things about resident companies since taking over Glimmerglass?
It was a huge learning curve, but the great thing about running a company is that I have a vision of what I want to produce and what I want our internship programs to be -- education is a huge part -- and it's my responsibility to make sure the money gets raised and the quality is there. I have an amazing staff, but [presenting quality] is still on my shoulders, as opposed to being a freelance director where you come in, do your work, and leave. Having a sense of roots and commitment to a company I believe in so strongly... is so satisfying.
The setting of Glimmerglass was a big part of my attraction, but it was a trifecta: It was being able to be still in natural, beautiful surroundings, and having the opportunity to develop a festival that's different from a company because it's compressed, and knowing that my mission and myself were in alignment with our educational focus and my ability to create interesting work.
Your second Glimmerglass season is about to start. Are you happy with your progress?
I'm proudest that a festival emerged last year through extensive programming -- we added all these concerts and cabarets in the Thaw Pavilion, our second space. We sold 15 percent more tickets than the year before, and we balanced our budget for the first time in six years with a surplus. We had a 400 percent increase in children's attendance, and right now we're way ahead in tickets sales of where we were last year at this time.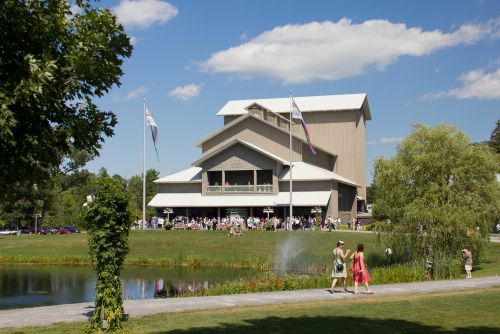 Glimmerglass Festival's Alice Busch Opera Theater. Photo by William Brown.
There's a lot of talk about the aging of today's opera patrons. Should all companies focus on attracting the next generation?
When everyone says, 'Oh, the audience is getting older!' I think, 'Thank God they're getting older because now people who had careers in the business world are retiring early and they're healthy and they want to discover new things.' Why shouldn't these people discover opera?
But, yes, we also want to cultivate young people. I think my mission thus far as a director was about making opera available to a wider public -- such as families and children -- which I'm very committed to. Today, for instance, we have a big meeting at Washington National Opera because we're commissioning a new piece for the holidays [2013]. And in D.C. we'll be doing a lot of new works, and some of those initiatives are about attracting young audiences -- they're short operas, twenty minutes to an hour, about contemporary American themes. We're going to announce them soon
At Glimmerglass, people under 18 can buy ten dollar tickets, and we have many concerts and cabarets that are also priced at ten dollars for this age group. Last summer when we did Annie Get Your Gun I'd give a talk before the show and sometimes I asked all the kids to stand up and we'd have as many as 200.
You've said that all of the productions you're doing at Glimmerglass this year support the idea that opera should be a vehicle for social change. How does Aida fit in?
We're all pursuing the question of how to make opera more relevant for today. I believe that if content is relevant, people will make that connection. We don't have to hit them over the head, but hopefully our patrons will go home and think about what they've seen and heard, and a deeper meaning will emerge.
Regarding Aida, it was the start of Arab Spring as I was planning this season, and I thought, 'This is a piece with contemporary relevance -- one culture trying to dominate another.' I've only directed Aida once before in Geneva. It's an opera I've been around a lot, but I want to create an intimate version. I think that some in our audience will never have seen it live, because for many we're the only opera company they go to. So I thought, why not do a Glimmerglass version of the big operas? When Verdi wrote Aida, the piece was in a theater the same size as ours, so there's no reason we shouldn't do it. I invited my friend Nader Abbassi who runs the Cairo Opera, to conduct -- he's done Aida 500 times at the Pyramids -- and we found a phenomenal cast.
Tell me about the singers in Aida. Your principals are all making their role debuts, right?
Yes, and I think our Aida, Michelle Johnson, could be the new Leontyne [Price]. Michelle was a contestant in the George London contest, and one of our Board members, Alfred Hubay, had been a judge and recommended her. I watched the clips, then I called her and asked her to come over and talk to me. She came to my apartment in New York and sang, and I told her, 'This is a year away but I think you should do it. You're going to sing this part all the time, and I promise I'll direct it myself and spend a lot of time with you.' Then she won the 2011 Met Opera National Council Auditions.
Eric Owens who's our artist-in-residence this year had never done Amonasro... and our Radames is Noah Stewart. He released an amazing crossover album on Decca in Europe and has gone from obscurity to being number one in both classical and pop in England. And we also have Daveda Karanas making her debut as Amneris. I'm hoping to prove that people can experience Aida in a way they haven't experienced it before -- and they're really going to hear the music.
When I chatted with you for HuffPost in 2010, you said you planned to do a classic musical at Glimmerglass each season. This year it's The Music Man featuring Cooperstown native, Dwayne Croft, as Harold Hill and Elizabeth Futral as Marian. Why this show?
I felt it related to the all-American Main Street mentality. It's the story of a town being corrupted that is healed by music, and so I thought it fit in well with our social change motif. We're updating it to post-World War II. I talked with the director, Marcia Milgrim Dodge, and we felt we needed to find an edge, so Marian the Librarian will be like Rosie the Riveter, walking around in her slacks.
You also told me you didn't want to amplify the sound for musicals. How is that working?
I still believe that's the way to go. We bring unamplified sound, big voices, and a big ensemble to the stage, so you're hearing these shows the way the composer envisioned them. I definitely talk to the singers before they sign on, so they're comfortable speaking the dialogue without amplification, and [for them] it's a joy working in a 900-seat house.
Speaking of musicals, you plan to stage Kern and Hammerstein's Show Boat at Washington National Opera next May. What are the challenges?
It will be the exact same production I did in Chicago this February. The biggest thing about Show Boat is working out the version, especially in the second act, and I really wanted the focus to stay on Magnolia because it's about her renaissance and her change and her coming into herself. This production doesn't shift to Kim, her daughter, but focuses on Magnolia becoming a star and on Magnolia not going back with [her husband, Gaylord] Ravenal, but accepting her status as an independent woman. What's fascinating is that she raises Kim herself and is strong.
The other major issue is race, which runs through the whole work. The plot hinges on a case of miscegenation, and it's important to go back to the novel by Edna Ferber. All of her stories are incredibly political whether it's this one or Giant -- they're about race, about class--and I think she's one of the great underrated writers. Ferber's books are so powerful and so rich in American tapestry, and the lessons she tried to bring out are still relevant. The central story is how the people are treated and how they come around, and a lot of what I tried to do in act two is show how race relations had changed and how the African-Americans are doing better by the time the show ends in the 1920s.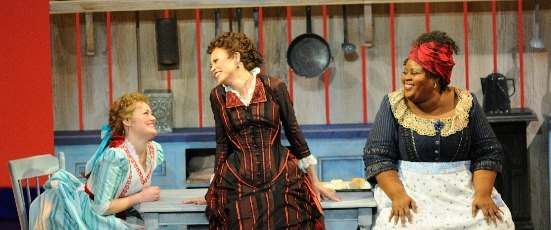 Zambello's Show Boat first docked in Chicago. Photo by Robert Kusel.
Alyson Cambridge (middle) and Angela Renee Simpson (right) will appear in WNO's staging.
Show Boat is your 11th production for WNO. Can you discuss WNO's future plans?
Really, eleven? I'd better go back and count. [Laughs, seemingly amazed.] Well, I'll be directing one producton each year. It's already been announced that [my staging of] the American Ring is coming back in spring of 2016, and of course it began here and was inspired by Washington which represents 'the ring of power.' We're in the planning stages, and it will be a major event to have three complete cycles in the capital city a few months before the 2016 election.
I love being involved here, and for next season (2012-2013) I had more of a hand in the preparations, and after that I'll be involved more and more. Without giving specifics, I think we'll be emphasizing diversity in repertory and displaying exciting voices. I can envision more productions with heightened theatrical values, and this theater [the Kennedy Center Opera House] is more intimate than the Met, Chicago, or San Francisco, so we can present certain singers in roles they might not do elsewhere.
I gather you think live theater will survive despite the arts' increasing use of technology.
I said back in 1980 that one day we'll be going to work in a TV studio. Technology is changing everything, and maybe we'll find a way to make live theater more truthful through our use of technology.
But I still believe we need the live experience in a theater the same way we attend church services and town meetings. We need the human connection.
Calling all HuffPost superfans!
Sign up for membership to become a founding member and help shape HuffPost's next chapter