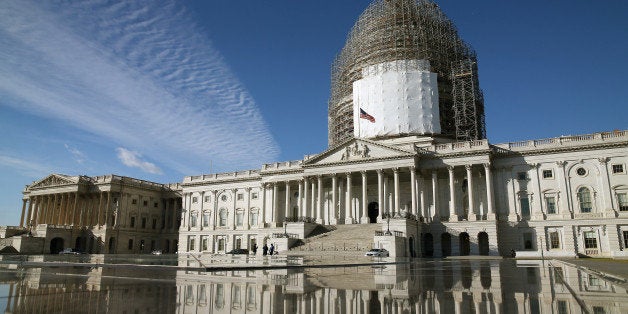 Barbara Boxer is retiring from the Senate in two years. She advocated for what was right throughout her time in public service -- consistently, insistently and courageously. She represented all Californians and spoke for all Americans. That's as it should be.
I've always said that climate change is the defining issue of our generation. I've set out to hold candidates and elected officials accountable and to push our democracy to truly represent the interests of our kids.
I am passionate about preserving the rights and opportunities of current and future Americans. That has meant fighting to stop global warming. It has meant working with my wife, Kat Taylor, to lend money in underserved communities through the nonprofit community development bank we started -- Beneficial State Bank. It has meant working through our nonprofit, The Center for the Next Generation, to support efforts to make sure children 0-5 get the chance to have a fair start in life.
Since I left the private sector and founded NextGen Climate, in our fight to prevent climate disaster and preserve American prosperity and jobs, I have met some of the best people I've ever known working as part of a community to safeguard our future right here in California. Together, we worked to close a tax loophole that favored out-of-state companies at the expense of California jobs and sent the money back to California schools. Together, we supported the rights of working families to have a voice in politics -- especially when there was an effort to try to take that right away. And, together, we took on the Texas oil companies in a ballot initiative in order to preserve the most progressive energy laws in the world.
Together, so many of us in California have worked for environmental justice, economic justice and education justice in order to help give the next generation a fair shake.
And, because of all the work done by so many people here in our state, California is on the move.
Just last week, our great governor, Jerry Brown, set bold climate goals for California, making clear he intends to build on our state's leadership when it comes to clean energy jobs.
But there is a different picture in Washington. There, strong interests oppose recognizing global warming and fight against the rights and futures of average Americans. There, they are winning. They don't want to give all of our people a fair shake at the American Dream if it means any threat to their corporate interests.
People rail that democracy has been subverted to powerful economic interests -- that "We the People" have been overlooked. Based on what I have seen over the last several years, I fear there's some truth in that charge, and it scares me -- badly.
Holding office is a sacred trust in our society, and I am honored that so many colleagues and friends have encouraged me to consider entering this race. One thing is clear: Washington needs to be shaken up, and we need climate champions who will fight for the next generation. California Democrats are blessed to have a deep bench of talent, and I will decide soon based on what I think is the best way to continue the hard work we've already started together to prevent climate disaster and preserve American prosperity.
Support HuffPost
The Stakes Have Never Been Higher
Popular in the Community