 Two years after Washington state largely ditched the No Child Left Behind Act, the much-maligned federal education law will be in full effect there yet again for the coming school year, U.S. Secretary of Education Arne Duncan said Thursday.
Last August, the Education Department placed Washington, Oregon and Kansas -- and later Arizona -- on "high-risk" status for losing their waivers from the law. Washington's standing became precarious because it did not meet the federal government's guidelines, which tie students' standardized test scores to teacher evaluations.
In February, Washington's legislature killed a bill that would have brought the state into compliance with those teacher evaluation requirements. Current state law says that teacher evaluations can rely on standardized test scores but does not require it. Despite Duncan's explicit warning that failure to comply could mean loss of the state waiver, the bill failed with bipartisan opposition.
So on Thursday, Duncan announced the state's waiver will not be renewed, requiring the state to return to the Bush-era education law.
"Washington's request ... [for a waiver] was approved based on Washington's commitments to carry out certain actions in support of key education reforms ... Washington was not able to keep all of its commitments," Duncan wrote in a letter sent Thursday to Washington Superintendent of Public Instruction Randy Dorn. "Washington's flexibility will end with the 2013-2014 school year."
No Child Left Behind is the George W. Bush law that mandates standardized testing for students in reading and math, and spelled out consequences, such as school restructuring, based on those scores. Under NCLB, persistently failing schools had to set aside 20 percent of a funding stream to pay for tutoring. But with a waiver from the federal government, that money could be used for other purposes.
Thursday's move will make Washington subject again to the law's broad sanctions. Instead of using the federal government's more nuanced system for identifying underperforming schools, the state will have to use the NCLB accountability system called "Adequate Yearly Progress," a blunt measure based on standardized test scores. According to NCLB, to make AYP in 2014, all students are expected to be proficient in English and math -- meaning that next year, it's possible that every school in the state could be labeled as underperforming.
In addition to returning to the cruder NCLB system, Washington districts will likely lose the freedom to spend $38 million to $44 million previously set aside for mandatory tutoring. That loss is likely to make it harder to budget for the next school year.
Washington Gov. Jay Inslee called the news "disappointing but not unexpected" in a statement chiding his state legislature for failing to amend teacher evaluations to the department's satisfaction. "The waiver provided districts flexibility to use nearly $40 million in federal funds to support struggling students," Inslee said. "Loss of that funding means those districts now face potential impacts that could include laying off some of Washington's tremendous teachers or cutting back on programs that serve at-risk students."
"It's a terrible thing for our students, but it's a good thing that they're not bluffing and doing what they said they're going to do," said Anne Martens, a spokeswoman for the Washington chapter of the education reform group Stand for Children.
NCLB expired in 2007, and Congress has yet to agree on updated version of the law. As a result, in 2011 the Obama administration invited states to apply for waivers: States that agreed to the administration's recommended reforms, such as teacher evaluations, have been exempted from the law's more onerous strictures.
Washington's revocation comes as 43 states with similar waivers -- including Illinois, as recently as last week -- evaluate how to proceed. In some cases, states have reported that, to meet the federal government's regulations and qualify for a waiver, they have had to put major changes with far-reaching consequences on an expedited and often clumsy schedule. That Duncan has made good on his threat to revoke Washington's waiver for failing to meet its deadline could affect how other states move forward.
"The Department of Education made the right decision in revoking Washington's waiver," said Kate Tromble, legislative director for The Education Trust. "Washington made commitments that it didn't live up to, and the department is drawing a bright line, showing other states that they must follow through with what they committed to in their waivers."
But that doesn't mean that all of the states contemplating their waivers are certain to fall in line.
"It might give states additional motivation to move off of high-risk status if it's a punitive process for Washington," said Anne Hyslop, an education analyst at the New America Foundation, "but some states might see this and say, 'That doesn't sound so bad, I wouldn't mind doing it.' You might see states opting not to extend their waiver."
Before You Go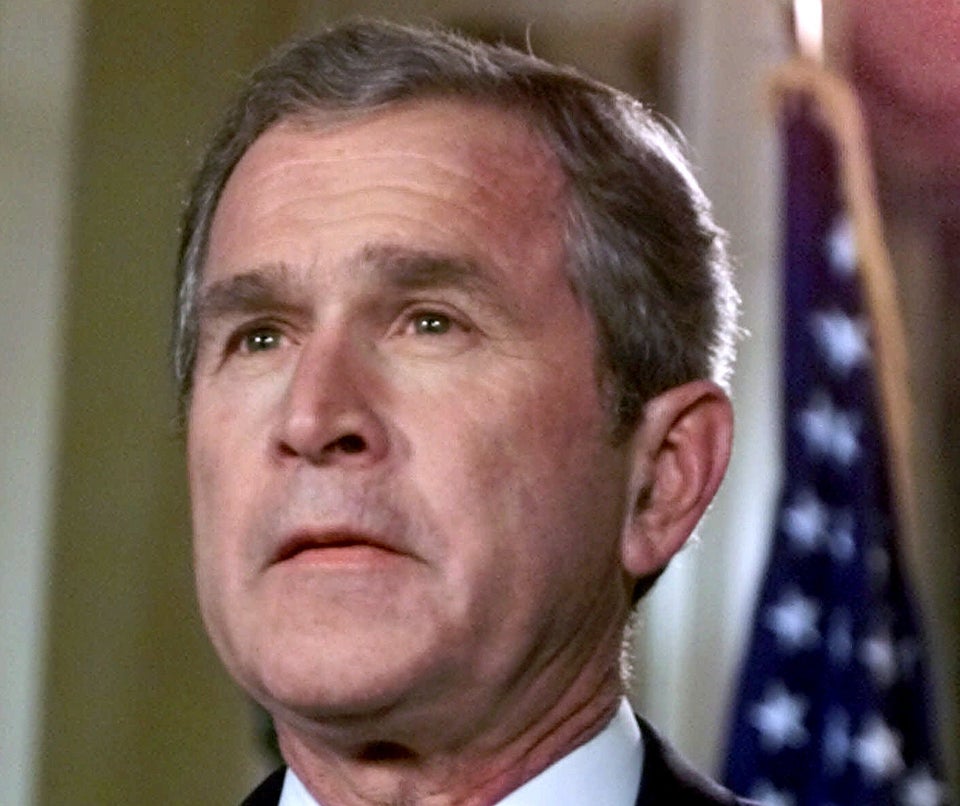 George W. Bushisms Over The Years
Popular in the Community