 The Washington Post is planning to downsize its newsroom, offering voluntary buyouts to some newsroom employees.
Romenesko reports that executive editor Marcus Brauchli announced the buyout program in a staff-wide email on Wednesday. According to the memo, the paper will be offering a limited number of buyout packages to departments that the management feels can absorb cuts.
Brauchli wrote that the goal is to achieve "a limited staff reduction" and "real savings" without sacrificing the quality of the paper's journalism. He also said that the Post may even "turn down some volunteers if we feel their departure would impair our journalism."
The announcement comes amidst a sustained period of financial turmoil for the Post. The company saw its fourth straight quarter of declining revenue in its last financial reports.
Outgoing managing editor Raju Narisetti had hinted at buyouts when he told a meeting of D.C. journalists that the Post would likely eliminate 100 positions over the next two years. Romenesko reported that the news caused "an uproar in the Washington Post newsroom" when it surfaced at the end of January.
Below, read the full text of Brauchli's email from Wednesday.
From: Marcus Brauchli
Date: Wednesday, February 8, 2012
Subject: Announcement to newsroom staff
To: NEWS – All Newsroom

To the staff:

Today, we are announcing that we will offer a voluntary buyout to some Newsroom employees. Our objective is a limited staff reduction that won't affect the quality, ambition or authority of our journalism. We believe this is possible, given the changes in how we work and the great successes we have had building our digital readership lately.

To preserve that momentum, we do not intend to offer this program to every department or individual in the Newsroom. The reality is that we're able to absorb staffing changes better in some areas than in others. In those departments where we do offer the buyout, there will be caps on the number of people who can participate, in order to moderate the impact and preserve our competitiveness in core coverage areas. In addition, we may turn down some volunteers if we feel their departure would impair our journalism. That said, it is important that we achieve real savings.

The exact details of the buyout, technically a voluntary Separation Incentive Program, will come later, after the company talks to the Guild about its proposed terms. Here's what we can tell you now: The program does not accelerate pension benefits. It will include enhanced separation payments and company-paid COBRA (health insurance) premiums for eligible fulltime employees. Post representatives will be discussing the proposed program with the Guild over the next two weeks, consistent with the terms of the labor contract. The terms they agree on also will be included in an offer to Newsroom editors in eligible departments.

This program will be available for a specified period of time only; employees will have 45 days to study this offer and decide whether to accept it or decline it. The Post will schedule the final date of employment for those who elect to resign as part of this program; for most employees this will mean a resignation date of May 31, 2012.

Any measure like this is difficult. But we believe this approach is a sensible and effective way of addressing the economic forces affecting our industry. We constantly rethink how we do certain things in order to become more efficient, agile and competitive; this will require more such thinking. The Post's Newsroom remains formidable, and we will continue making tactical hires so that even as we get smaller, we get stronger.

We plan to distribute SIP packages to eligible employees in a few weeks. We will have two Town Hall meetings today, at 11 a.m. in the Community Room and at 4:30 p.m. in the Auditorium, to answer your questions.

Marcus
Liz
Shirley
Peter
Before You Go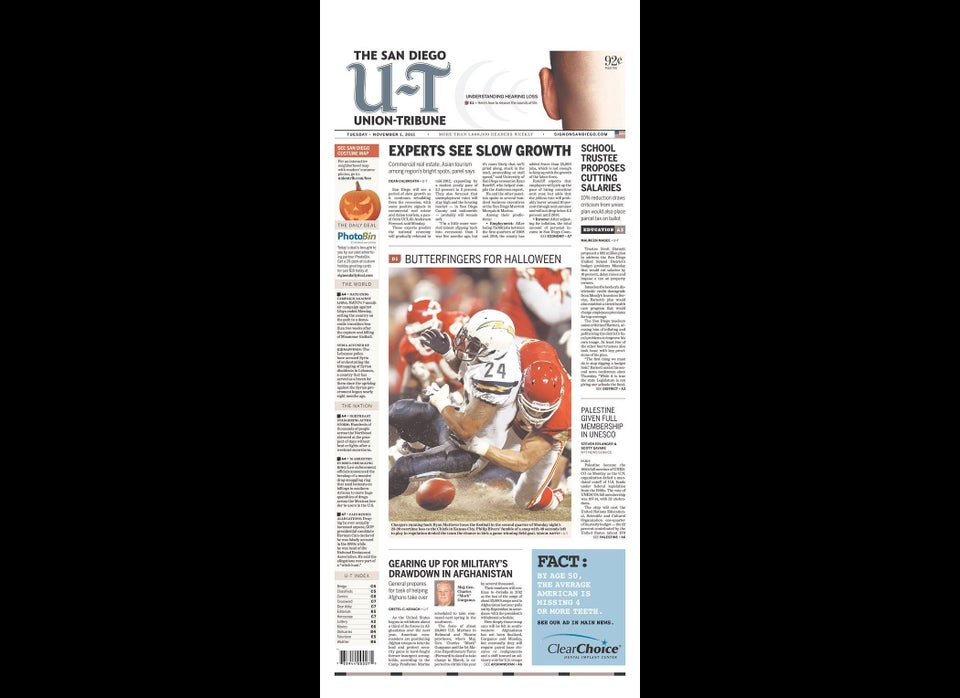 Top Newspapers of 2011 (by March-September circulation)
Popular in the Community