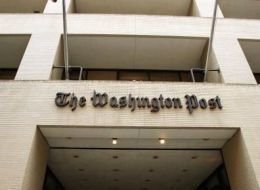 For as long as I can remember (by which I mean "back to late 2009") people have been warning us that the Washington Post has "the worst opinion section in America". But what can you do about it? Write mean things in your little blog, right? Well, finally, one aggrieved member of the community is stepping up his complaints by actually showing up at the Washington Post to yell at it! Meet Robert Brannum, "ward 5 activist" and triumphant victor over his own impulse control.
Brannum...requested that the D.C. Office of Campaign Finance investigate DCPS Chancellor Michelle Rhee's connection with the solicitation of private foundation grants to help fund the new teachers' contract. The Post's editorial board wrote a piece about Brannum's request that was very critical, calling Brannum's accusations "half-baked" and stating "[l]et's hope reality sets in before there is real harm to education reform." Brannum then sent this response to the Post, which the paper reportedly heavily edited and published on their "All Opinions Are Local" page. Brannum didn't take too kindly to that, so he went and affixed megaphones to the roof of his car, and well, here we are.
It's a good thing no one told Brannum about Marc Thiessen!
Popular in the Community