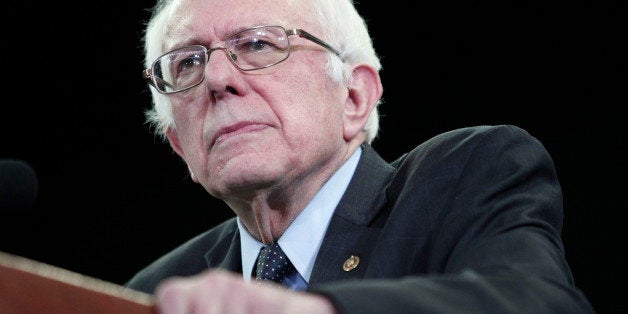 Last week I posted a piece at Liberals Unite and Huffington Post about an article in The Washington Post by Pulitzer Prize winning writer Jonathan Capehart, in which he questions a photograph depicting Bernie Sanders at a University of Chicago anti-segregation protest. Based on the testimony of two people claiming to be in attendance at the event, both Capehart and Sam Frizell of Time ran simultaneous articles putting the integrity and honesty of Bernie Sanders into question.
What's at issue is Sanders's misleading use of a photograph to burnish already solid credentials. For a candidate who garnered 92 percent of New Hampshire Democratic voters who said the most important trait for a candidate was that he or she be "honest," the least his campaign could do is remove that photo from its Tumblr feed and stop physically placing him where he existed only in spirit.
In the following days another article started to circulate showing original contact sheets from film negatives, in sequence, as taken by the photographer, Danny Lyon, who was there in 1962.
I took the photograph of Bernie Sanders speaking to his fellow CORE members at that sit-in... Time Magazine is now claiming it is not Bernie in the picture but someone else. It is Bernie, and it is proof of his very early dedication to justice for African Americans. The CORE sit-in that Bernie helped lead was the first civil rights sit-in to take place in the North.
As a result of Lyons coming forward and setting the record straight, Time updated their article to reflect the information.
Update: On Feb. 11, 2016, Danny Lyon, the photographer who took the pictures of the sit-in posted photographs of Sanders at the same event. The rediscovered photos show Sanders seated and facing the camera, wearing a rough, dark sweater and a white shirt, similar to the activist in the disputed photo. Lyon said all the photos are in the same series, leading him to conclude that Sanders is the man in question.
This is Danny Lyon. Of course "I remember taking the photos"! That is not what I said on the phone to the Time reporter.

I went with Bob McNamara, a CORE activist and good friend. It was in a hall way, very crowded, so I stood in the corner. I did not sit. I shot Bernie standing (he was speaking when I got there.) I shot him sitting down. He sits next to McNamara, who is wearing glasses... Then I, standing above them, shoot the three close ups of Bernie, still in his sweater, speaking with his buddies...
Based on Lyons's evidence and testimony, the University of Chicago also corrected the archived photograph's caption to reflect the discrepancy, writing to "Rei" at "Daily Kos":
Thank you for your message about the 1962 CORE sit-in photos. The descriptive information for the photos has been corrected to identify Bernie Sanders as the speaker.

Sincerely, Daniel Meyer Special Collections Research Center.
The caption on the University's Photographic Archive page has indeed been corrected to reflect the evidence. The evidence being that the photographer and nearly anyone who examines these photographs agrees that it is in fact Bernie Sanders in the photograph. The Washington Post and Jonathan Capehart, on the other hand, seem to be unwilling to accept the evidence and refuse to admit that they were wrong. They did not update the article. They did not admit their mistake. They did not correct the record based on substantial evidence contradicting their accusations. What they did was double down on the smear against Bernie Sanders.
In a follow up piece titled, "Bernie Sanders and the clash of memory," Capehart feebly attempts to defend his original article quoting the widow of Bruce Rappaport, the man Capehart believes is actually in the photograph - the photograph that nearly everyone who's seen it agrees is of Bernie Sanders, including the man who took it.
This is a story where memory and historical certitude clash. Where the doubt of a campaign strategist slams up against a university archive. Where the word of a proud photographer conflicts with the pride of an ex-wife and friends. Where the civil rights activism of Bernie Sanders and Bruce Rappaport collide.
And, let's not forget, where there is also actual physical evidence in the form of photographs, making memories of something that happened in 1962 irrelevant. One of the reason we have discussions about police cams in this country is because the legal community agrees that eye witness testimony following a crime is unreliable. Imagine the level of reliability we can expect over the course of five decades.
In the days that followed Capehart's second article, he was inundated on Twitter by internet sleuths and amateur forensic experts posting evidence akin to Big Foot and Loch Ness Monster sightings. People weighed in, pointing to loafer tassels, sweater fibers, eyeglass design, haircuts, sideburns, and earlobes. Capehart responded that he was going to have to "prune his feed of trolls" and batted back accusations by posting more links to his article, demanding that people read it.
During one exchange a Twitter user points out that Capehart's partner, Nick Schmit, works for the Clinton campaign, adding the hashtag "#conflictofinrerest." Capehart responds to the tweet, saying, "No. He does not."
While it's technically true that Nick Schmit does not work for the Clinton Campaign, Capehart is really splitting hairs here. According to Schmit's LinkedIn profile, he did work on the Hillary Clinton for President campaign in 2008 and for the Clinton Foundation. He also seems to have managed to land a job in the State Department during her time there.
Capehart may have been accurate in saying that his boyfriend "does not" work on her campaign, but didn't see the need to be forthcoming about his history or his potential conflict of interest - on Twitter or in either of his articles. Maybe he's not even dating Schmit anymore, but he did. They bought a house together in November of last year. And while it's possible to live with someone for years without really knowing them, it's not entirely plausible.
None of this proves beyond doubt that Capehart acted out malice or impropriety. While he might be able to get away with a Tweet backed up with little more than shaky semantics, his second article is a deliberate attempt to impugn the reputation of a man who has dedicated himself to causes and public service for the last 50 plus years. What it does show of Jonathan Capehart, however, is a man with an otherwise decent reputation and career, ruled by an apparently gigantic ego. A man who is unable to admit that he was wrong at the expense of destroying the character and reputation of another in order to protect his own.