Washington Post staffers are expressing concern to top business-side executives at the company after guests at an election night party at the paper's headquarters were encouraged to remove napkins from a female server's body.
"[The] napkin-wearing woman who was being disrobed by guests went beyond inappropriate to offensive to those those of us who resent seeing women continually being reduced to and offered as objects of men's sexual desires," read a Friday letter to Publisher Fred Ryan and Vice President for Communications & Events Kris Coratti.
Post Articles Editor Elizabeth Chang sent the letter on behalf of around 150 male and female staffers. The Huffington Post obtained a copy from a Post source.
The woman in question was wearing something underneath the napkin dress. But staffers were rankled by the concept, especially as misogyny and sexual harassment were major themes in the 2016 election.
"The fact that this happened at a Washington Post party at the conclusion of an election in which the issue of sexual assault played a huge role is upsetting and infuriating and counter to what we thought The Post stood for in this election," the letter read.
The Post's newsroom employees have little involvement in staging such events, which are primarily produced and overseen by the paper's business side. The casino-themed Tuesday night event was sponsored by MGM, which is opening a new hotel next month in nearby National Harbor, Maryland.
In Friday's letter, staffers also questioned if that sponsorship arrangement "alone seems a bit inappropriate, given the seriousness of election night and the decision that was made about the future direction of our country (not to mention that one of the candidates was a casino-owning mogul who likes to grab women by the crotch)."
While many Post journalists were busy covering Tuesday night's election and didn't attend the party, word traveled through a newsroom Slack channel following a Washingtonian story featuring the napkin-clad woman.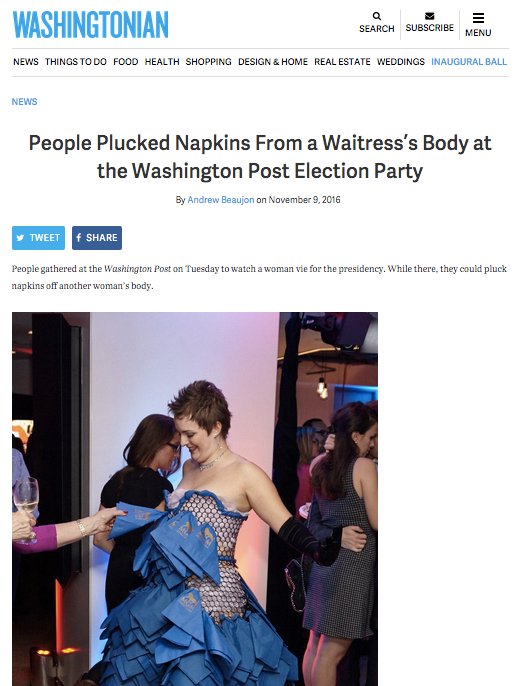 "People gathered at the Washington Post on Tuesday to watch a woman vie for the presidency," wrote Washingtonian Senior Editor Andrew Beaujon. "While there, they could pluck napkins off another woman's body."
On Friday night, Coratti responded to Post staffers, telling them that she'd spoken to Publisher Fred Ryan and that they "take seriously any complaints brought forward by employees, whether from one or many."
"Although it was never our intent, we regret that this occurred and sincerely apologize for any upset created by this situation," Coratti wrote. "Going forward, be assured that even more scrutiny will be placed on the packages offered by our sponsors — before, during, and after each event. You will not encounter anything like this again."
Coratti and Chang declined to comment beyond the email exchange, which continued Monday morning.
Chang and education reporter Valerie Strauss followed up Monday in an email to Coratti, which they said came from them but would be shared with co-signers of Friday's letter. They said they were troubled by the Post's management not defining what "this" referred to when acknowledging they regretted "this occurred" and apologizing to anyone upset by "this situation."
"We're assuming your response was filtered through the legal team, but we are concerned that you did not acknowledge the offensive, inappropriate, sexist nature of this element of the party (much less the questionable theme and sponsor in the first place)," Chang and Strauss wrote. "We would have very much appreciated a much more direct and forthright acknowledgement of why 'this' caused 'upset' and, in fact, some corroboration that the upset is shared beyond the newsroom."
"Also," they wrote, "the email does not address the question of why no Washington Post official at the party stepped into advise Napkin Lady to leave, or to at least put on a real dress and pass out napkins by hand."
Related
Popular in the Community