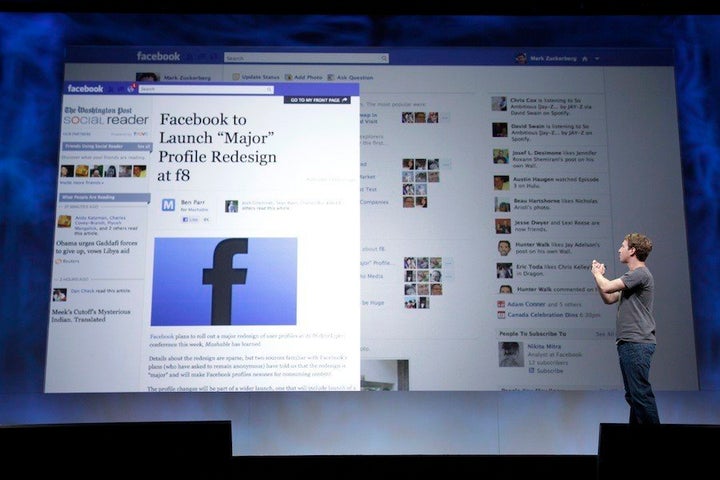 NEW YORK -- For the past few months, Washington Post CEO Don Graham tried out a beta version of the newspaper's Social Reader, one of several news apps unveiled by Mark Zuckerberg at Thursday's f8 conference. The app allows users to see which articles their Facebook friends are reading and to share the articles they are reading themselves with their network of friends.
Graham said he found it "fascinating" to see what other beta users -- mostly technologists -- were reading about technology and admits to being twice as interested in reading stories they were clicking on.
"Seeing friends reading something has actually made me a lot more likely to read it," Graham told The Huffington Post by phone from the f8 conference. "I'm a bit surprised by that."
Graham, 66, hopes other Facebook users similarly discover Post stories that friends read or that are recommended to them based on their interests.
But while the Post may see increased engagement with its journalism, the paper's site won't get the clicks. Social Reader includes all of the Post's articles, along with those from Post Co. brands -- Slate, Foreign Policy, The Root -- and partners such as the AP, Reuters, GlobalPost, and Mashable. So readers do all of their reading within Facebook.
Still, Graham says that the paper gets a lot out of the partnership. He repeatedly stressed that Social Reader allows Post management to learn a lot about what readers want.
"For me, I think in the future, good news sites -– and we're going to be one –- are going to have a social element," Graham said. "And here's the first chance to prove that. Here's the first chance to develop something special. Here's the first chance to see how important this is."
Graham said he doesn't know yet if apps will have that profound an effect on the news industry, but said that jumping on board with Facebook was a "new, very interesting opportunity."
"We have to learn about readers and what they want from us because it has changed dramatically from 20 years ago, 10 years ago, five years ago, two years ago, one year ago," Graham said. "So if we're going to have a site that's great for readers, we have to keep learning."
Despite nearly four decades between Graham and Zuckerberg, the two CEOs have actually been close since the days when Facebook still had a "The" in its name.
In January 2005, Graham and other Post executives met with Zuckerberg and Sean Parker about investing in the start-up and had later discussions about a multi-million dollar investment, according to David Kirkpatrick's "The Facebook Effect." Unfortunately for the Post, Facebook went with Silicon Valley venture-capital firm Accel Partners.
It likely would have been a great investment for the paper, which has witnessed revenue drops in the years since. Back then, Facebook was only valued in the tens of millions; now, it's priced in the tens of billions.
But Graham and Zuckerberg stayed in touch over the years and the Post CEO joined Facebook's board of directors in 2009. While the two remain friends, Graham balks at Kirkpatrick's description of him as a "mentor" to the significantly younger CEO.
"I think that's a gross overstatement," Graham said. "Maybe the other way around."
Calling all HuffPost superfans!
Sign up for membership to become a founding member and help shape HuffPost's next chapter