 Mitchell noted that the Outlook section did run what he called a "misleading, cherry-picking" piece by Post media writer Paul Farhi, in which Farhi claims the media didn't fail during the 2002-2003 rush to war.
The Post's decision to run Farhi's piece defending the press, and not Mitchell's, got a lot of attention Sunday morning on Twitter. It was especially noteworthy given that the paper's editorial board –- which helped promote the Bush administration's bogus rationale for invading Iraq -– was silent on last Tuesday's 10th anniversary of the start of the conflict.
Outlook editor Carlos Lozada told The Huffington Post that the Post didn't run Mitchell's piece because it didn't draw the "broader analytical points or insights" the paper was looking for on the topic of Iraq War mea culpas. (Mitchell has posted his article here.)
Lozada also said in a statement provided to The Huffington Post that the Post had long planned to run Farhi's piece:
When a story or opinion essay is spiked, it is easy to imagine nefarious motivations, as if a cabal of finger-drumming editors sat around a table passing judgments based on their institutional or ideological biases. Reality, I'm afraid, is far more straightforward and prosaic.

We invited Greg Mitchell –- a journalist for whom we have great respect –- to contribute a piece for Outlook on the art of the Iraq war mea culpa. We'd noticed that journalists and policy types had been issuing statements of apology on the occasion of the 10th anniversary of the invasion, and we thought it would be interesting to have someone analyze the phenomenon in greater depth. He agreed to do it and we were grateful that he turned it around in short order, given our tight deadline. However, upon reviewing the draft, we felt that the piece offered too much of a rundown of the apologies, rather than drawing many broader analytical points or insights. So we decided against running it. We expressed this to Mr. Mitchell and offered him a kill fee. He expressed his disagreement.

I greatly prefer to keep such conversations between editors and writers; indeed, I don't recall ever stating publicly why we decided against running one piece or another. In this case, I weigh in simply to say that the notion that we were somehow seeking to protect The Post or the media at large by not running Mr. Mitchell's piece is misinformed. We were well aware of his critical perspectives on the media's role in the Iraq war, given his book and frequent writings on the subject. Indeed, that is precisely why we approached him. Also, the piece had nothing to do with the decision-making on my colleague Paul Farhi's piece assessing the prewar coverage, which we'd long planned on running. I would have liked to have them both.

I trust that regular readers of Outlook will agree that we have one overriding bias –- one in favor of provocative and compelling perspectives and analysis.
I also took issue with Farhi's piece because it links to my Tuesday article on the media's "failure" in the lead paragraph, while suggesting that such an argument "grossly oversimplifies what the media did and didn't do before the war." Farhi mentions several examples of reporters who got the story right in order to argue there was no overall "failure."
What Farhi's piece neglects to mention is that I interviewed and quoted McClatchy's Jonathan Landay and the Post's own Walter Pincus, two reporters who were skeptical in the face of flimsy evidence of weapons of mass destruction in Iraq and did admirable work under difficult circumstances. So to suggest my piece didn't note good reporting is a misrepresentation.
Indeed, one can criticize the media's "failure" to hold the Bush administration accountable a decade ago while still acknowledging that some reporters did a good job. CNN's Jake Tapper recently told The Huffington Post that reporters from McClatchy -- then part of the Knight Ridder newspaper chain -- did "amazing work," but said he still believed there was a "big failure" on the part of the press.
"I cannot overstate how influential that failure of the media was to the way I approached my job when I was White House correspondent," Tapper said. "It was constantly informing how I did my job and how important I felt it was to ask tough questions on any subject regardless of my personal feelings because I felt it was important for us to be checks on this incredibly powerful place."
Related
Before You Go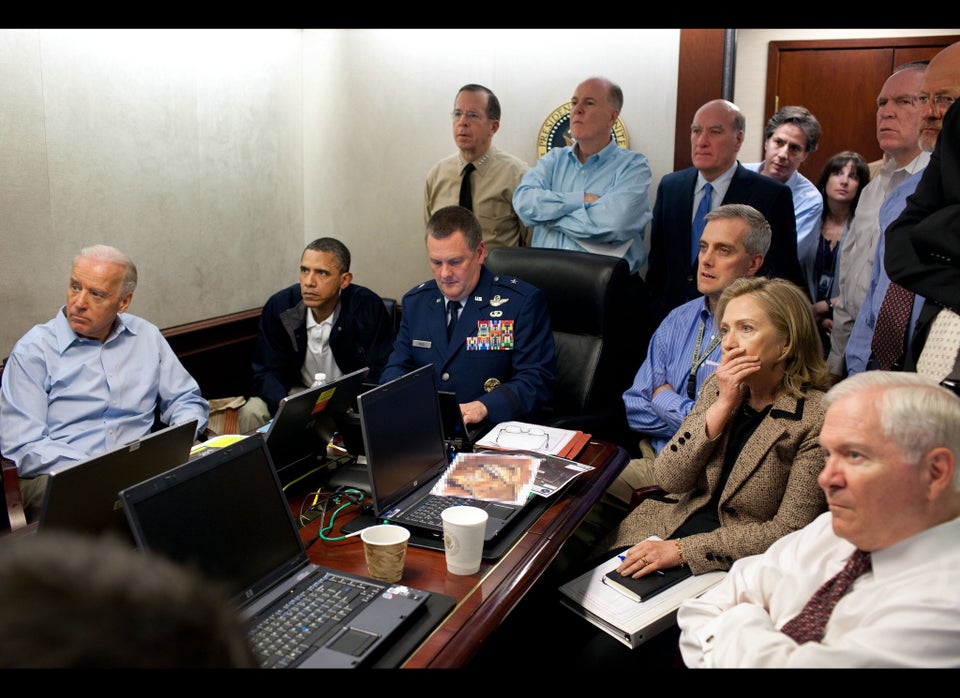 Most Iconic Photos Of Obama's First Term
Popular in the Community