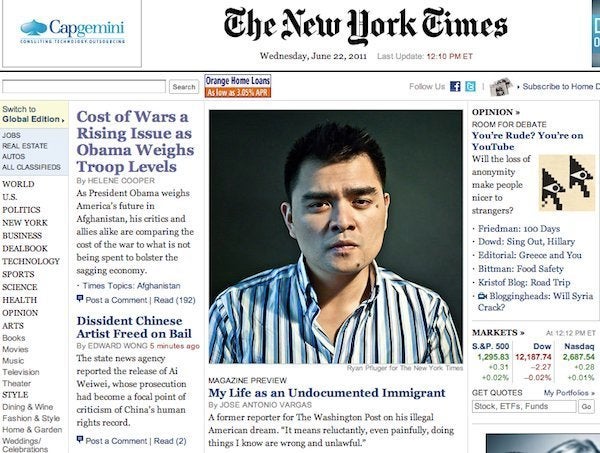 But The Washington Post, one of Vargas' previous employers, actually could have run the piece first but decided not to, after spending several weeks working on it.
Carlos Lozada, editor of the Post's weekend Outlook section, confirmed to The Huffington Post that Vargas came to the paper with the story.
"I worked on it for some weeks with the intention of possibly running it in Outlook," Lozada said. "Ultimately, the decision was to not move forward with it."
Lozada said that he's "delighted [Vargas] found such a good home for it." He declined to comment further.
"We made a judgment not to run the piece," Post spokeswoman Kris Coratti said. "We think it is a really interesting first person account and we're glad he found a place to share his story."
Post management plays a small role in the story. Vargas writes how assistant managing editor Peter Perl, then the director of newsroom training, knew about his undocumented status and kept that fact hidden during the journalist's tenure. It's unclear whether a Post manager's role could have led to the paper not running the story (which undoubtedly would have found a home elsewhere and did).
Coratti said that "what Peter did was wrong," but declined to discuss individual personnel matters.
Times magazine editor Hugo Lindgren isn't sure why the Post decided against running the story. But he's not complaining.
"We knew it was from The Washington Post," Lindgren told The Huffington Post. "We do not know why they didn't run it."
"We obviously think it is a provocative, well-written piece of journalism," Lindgren continued. "So we were delighted to have it fall in our laps."
Vargas, who has also worked as a senior contributing editor for The Huffington Post and has written for top magazines like The New Yorker and Rolling Stone, describes "living a different kind of reality" as an undocumented immigrant in the United States and discusses the people who helped him along the way.
Mario Ruiz, vice president of communications for Aol, responded to news of Vargas' undocumented status in a statement. "Jose was hired as an employee at The Huffington Post after submitting paperwork evidencing his eligibility for work in the U.S., which was reviewed in accordance with the company's standard practice," Ruiz said. "He stopped working for us a year ago."
In addition to the Times magazine piece, Vargas spoke to ABC News, with segments from that interview running in the next few days on "World News," Good Morning America," and "Nightline."
Vargas also launched Define American, an initiative to bring "new voices into the immigration conversation, shining a light on a growing 21st century Underground Railroad: American citizens who are forced to fill in where our broken immigration system fails."
Vargas did not respond to requests for comment.
UPDATE: : Chris Suellentrop, an editor at the Times magazine, wrote Wednesday afternoon how Vargas approached him after the Post decided against publishing the piece and why the Times editors ran it.