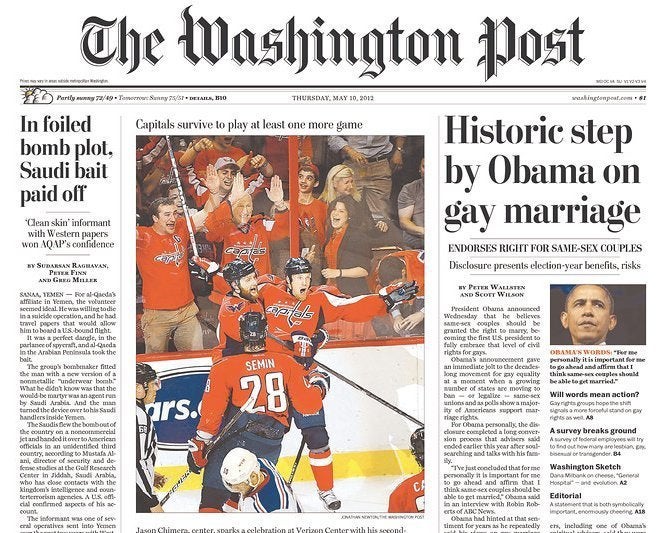 NEW YORK -- The Washington Post's Jason Horowitz shook up the political world Thursday morning with a deeply reported story about Mitt Romney's prep school days, an account that included disturbing recollections from former classmates about the presumptive Republican presidential nominee's behavior toward two students perceived to be gay.
But Post print subscribers -- greeted Thursday by a two-column headline touting President Barack Obama's newly stated support for marriage equality, "Historic step by Obama on gay marriage" -- wouldn't find the 5,500-word piece in the paper, even though it was ready to go. Post editors were concerned about placing the Romney story on the front page alongside pieces about Obama voicing his support for same-sex marriage, a lead story joined on A1 by a news analysis piece, a reaction story and a tease to the Post's editorial praising Obama for his "statement that is both symbolically important, enormously cheering."
"We're mindful of the news going on this week, particularly yesterday," Post political editor Steven Ginsberg told The Huffington Post. "We thought it was better not to have it in today's paper."
"The stories aren't really about the same thing," Ginsberg added, "but the perception among some might have been that putting them together would have created an impression we didn't want to create."
For many who don't read the Post's print edition, but found the story on the paper's site or linked to on Twitter, the placement in print didn't make a difference. The Post still published it, albeit only online, on the heels of Obama's announcement the day before. Some critics saw the timing as evidence of media bias, suggesting that the motive had to do with making Romney look intolerant just as Obama had voiced his support for same-sex marriage.
Fox News host Brian Kilmeade, interviewing Romney on his radio show a few hours after the story landed online, said that since "everyone's talking about same-sex marriage and tolerance and unions and what do you stand for, it's amazing the timing of this Washington Post story ... would seem to me it was somewhere shrink-wrapped, waiting to be unwrapped at the right time and this was the right time."
In the piece, Romney is described as having a problem with a "soft-spoken new student" who "was perpetually teased for his nonconformity and presumed homosexuality." Leading a pack of his classmates, he tracked down the student, tackled him and cut his hair. Romney also reportedly mocked a closeted gay student by shouting "Atta girl" whenever he spoke in class. While the Romney campaign initially tried deflecting news of the "exaggerated" incidents, Romney later apologized on the radio show for any pranks that "might have gone too far."
Ginsberg said he expected some criticism over the timing of the story, but noted that it had been in the works for weeks, long before Vice President Joseph Biden voiced his support for same-sex marriage Sunday on "Meet the Press" and Obama's comments on Wednesday. Post editors had initially planned on running the piece mid-week.
In publishing Thursday online, Ginsberg said Post editors were being both "mindful of the news yesterday and mindful of the competition."
Indeed, editors are always reluctant to hold stories with exclusive material given the competitive nature of the news business.
The Post's Romney prep school story will run in Friday's print edition along with a second story on the reaction to it.
Before You Go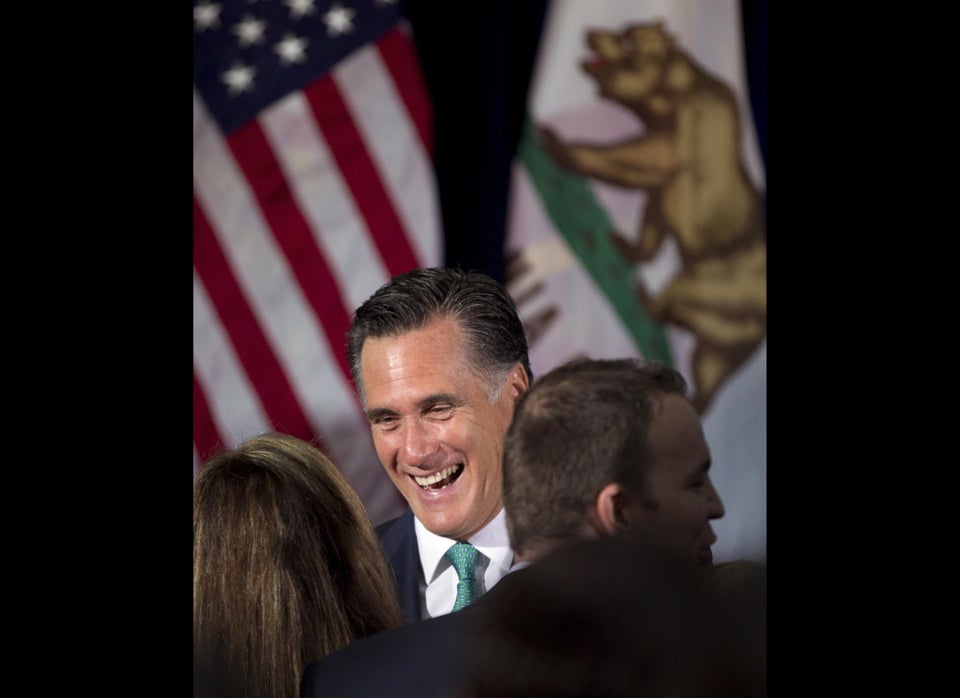 Mitt Romney 2012
Popular in the Community