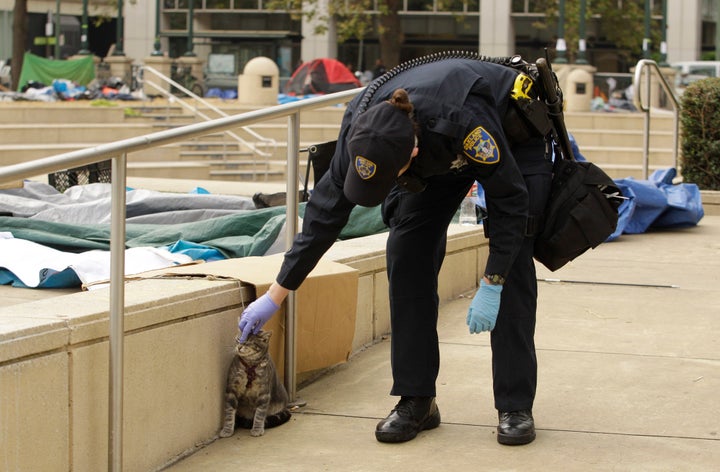 Which brings me to my next point! On Tuesday night, as this conflict raged on the streets of Oakland, Calif., the Internet was very quickly swamped with images of the melee, especially on the Tumblr platform, which the Occupy activists have made good use of since these demonstrations began. Yet somehow, faced with all of the images that were available to them, the Washington Post made an odd decision to use this AP image to go along with their page A3 brief on what everyone knew last night to be a violent confrontation: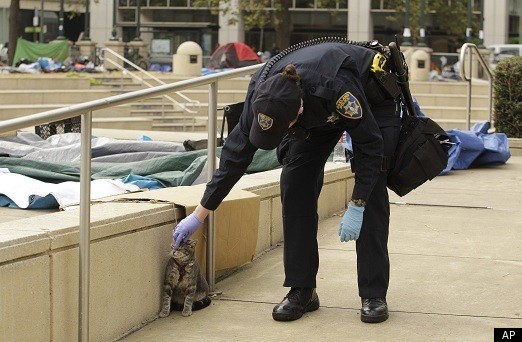 Because if there's one thing the members of the Oakland Police Department have demonstrated a strong affection for in the past 24 hours, it's kittens. (Coming in second: tear gas, obviously.)
The choice struck many observers as odd -- if by "odd" we mean "indicative of journalistic malpractice." And, indeed, beyond the wide variety of images that circulated on Tumblr Tuesday night, the AP itself had several photographs available that more accurately depicted the night's mayhem: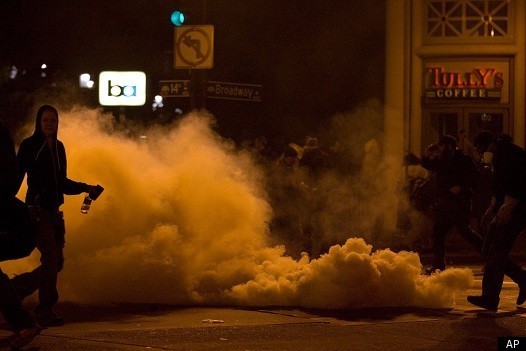 Well, after taking heat from the public over its choice of photos, the Washington Post's editors bravely decided to pass the buck and get photo editor Carol McKay "to explain the thinking behind the image she chose." Her explanation reads as follows:
When I was looking at the Tuesday wire service photographs from the Oakland City Hall grounds, the violent protest images were not in the mix because that confrontation had not yet occurred. The late-night, violent protest was in response to the Tuesday eviction by the Oakland police.

Even though the story, written later in the evening, included information about the arrests and tear gas, no news images had moved by our production deadline, probably because Oakland is on Pacific time--a three-hour difference.

The photograph was chosen because it was a visual "moment" in time showing a police officer doing something interesting--not just walking through tents and trash. The wire service images that moved overnight and this morning offer a much different look at last night's protest.
As noted above, the inability to find "violent protest images" was more related to a dearth of willpower to actually obtain one and not, as McKay explains, a scarcity of material. But even if we lay that aside, if the story "included information about the arrests and tear gas," how is it possible to conclude that an image of a cop petting a kitten is appropriate? Faced with that story, what would lead a photo editor to surmise that the cat photo was the ideal example of a "police officer doing something interesting"? It would seem evident on its face that the police were doing a lot of things that were far more interesting Tuesday night.
Better no image at all, I'd say. Nevertheless, I suppose it is nice that the Washington Post at least recognized that this was a matter that required a public explanation. I was just looking for something more like: "We're sorry for doing such an embarrassingly terrible job in our news coverage, and we'll try to do better in the future."
Popular in the Community