NEW YORK -- On Monday at 4:15 p.m., Washington Post publisher Katharine Weymouth informed staff that there would be "an announcement" just 15 minutes later in the paper's first floor auditorium. Some speculated that the Post had sold its historic downtown Washington headquarters, which had been on the market for six months.
But instead of making real estate news, Donald Graham, the Post Co. chairman and beloved member of a newspaper family that's owned the paper for 80 years, said he had a "surprising announcement:" The Post had just been sold for $250 million to Amazon founder Jeff Bezos.
"Everyone in the room was immediately quieted," a Post staffer told HuffPost.
News of The Washington Post sale not only subdued a roomful of talkative reporters and editors, but shocked the media world.
It's not that major metropolitan newspapers, struggling to find a business model amid continuing print advertising declines, haven't changed hands in recent years. The Boston Globe was sold on Saturday for a fraction of the $1.1 billion it went for two decades ago, while the Los Angeles Times and Chicago Tribune remain on the market. And it's not surprising that a billionaire tech mogul might scoop up an iconic print magazine; last year, Facebook co-founder Chris Hughes bought the New Republic.
But unlike recent newspaper deals, there were no rumblings in the press of deep-pocketed suitors stepping forward with unsolicited offers, as Rupert Murdoch did in 2007 when he successfully launched a bid for Wall Street Journal-parent Dow Jones. In a PostTV interview, Graham revealed the under-the-radar media deal began with preliminary conversations in the spring, while he and Bezos didn't meet face to face to discuss it until just last month.
Not to mention, there had long been a sense, perhaps unrealistic, that the Graham family wouldn't let go of the Post, similar to the Sulzbergers, who still control The New York Times. That perception continued even after cutbacks, several rounds of buyouts and other handwriting on the wall that new ownership might happen sooner rather than later. A Times profile of Weymouth last weekend suggested Washingtonians "have scrutinized and mythologized the Grahams for decades, much as the British do their royalty." While a tad hyperbolic, it's fair to say that few in Washington, or the journalism world more broadly, predicted a Post not owned by the Graham family any time soon.
On Monday afternoon, Graham spoke movingly about his family's longtime stewardship of the Post and, at times, began to choke up.
"All the Grahams in this room have been proud to know since we were very little that we were part of the family that owned The Washington Post," Graham told the staff. "We have loved the paper, what it stood for, and those who produced it."
Graham, however, acknowledged that he and Weymouth asked themselves if a small company was the best owner for the Post, which has seen its revenue decline seven years in a row.
"We had innovated and to my critical eye our innovations had been quite successful in audience and in quality, but they hadn't made up for the revenue decline," Graham told staff. "Our answer had to be cost cuts and we knew there was a limit to that. We were certain the paper would survive under our ownership, but we wanted it to do more than that. We wanted it to succeed."
Next, Weymouth –- the granddaughter of late Post legend Katharine Graham, who was Donald Graham's mother -– told staffers, "This is a day that my family and I never expected to come."
Weymouth, who will remain as publisher, spoke of opportunity the Post will have under Bezos, "one of America's great innovators and most respected business leaders." (Bezos purchased the Post as an individual and not as part of Amazon.)
Weymouth acknowledged that "an announcement of this sort inevitably causes anxiety and uncertainty," but stressed to staff that the paper's journalistic mission would not change.
Following Graham and Weymouth's addresses in the auditorium, a second Post staffer described colleagues as "shocked and stunned." The staffer said it's "hard to overestimate how attached" Post employees are to the Graham family and Donald Graham in particular. He received a standing ovation, with some staffers who'd initially left the auditorium returning to join in.
Afterward, there was some gallows humor in the newsroom, as there has been at other financially shaky newspapers in recent years. Some staffers joked whether the sale comes with new employee perks like free Amazon shipping.
Of course, staffers aren't only thinking about Graham, who will continue to control Kaplan, the education company, and sites like Slate, The Root and Foreign Policy. What does a sale mean for them?
There are a couple of reasons staffers suggested being hopeful under Bezos, who lives in Seattle and said he plans to remain there running Amazon. Unlike Murdoch or Michael Bloomberg, it seems less likely Bezos would want to tinker with the editorial product. And Bezos clearly doesn't need the Post to turn a quick profit, given that he's worth more than $25 billion, according to Forbes.
Indeed, another Post staffer told HuffPost, "It doesn't seem like a terrible thing to have the security of a billionaire."
And Bezos has a well-earned reputation as a technological innovator in publishing, which one Post legend said he hoped would translate to newspapers.
Carl Bernstein, one half of the famed Post reporting team that cracked the Watergaten scandal, told Politico on Monday evening that he has "high hopes that today's announcement will represent a great moment in the history of a great institution: recognition that a new kind of entrepreneurship and leadership, fashioned in the age of the new technology, is needed to lead not just The Post, but perhaps the news business itself, in combining the best of enduring journalistic values with all the potential of the digital era -- including a profit model that will finance a renaissance of the kind of reporting that is essential for Washington, for American journalism, and for the world."
In today's newspaper climate, financial security is a rarity and a billionaire savior doesn't seem like a bad thing. And there's also a sense in the newsroom that if Graham trusts Bezos to do what's best for the paper, then so should the staff.
Still, Bezos has no track record running a newspaper and one Post staffer retweeted a story Monday afternoon in which the Amazon chief spoke of print being gone in 20 years.
In a letter to employees, Bezos acknowledged that "many of you will greet it with a degree of apprehension."
"When a single family owns a company for many decades, and when that family acts for all those decades in good faith, in a principled manner, in good times and in rough times, as stewards of important values –- when that family has done such a good job –- it is only natural to worry about change," he continued.
Bezos told staff that he "the values of The Post do not need changing" and the paper's duty will remain to its readers and not to the private interests of its owners."
"I'm excited and optimistic about the opportunity for invention," Bezos wrote. "Journalism plays a critical role in a free society, and The Washington Post -- as the hometown paper of the capital city of the United States -- is especially important."
Before You Go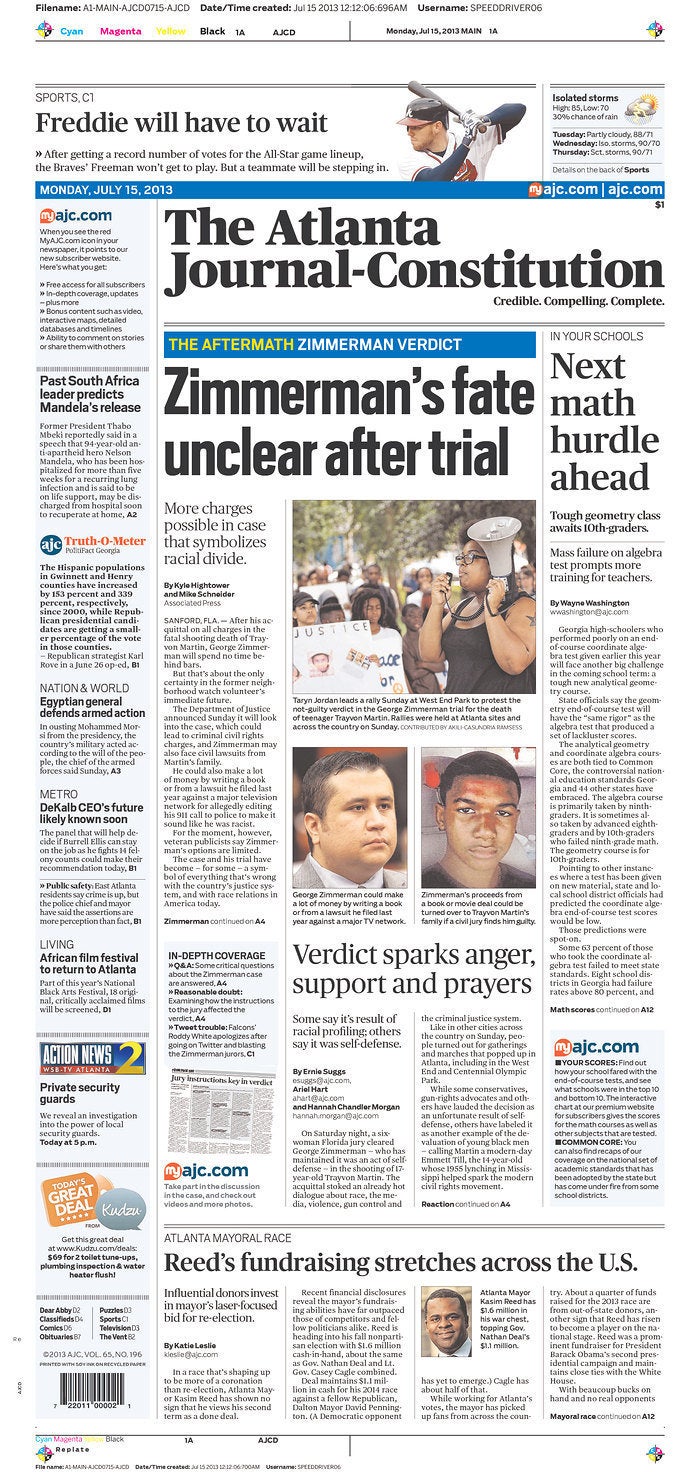 25 Biggest U.S. Newspapers In 2012
Popular in the Community