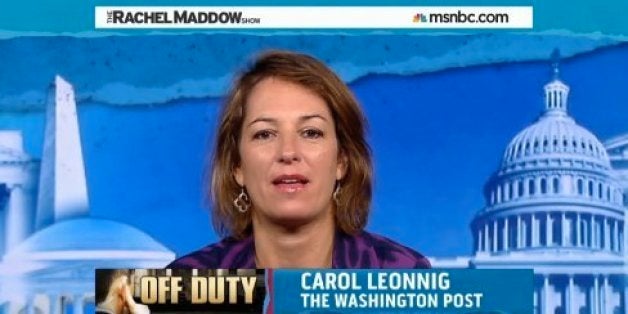 NEW YORK -– With the Secret Service under fire for a series of security lapses in presidential protection, there is one journalist who seems to have all the information. The White House, Congress and even Julia Pierson, who just resigned as director of the Secret Service, all learned details of the controversy from Washington Post reporter Carol Leonnig.
Why did members of the embattled agency turn to the press with concerns rather than pursuing the proper bureaucratic channels?
"I think they trusted The Washington Post more than they trusted their headquarters' leadership," Leonnig said in an interview with The Huffington Post.
As questions lingered about how a knife-wielding man managed to scale the White House fence and enter through an unlocked door on Sept. 19, Leonnig revealed Saturday that the Secret Service had also "failed to identify and properly investigate" a 2011 shooting at the White House.
Then, on Monday, Leonnig revealed that Omar Gonzalez, the Iraq War veteran who jumped the White House fence, made it all the way to the East Room and knocked down an agent in the process, which contradicted the agency's original description of events.
Lawmakers from both parties seized on Leonnig's reports while grilling Pierson during a congressional hearing on Tuesday. Soon after, Leonnig -- along with The Washington Examiner -- reported yet another troubling security lapse: The Secret Service had allowed an armed security contractor with several criminal convictions to ride in an elevator with President Barack Obama just three days before the fence-jumping debacle.
Less than 24 hours later, Pierson resigned.
The current Secret Service scandal has snowballed in the press over the course of a few days. But for Leonnig, it actually began two years ago in Cartagena, Colombia.
In 2012, Leonnig and colleague David Nakamura broke the news of a prostitution scandal involving agents on the eve of a presidential summit. That story, Leonnig said, prompted sources to offer more detail about how senior-level officers weren't punished over the incident. This in turn led to more conversations, she said, and indicated to her that many Secret Service agents and officers were "frustrated and unhappy" with the agency's management.
Leonnig said what transpired next was simply "old-fashioned reporting."
"You see symptoms of a problem. You meet sources. You develop trust," she said. "You meet more sources. People give you documents. You meet more sources. You write more stories. It is the kind of old-fashioned reporting The Post does all the time and Marty Baron, our executive editor, has really championed."
Leonnig said she had been working on the story of the 2011 shooting for several months and was finishing up the reporting when Gonzalez made his move. As the Secret Service scrambled to explain what happened, Leonnig said her sources, cultivated over the past two years, started telling her that the public, Congress and even the president weren't getting the full story.
There are numerous, sometimes competing, motivations for sources to come forward. The reasons may be personal, like a long-standing grudge against a manager over not getting promoted. Or the motivation could be genuine whistleblowing -- a belief that change only happens within a bureaucratic institution when the public knows the truth.
Leonnig, understandably, wouldn't get into specifics about her sources. But she acknowledged that those coming forward had different motivations, from agents who believed they'd been mistreated by Secret Service leadership to those who felt the agency "was complacent and losing its luster." The large majority, she said, were "focused exclusively on the public service."
"They know what their job is. They care deeply about protecting the president, protecting the office of the president," Leonnig said. "And they are afraid the Secret Service is going to slip up in a far more frightening way than it has so far."
In recent days, Leonnig's reporting has won high praise from fellow journalists. During Tuesday's hearing, Rep. Jason Chaffetz (R-Utah) said he was "thankful" for Leonnig and The Post. And The New York Times applauded her efforts in a Wednesday editorial.
Leonnig said it was "awkward" to accept such praise on her own because her reporting "was the result of a lot of devoted, generous and brave public servants who were worried about the agency and remain unnamed."
"It's also hard for me because I'm glad deep investigative reporting -- the reason I got into the business –- is having an impact, but there are so many colleagues here, not on the byline, who made this possible," she said.
Leonnig, who joined the Post in 2000 after stints with The Philadelphia Inquirer and Charlotte Observer, doesn't exclusively cover the Secret Service -- she has spent years covering federal courts and government accountability. She was a member of the Post's Pulitzer Prize-winning team that covered last year's National Security Agency disclosures as well as of the Polk Award-winning team that reported on then-Virginia Gov. Bob McDonnell's corrupt dealings in office.
She credited Baron, along with editors Anne Kornblut and Peter Wallsten, for urging her earlier this year to continue digging into the Secret Service and for "seeing that the symptoms mean something bigger."
"We're all pulled in a million different directions, this hot story, that hot story," she said. "But it's when your editors protect you, and devote your time to something, that you can really shine a bright light."
Calling all HuffPost superfans!
Sign up for membership to become a founding member and help shape HuffPost's next chapter