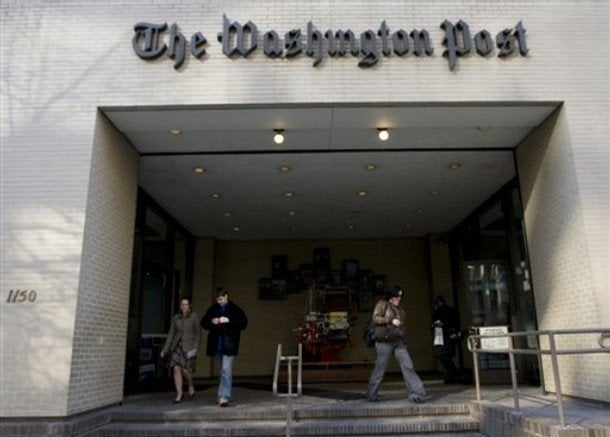 Update: The Washington Post has canceled its planned salon at Katharine Weymouth's home based on the uproar over the sale of access to government officials and members of the Washington Post staff. The publisher spoke to her own paper's Howard Kurtz:
"Absolutely, I'm disappointed," Weymouth, the chief executive of Washington Post Media, said in an interview. "This should never have happened. The fliers got out and weren't vetted. They didn't represent at all what we were attempting to do. We're not going to do any dinners that would impugn the integrity of the newsroom."
Original Post: The Washington Post is responding swiftly to a Politico report that the paper is selling off the record access to administration officials and newspaper editors and reporters for $25,000 and up.
Politico reported Thursday morning on a flier being circulated offering an "underwriting opportunity" for "Washington Post salon," where, for $25,000 per sponsor, organizations and lobbyists can cozy up to administration officials:
"Underwriting Opportunity: An evening with the right people can alter the debate," says the one-page flier. "Underwrite and participate in this intimate and exclusive Washington Post Salon, an off-the-record dinner and discussion at the home of CEO and Publisher Katharine Weymouth. ... Bring your organization's CEO or executive director literally to the table. Interact with key Obama administration and congressional leaders ...
Washington Post executive editor Marcus Brauchli sent the following email to staffers at 10:33 AM Thursday distancing the newsroom from the event:
Colleagues,

A flyer was distributed this week offering an "underwriting opportunity" for a dinner on health-care reform, in which the news department had been asked to participate.

The language in the flyer and the description of the event preclude our participation.

We will not participate in events where promises are made that in exchange for money The Post will offer access to newsroom personnel or will refrain from confrontational questioning. Our independence from advertisers or sponsors is inviolable.

There is a long tradition of news organizations hosting conferences and events, and we believe The Post, including the newsroom, can do these things in ways that are consistent with our values.
The Washington Post made a similar statement to Politico, saying that the flier circulated was merely a draft and that, as presented, it would preclude participation from the Washington Post newsroom:
The flier circulated this morning came out of a business division for conferences and events, and the newsroom was unaware of such communication. It went out before it was properly vetted, and this draft does not represent what the company's vision for these dinners are, which is meant to be an independent, policy-oriented event for newsmakers.

As written, the newsroom could not participate in an event like this.

We do believe there is an opportunity to have a conferences and events business, and that The Post should be leading these conversations in Washington, big or small, while maintaining journalistic integrity. The newsroom will participate where appropriate.
Calling all HuffPost superfans!
Sign up for membership to become a founding member and help shape HuffPost's next chapter