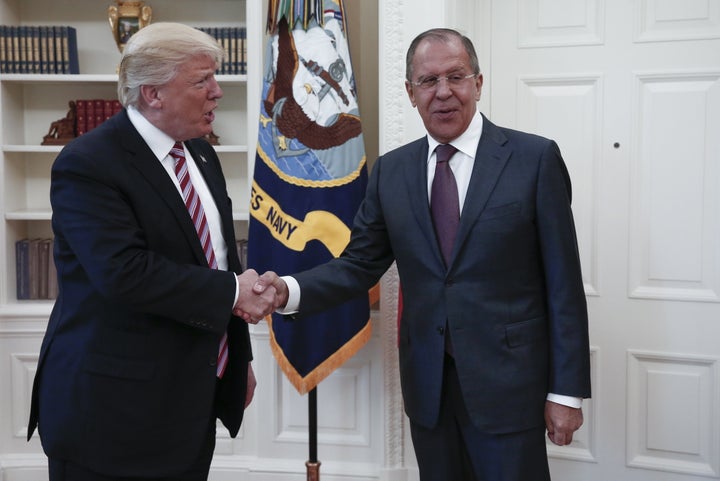 The Washington Post's report Monday that President Donald Trump "revealed highly classified information" about an Islamic State plot to Russian officials appeared to show more restraint than the commander-in-chief.
The Washington Post is withholding most plot details, including the name of the city, at the urging of officials who warned that revealing them would jeopardize important intelligence capabilities.
According to the Post, details Trump gave to Russian Foreign Minister Sergei Lavrov and Ambassador Sergey Kislyak had been provided by a U.S. partner, and were "so sensitive" that they'd been "withheld from allies and tightly restricted even within the U.S. government." The Post reported that Trump's disclosure risks future cooperation with the unnamed U.S. partner, which hadn't given permission to share the information. 
The Post proved to be "more effective at protecting classified information than President Trump in his exchanges with the Russians," Ned Price, a former National Security Council spokesman, said on MSNBC Monday evening.
Jim Roberts, a former editor at The New York Times and Mashable, said the paper acted "more responsibly" than the president. 
The White House rejected the Post's bombshell. National security adviser H.R. McMaster denounced the story and said, "at no time were sources or methods discussed" in the meeting. The Post story didn't claim Trump disclosed sources and methods. 
Washington Post reporter Greg Miller said on CNN that the White House is "playing word games ... to try to blunt the impact of this story." Miller said he "absolutely" stood by the reporting. 
Trump met with Lavrov and Kislyak the morning after firing FBI James Comey, who was overseeing the investigation into whether Trump campaign associates colluded with Russia during the 2016 election.
The White House barred U.S. journalists from covering any part of the meeting, though permitted a photographer working for Lavrov and Russian state media inside the Oval Office. 
It's unclear how much of the meeting was attended by the Russian photographer, who revealed Kislyak's presence. The White House did not tell reporters of Kislyak's appearance in an official readout of the meeting. 
REAL LIFE. REAL NEWS. REAL VOICES.
Help us tell more of the stories that matter from voices that too often remain unheard.