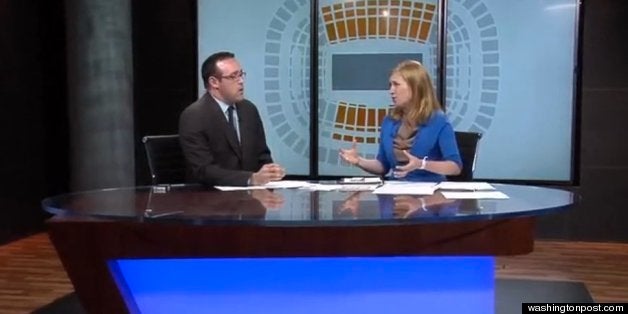 WASHINGTON -– In a newly renovated section of the The Washington Post's fourth-floor newsroom, seven words are scrawled atop a wall-sized chalkboard: "Would you watch it or share it?"
That's the question PostTV producers and hosts have been asking about each potential live or taped segment in preparation for this week's launch of the news outlet's two signature political web shows. On Monday, Post reporter Nia-Malika Henderson hosts "On Background," a daily interactive interview show covering politics and policy that airs daily at 12:30 p.m. Reporters Chris Cillizza and Jackie Kucinich kick off their daily political series, "In Play," at 3:00 p.m. on Wednesday.
Steven Ginsberg, The Washington Post senior politics editor, told The Huffington Post that the investment in video is the "biggest commitment" to any one project he's seen in nearly two decades at the paper.
The Post, like other legacy print brands, has trimmed its newsroom in recent years through layoffs and a series of buyouts. In January, just days after taking the paper's top job, executive editor Marty Baron announced a major expansion in video, with 30 hours per month of programming slated that could lead to hundreds of watchable (and hopefully shareable) clips. The Post began hiring video producers, hosts and bookers, with the latest effort expanding significantly upon last year's launch of PostTV's evening news program, "The Fold."
Over the past few weeks, nine 80-inch screens were installed to complete the new studio that will house both "On Background" and "In Play." The hosts have run through sample broadcasts and produced taped segments, with other members of the politics team joining in. Political blogger Aaron Blake taped a "Political Dictionary" segment, which looks at at D.C. vocabulary words like "Veep." Ginsberg appears in "One Dull Minute," which drills down on questions such as the role of a comptroller.
Now, PostTV's "would you watch it or share it" mantra will be put to the test. The jury is still out on live web viewing becoming part of a regular media diet, and plenty of news organizations are already competing for eyeballs in the online political space (including HuffPost with HuffPost Live).
Both ABC News ("Top Line") and CBS News ("Hot Sheet") previously tried producing daily web shows that covered the political conversation and included interviews with lawmakers and newsmakers. In October, Politico brought in network news veteran David Chalian to produce a flagship politics show; however, the thrice-weekly program went on hiatus by spring, and Chalian left the company after nine months on the job.

"There's no doubt that there's a place out there for digital, political news outside of the cables -- available live, on demand, mobile, what have you," said Rick Klein, political director of ABC News and a "Top Line" co-host. "But nobody's figured out how to launch a product that sells, that actually makes money for news organizations."
"As someone who's experimented with this before," Klein added, "I'm definitely watching what they do with interest."
In interviews with HuffPost, several PostTV hosts and producers emphasized that the programs are not meant to be the standard, cable news run-down of all the day's biggest stories. Instead, they expressed a desire to find unique angles in the political conversation and advance stories through interviews. They stressed being irreverent, at times, while seeking a level of social engagement that goes beyond the perfunctory reading of a tweet or two at the end of each broadcast.
"It's all about covering what's important in Washington and covering the politics of it," said Senior Video Editor Andrew Pergam, adding that the hosts will take the subject matter "seriously when it needs to be serious, but not taking ourselves too seriously when it doesn't."
Pergam added that the goal is to "create interesting content that people are moved to share," with episodes producing a number of video clips that help people "better understand what's going on in Washington."
Ginsberg said that viewers should "walk away feeling like you've learned something." In preparing for this week's launch, Ginsberg said they tried a segment looking at six degrees of separation in politics. While Ginsberg said it was a "fun minute," the segment was temporarily scrapped because the viewer "didn't take away anything," and overall, it "didn't enhance your knowledge of politics or Washington."
Henderson said "On Background" would take more of a deep dive into policy issues beyond the Beltway. "I think it will be more outside of Washington, but looking at the way Washington impacts people's lives," she said.
As an example, Henderson said she spoke to a grassroots organizer in Detroit for one recent run-through. The type of social conversation is not unlike "The Stream," an innovative program on Al Jazeera English, with Henderson also offering what she called a daily "rant" at the end of each broadcast. (Sample discussions covered the royal baby and Huma Abedin.)
Kucinich described "In Play" as "politics through the prism of politics," and she emphasized looking at what could happen next in the political news cycle. Cillizza also spoke of trying to see "around the corners a little bit with the news." That, he suggested, is the direction journalism is headed. "We're in the, 'So what, now what' phase of journalism, and that's a lot of the space we want to work on occupying."
Stephen Hills, the president and general manager of The Washington Post, told HuffPost that the news organization has an opportunity to create video content that serves as both a marketing vehicle for the overall Post brand and can make money.
"Part of what we did with the Internet was we got out there very, very early -- almost before anyone else -- and that led to us being one of the most successful news sites on the web," Hill said. "An early lead in this space makes a lot of difference. Now, as people are starting to cut the cord and asking, 'What's out there, what quality content's out there?' on the web, we can be part of that answer."

"I believe that we have the chance, over time, to be the ESPN of politics, but built for the web," Hill said. "Our idea is that everything we do must be shareable. We are creating lots of bite-sized information that can be very social. We want to be high quality, informative, watchable and entertaining."
WATCH A PREVIEW OF "IN PLAY" BELOW:

Related
Popular in the Community