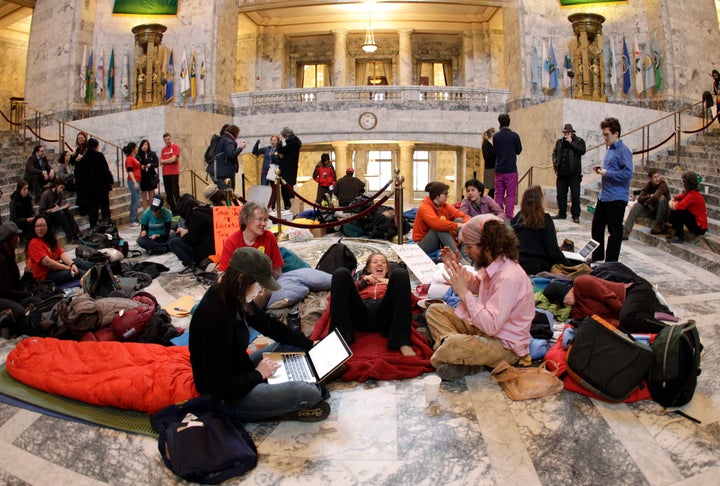 This story has been updated.
WASHINGTON -- Inspired by the uprising in Wisconsin over workers' rights, Washington state residents have turned out at the state Capitol this week to protest deep budget cuts the legislature is considering to address a looming $5 billion deficit.
The protesters are arguing the state should close tax loopholes for corporations and wealthy individuals before cutting valuable public services. Organizers are expecting anywhere from 4,000-6,000 people on Friday and said it could end up as one of the largest protests in the state in years.
"The main message is directed at the legislature," said Tim Welch, spokesman for the Washington Federation of State Employees. "Budget cuts are going so deep and we're cutting so deeply into the safety net that we really want them to consider closing several billion in closing tax loopholes. We just don't think it makes sense to give big tax breaks to banks and to those who own private jets...when you've got potentially more slots closing up at state colleges and universities."
One tax deduction targeted by protesters "exempts banks from paying taxes on the interest income they make from first mortgages," according to The Olympian. It would bring in about $86.6 million in taxes in 2011 if eliminated.
"Every single proposal that has come out of the legislature has made cuts on the back of the working people, the poor people, the immigrants, the students," said Kathy Cummings, communications director for the Washington State Labor Council. "Not one single tax exemption for corporations has been touched. We had something like $6.5 billion in business tax loopholes just last year. It's getting way out of hand. The only way we can get their attention is by banging on their doors, sleeping in the Capitol, having rally after rally."
Organizers said they believe the protests are already starting to have an effect. They're hearing from legislators who are sympathetic to the message and are starting to talk about closing tax loopholes. Some lawmakers even handed out food, coffee and other provisions to protesters who spent the night in the Legislative Building.
But advocates are facing a tough uphill battle. Under a ballot measure adopted last year, the legislature needs a 2/3 majority to approve any tax increase -- including closing loopholes -- or it must be directly approved by voters.
The state House of Representatives is expected to vote on a budget proposal on Friday or Saturday that would reduce state spending by $4.4 billion in the 2011-2013 budget cycle. According to the Associated Press, Senate leaders will be unveiling their plan next week.
Though the protesters are taking inspiration from their Midwest brethren in Wisconsin, there are some key differences between the situations facing the two states. Washington's protests are not directly related to collective bargaining rights, and the rallies are more organized by a coalition of labor and community groups. In Washington, Democrats control both chambers of the legislature and the governor's office, although the state Senate has a group of moderate Democrats who often cross the aisle and vote with Republicans.
On Thursday, police arrested 17 people who tried to storm Gov. Christine Gregoire's (D) office. Protesters reportedly shouted, "let us in" and "we want the governor." Just one person was charged. Many of the protesters, according to organizers, were trying to get arrested in an act of civil disobedience.
Sen. Jeanne Kohl-Welles has sponsored legislation that would add sunset dates to about 300 tax exemptions in the state. In a recent Seattle Times letter to the editor, she explained, "While it is true that eliminating tax preferences is by no means the silver bullet to our historic budget challenges, the hundreds of tax loopholes and exemptions currently in state law cost taxpayers billions each year. Two examples are tax breaks for elective cosmetic surgery and private airplanes."
The actions are being led by a coalition calling itself, "We Are One, Put People First." It's made up of labor unions and community organizations in Washington state.
On Tuesday, members of the Olympia community protested at the Capitol. On Wednesday, the focus was on a group called Washington Community Action Network, a statewide group that lobbies on behalf of lower-wage earners, immigrants and people of color. They brought 500 people down to the Capitol. Protesters slept overnight on Wednesday, Thursday and Friday.
The focus on Thursday was on health care, including mental health services for seniors and people with disabilities. Adam Glickman with SEIU Healthcare 775NW told The Huffington Post that approximately 500 in-home care and mental health workers came to the Capitol to engage in civil disobedience. Some of the patients of these workers also came to the capitol to lobby their legislators against cuts to social services.
Linnea Riesen, communications director for SEIU Local 1199NW, which represents mental health workers, said that the union's members were on strike on Thursday -- But instead of a traditional strike against employers, it was a strike against the state.
"Community mental health agencies get 90 percent of their funding from the state," she said. "For the last several years, the governor and the legislature have underfunded critical community health services, and they've been taking away the health care supports in our communities that keep people off the streets and safe. ... So our message really was, our community and our state leaders have gone on strike against the state every day through their actions."
On Friday, expected to be the largest day of action yet, there will be a special guest of honor: Wisconsin state Sen. Spencer Coggs, one of the Democrats who left the state in order to protest Gov. Scott Walker's (R) budget repair bill.
WATCH VIDEO OF THE PROTESTS, 4/6/11:
Mauro Mora contributed reporting.
This story originally inaccurately reported that protesters slept overnight in the capitol on Tuesday. It has been amended.
UPDATE: 6:47 p.m. -- Jared Miller is a mental health worker who primarily works with children, and he's also a member of SEIU Local 1199NW. He attended the protests on both Thursday and Friday, and on Thursday, he was one of the few union members who was able to meet with Gregoire. According to Miller, there were five union members and two union employees at the meeting.
"She definitely still feels like she still has a lot of obstacles in front of her in order to close tax loopholes," relayed Miller. "The legislature feels like their hands are tied by our initiative that requires 2/3 a vote of the legislature to enact any new taxes. The positive note was that she definitely doesn't believe in what's going on. She agrees with us that it's immoral, the cuts that are coming across our state. She said she's there with us. She just needs us...to continue to speak out to the public to make sure the public understands it's not about paying extra money on soda. It's not about paying a few dimes here on candy. It's about people's health care. It's about people having stable lives."
According to the AP, thousands of people flooded the capitol on Friday, making it by far the largest protest this week. The Washington State Patrol estimated the crowd size to be about 7,000 people, while labor organizers estimated 12,000.
Popular in the Community