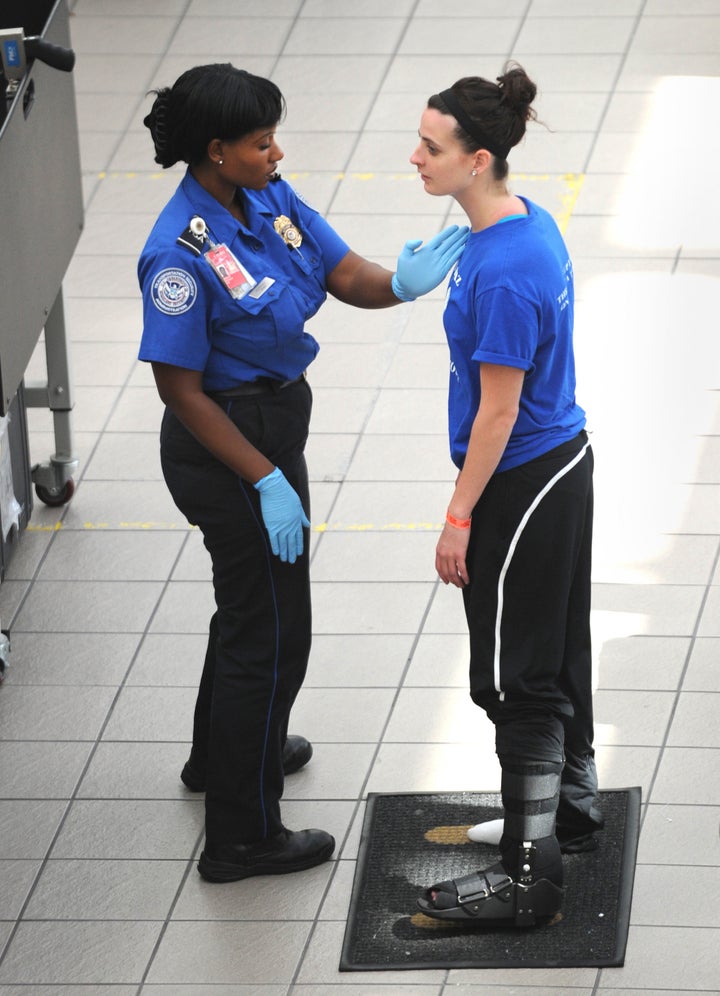 WASHINGTON -- Officers with the Transportation Security Administration know a thing or two about feeling under appreciated and belittled in the workplace.
As do players for the perennially underachieving Washington Redskins football team.
So perhaps it shouldn't have been a great surprise when a pair of well-respected Redskins figures -- current linebacker Lorenzo Alexander and former defensive end and two-time Super Bowl champ Dexter Manley -- came out to Reagan National Airport Thursday to support TSA workers in their ongoing efforts to unionize.
TSA administrator John Pistole granted the agency's 40,000 workers collective bargaining rights in February. As they move toward unionization, TSA agents say their grievances include a widely disliked pay-raise system, an unfair disciplinary process and a serious understaffing problem. And that's aside from the heaps of scorn they take from passengers still furious over the agency's controversial pat-down policy.
The Redskins, for their part, racked up a 6-10 record last season while frequently being booed in their own stadium.
But Alexander, noting the National Football League's own ongoing labor dispute, said his support had less to do with a mutual sense of embattlement than with his belief that workers need to stick together -- be they wealthy professional athletes or working-class federal employees. He also said he feels a bit of kinship considering the NFL lockout is now in its tenth week, with few signs that players and owners will be reaching a new collective bargaining agreement anytime soon.
"With the lockout going on, it's good to come out and support a fellow union, even though we're not recognized anymore," Alexander told HuffPost, referencing the decertification of the players' union in March. TSA workers, he added, "have a hard job as it is. They get a lot of flack for just doing their job because people feel they're being violated. I can understand why they feel unappreciated."
"These guys are in the trenches just like anybody else," said Manley. "I'm for labor. I'm for labor unions."
Alexander and Manley were stopping by a barbecue put on by the American Federation of Government Employees, which is headed into a one-month runoff election with the National Treasury Employees Union to see which will be the exclusive union for TSA officers. Neither won the necessary 50 percent of the vote in an April election.
Brian DeWyngaert, chief of staff for AFGE, called TSA's workforce "one of the most abused I've ever seen -- certainly within the federal government. The low-level management is an abusive structure. There's arbitrary discipline and arbitrary abuse." DeWyngaert believes the TSA pay structure is tied too closely to end-of-year testing and supervisors' judgments of employee performance.
"This workforce comes out on the bottom in terms of morale and satisfaction," he said. "And you don't want them focused on workplace issues -- you want them focused on the job. These people believe in the mission, but they have to deal with so many problems."
Officials with AFGE, which represents 600,000 federal and D.C. government employees, say their number of dues-paying members has grown significantly in recent months, as public-sector workers have felt under attack by Republican lawmakers in states like Wisconsin and Ohio.
Among their most high-profile union drives is the one at TSA. A unionized TSA workforce couldn't negotiate directly over pay, but it could feasibly force the agency to change its system for raises.
Officer David Park, a vice president with the AFGE local who went to work at TSA when it was founded in 2003, said workers start out around $30,000 and face what he described as an unfair promotion system. "There are people who've been here for nine years and they're still making the same pay rates," he said.
TSA officers said it's a tougher job than most people realize. Agents have suffered injuries from lifting heavy luggage throughout the day, they said, and some travelers have gotten surlier since the agency started giving them the choice of undergoing either a full-body scan or a physical pat down.
One officer, who declined to give his name, said passengers "always feel like they're being molested, and that we should be screening everybody but them. The phrase 'do I look like a terrorist?' is used a lot."
"It's very stressful, and we're on the front lines," Wang said. "A lot of people think it's a brand new agency, but it's not. We need to move on and improve the system."
An official spokesman for TSA could not immediately provide comment.
REAL LIFE. REAL NEWS. REAL VOICES.
Help us tell more of the stories that matter from voices that too often remain unheard.