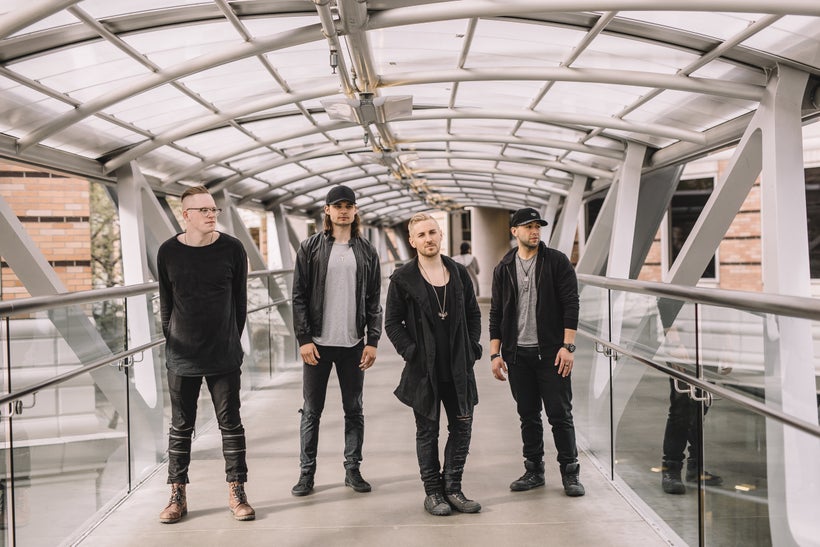 Even though Night Argent has only been a band for a few years now, they are on a path of innumerable potential. They are a grassroots movement in a way, winning the Ernie Ball Battle of the Bands in 2015 which landed them a place on the Van's Warped Tour and a writing/recording deal with John Feldmann, who has worked with the likes of Blink 182, Panic! At The Disco, and 5 Seconds of Summer. Through a string of honest, ardent songs starting with their debut self-titled EP in 2016, Night Argent are continually building a loyal fan base with great heights of success in mind.
The four-piece Washington State-based band consists of Chase Manhattan (lead vocals, guitar), Shane Santanna (keys, guitar, drums), Evan Taylor (bass), and Zac Burrell (drums). Unsatisfied with staying in one place creatively, the band is always looking for new boundaries to push and their latest EP, The Fear, is evidence. Recently, I was able to catch up with Night Argent and talk to them about the new EP, how they all met, their progression, and their live show.
What was the mindset of the band going into making the new record, The Fear EP?
Chase: This is the first record where we worked with some outside producers and co-writers. We had the opportunity to work with John Feldmann, so when we were starting to work on this record, the first thing we did was go down to L.A. to his studio. We didn't really know what to expect, but it was a really eye opening experience. We've been a do-it-yourself band for a while and we did all our own production and recording. It was cool to get some outside input and influence. We ended up using three of the songs we worked on with John for the record. We worked with another producer Steven Solomon on one of the tracks. The other two we did ourselves.
Working with John Feldmann and Steven Solomon on this record, what were some of things you learned? What did he bring out of your guys?
Evan: The work ethic is unreal. I had no idea up until that point the bar level for production; those guys crank out songs of high quality so fast. It's ridiculous. They really do 1-2 songs a day from written to produced and done. We would get there at 8-9 in the morning and we'd be there sometimes until 1-2 in the morning. At the end of the day, usually we had at least one solid song written, demoed down. That was unreal to me.
What were you doing before this band came together?
Evan: We were doing Katy Perry covers (laughs).
Chase: When we first started playing together, we were trying to find our sound. Prior to that, we were all in different musical groups. Shane and I have been friends since middle school. We've done music together ever since we first started doing music. We met Evan through a guitar player that was playing with us. We all went to the same high school, but at different times. We didn't meet each other in high school necessarily. We're all from the same area. We know the same people.
Evan: I knew who Chase was in high school, but he was like everybody's idol.
Looking back to your debut EP and seeing what you have done on the new EP, The Fear, what do you think has changed creatively in the band?
Chase: The debut EP was really us trying to find our sound. We were playing it pretty safe on that one as far as production and the themes, and seeing the reaction we got to who we were as a band. Definitely, that EP represented the direction that we were heading and allowed us to open up a little more on this one, take a couple more chances on trying out a few things musically and production wise. The last track ons is a 6/8 ballad. It allowed us to expand and explore a bit. You want to maintain who you are and your identity as a band. That was important to us, but you don't want to remain stagnant in one sound or one theme. Its hard to say that one is better than the other, but its all growth. Its all just developing your sound continuously and never being satisfied staying in one place as a group.
What do you think you have been able to accomplish so far to be able to break out of your Washington State locale?
Evan: I think it comes down to our team. It comes down to the people we have behind us and the fans. A lot of the stuff that we've done has been through online competition and people voting. Without that support, breaking out is pretty hard to do. You don't have people behind you like that. We have a pretty great team of our management, our publicist.
Chase: That's a huge part of it. I think our main focus as a group to hold up our end is make sure our live show is top notch. We bring a bunch of energy, so that when they give us those opportunities, we take full advantage of them. That's what we pride ourselves on the most is our live show and what we bring to the stage.
What is a Night Argent show like?
Chase: One of the things I like to reiterate to people is even though our music could be classified as alternative pop or alternative rock, we put on a rock show. We try to bring out that different level of energy in the show than we do on the album. We program our own lights. We wired up and built our own lights. We write pieces of music outside of what's actually on the CD to give a whole new experience to that live show.
Night Argent's new release "The Fear EP" is available now via Outerloop Records. For more information on Night Argent, visit nightargentofficial.com.
Listen to the full interview with Night Argent on my Fresh is the Word Podcast below:
Calling all HuffPost superfans!
Sign up for membership to become a founding member and help shape HuffPost's next chapter
This post was published on the now-closed HuffPost Contributor platform. Contributors control their own work and posted freely to our site. If you need to flag this entry as abusive,
send us an email
.