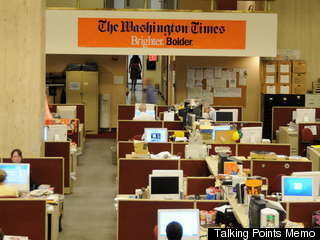 UPDATE: Justin Elliot has more on the madness going on over at the Washington Times, where one of the Reverend Moon's sons has "gone rogue," and is just playing havoc:
Hyun-jin Preston Moon, the son of Unification Church leader Rev. Sun Myung Moon who controls the Washington Times, acted without his father's blessing in firing the top leadership of the newspaper over the weekend, a Unificationist and former Times staffer who is in contact with high church officials tells TPM.

Preston's reasons for carrying out the shakeup are not clear to the source, but "one thing that is clear is that he acted alone. This is not something the Reverend Moon wanted, ever."
What the Reverend Moon wants apparently includes this:
"The Washington Times has to take responsibility for people going to hell in America," he declared, referring to, among other sins, "homosexuality and lesbianism."
Things are getting downright weird over at the Washington Times, where an ongoing executive shake-up has seen publisher Tom McDevitt, chief finance officer Keith Cooperrider and chairman Doug Joo leave their jobs, and mounting speculation that executive editor John Solomon -- who was brought on in 2008 to lend a new sheen of credibility to the frantic, scare-quotey newspaper -- is poised to quit as well.
TPM hears from current staffers in the newsroom there has been an increased security presence at the newspaper in recent days. On Sunday, when three executives were fired, armed guards were brought up to the third floor where management works, according to three newsroom sources.

Newsroom sources tell TPM that employees have been told the third floor is "closed."

Employees at first couldn't use the elevators for the three-story building. An additional guard has been spotted in the lobby, standing next to the regular security guard who is there during business hours. Sources aren't sure whether the guard remaining on site today is armed.
All of this weirdness has gone down hard on the heels of a decision made by the paper's owner, the Reverend Sun Myung Moon, to hand over control of his Unification Church to his three sons. TPM's Justin Elliot provides the essential speculation:
The Sunday firings of executives at the Washington Times and the possible exit of its top editor are apparently being driven more than previously known by last month's transfer of power of the Unification Church and associated business empire from Rev. Sun Myung Moon to his children.

A newsroom source familiar with church politics tells TPM that the root of the shakeup at the Washington Times is a feud between Hyung-jin Moon, 30, and Hyun-jin Moon, 40, also known as Preston, both U.S.-educated sons of church Father Rev. Sun Myung Moon. The church announced in early October -- in an exclusive given, notably, to the Associated Press not the Washington Times -- that day-to-day operations were being handed over to Preston, Hyung-jin, and a third son.
Wonkette very fittingly compared this transfer of power to William Shakespeare's King Lear, and if you're a fan of the Bard, you'll know that ended very badly for him, what with betrayal and madness and ranty tirades on storm-blasted heaths and whatnot. At any rate, I guess for the time being, Washington Times staffers should keep their heads down and refrain from making any sudden movements!
[Would you like to follow me on Twitter? Because why not? Also, please send tips to tv@huffingtonpost.com -- learn more about our media monitoring project here.]

Support HuffPost
The Stakes Have Never Been Higher
Related
Popular in the Community