Less than a week after the release of the executive summary of the Senate Intelligence Committee's wide-ranging report on the CIA's torture program, officials in Washington are closing ranks.
The report outlined several shocking revelations, including instances of waterboarding, forced rectal feedings and in one case a detainee's death. Agency officers themselves were upset by the program, the report suggests, requesting transfers away from the "black sites" where interrogations took place and begging CIA headquarters to let them stop.
"Facts aren't partisan," Sen. Ron Wyden (D-Ore.), a member of the Intelligence Committee, said on "Meet the Press" on Sunday, noting that every major conclusion in the report was backed up by CIA's own documents. "We reviewed 6 million pages of documents. … There are a mountain of contradictions."
But the damning facts in the executive summary seem unlikely to result in few lasting changes if the response of official Washington is any indication. Republicans are dismissing the document as a biased Democratic product. A few Democrats are calling for Brennan's resignation. Almost no one in office is calling for widespread changes at the CIA -- or for a renewal of the Justice Department investigation into whether to prosecute those who knew about or carried out torture.
The Senate report goes into excruciating details about how the CIA overstepped the boundaries of what even the George W. Bush administration and the Department of Justice had approved. CIA officials from former Counterterrorism Center Chief Jose Rodriguez to current Director John Brennan have admitted to errors. Brennan said some of the abuses were "abhorrent."
On Sunday's talk shows, it was nevertheless torture's defenders who got the most air time -- and they were unrepentant. In a characteristic performance, former Vice President Dick Cheney defended the CIA program without qualification and insisted that he would do it again. Cheney even dismissed the stories of the men who were subjected to "enhanced interrogation" but later found by the CIA itself to be innocent.
"I'm more concerned with bad guys who got out and released than I am with a few that, in fact, were innocent," said Cheney.
Cheney dismissed calls from a UN official for the Justice Department to reopen an investigation into CIA torture. Other CIA defenders on the airwaves on Sunday included Rodriguez, former agency Director Michael Hayden, current Senate Intelligence Committee Vice Chairman Saxby Chambliss (R-Ga.), House Intelligence Chairman Mike Rogers (R-Mich.) and former Bush adviser Karl Rove.
The only Republican to speak out against torture was Sen. John McCain (R-Ariz.), himself a torture victim while held in a North Vietnamese prison.
The most prominent Democratic voice against the CIA's actions to appear on air on Sunday was Ron Wyden. He said Brennan needs to oversee changes at the agency or to be replaced. But like much of official Washington, Wyden stopped short of calling for prosecutions.
It's been an outgoing member of Congress -- Mark Udall, the Colorado Democrat who lost his election in November -- who's been most critical of the agency. Speaking on the Senate floor on Wednesday, he said the CIA is still lying in its response to the torture report, and he directly criticized the White House for helping the agency "cover up the truth." He called for the replacement of Brennan. The CIA director gave a by turns apologetic and defiant defense of the torture report on Thursday, in which he declined to call waterboarding torture.
Obama's support for Brennan in the position has so far been steadfast. The president said this week that some of the CIA's actions after 9/11 were "contrary to our values." But he showed no sign of backing off what he said just a month after assuming office in February 2009, when he expressed "a belief that we need to look forward as opposed to looking backwards."
"At the CIA, you've got extraordinarily talented people who are working very hard to keep Americans safe," he said in February 2009. "I don't want them to suddenly feel like they've got to spend all their time looking over their shoulders and lawyering up."
Before You Go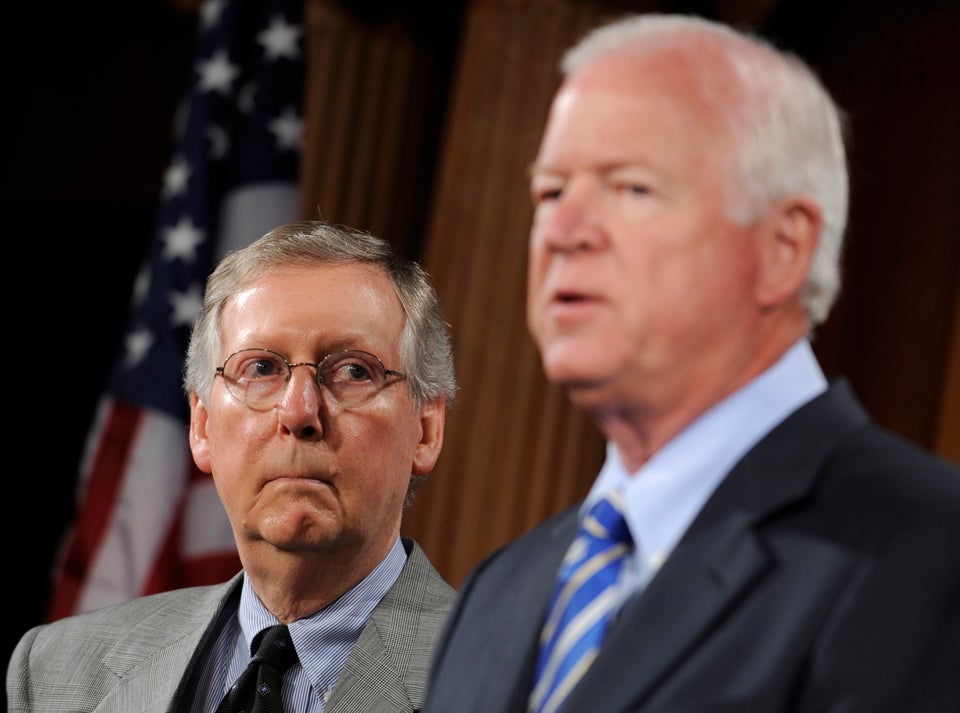 Politicians React To CIA Torture Report
Popular in the Community