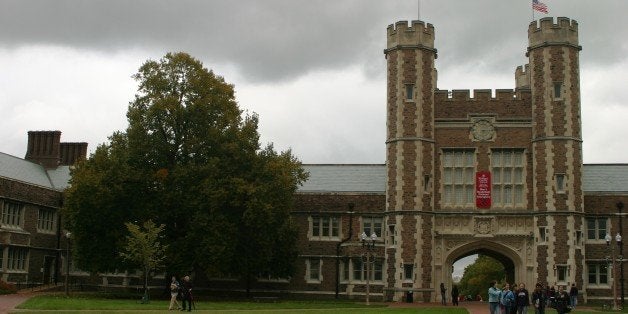 A school that has been widely criticized for having a homogenous student body is actively working to increase diversity. Nine percent of the students in the incoming freshman class at Washington University in St. Louis are black, compared to 5 percent of last year's class. Additionally, Hispanic students make up 8 percent of the incoming class, up from 6 percent last year. And 11 percent of the incoming class is from low-income families, compared to 8 percent last year.
"What we found is that there doesn't have to be a trade-off," provost Holden Thorp told the St. Louis Post-Dispatch, speaking to the mindset among some higher education professionals that in order to increase socioeconomic diversity, a school must sacrifice student quality.
Wash U officials found that increasing diversity did not decrease the academic chops of incoming students, they told the Post-Dispatch. The school lowered its admissions standards slightly to help account for lower-income students who, say, may not have been able to pay for extensive test prep. The average ACT score for the 2015-16 freshman class was just 0.2 points lower than the year before.
The school aims to increase the percentage of students who receive Pell Grants to 13 percent by 2020. Last year, that share was at 6 percent. The plan includes spending $25 million more each year on aid, the Chronicle of Higher Education reports. The university also created a committee to address the increase in low-income students and make sure that the students will feel comfortable and supported enough by the school to be successful.
Related