Racist comments aimed at Asian-American students at Washington University in St. Louis has caused a stir among the college's students.
Undergraduate research assistant Han Ju Seo shared a screenshot of an Oct. 3 group chat in which several freshman students complained about their Asian-American peers using a study room.
The conversation contained comments like "Why are Asians invading our study room" and "Fuck there's one in my room too," highlighting how the students of Asian descent are often treated as others or seen as second class.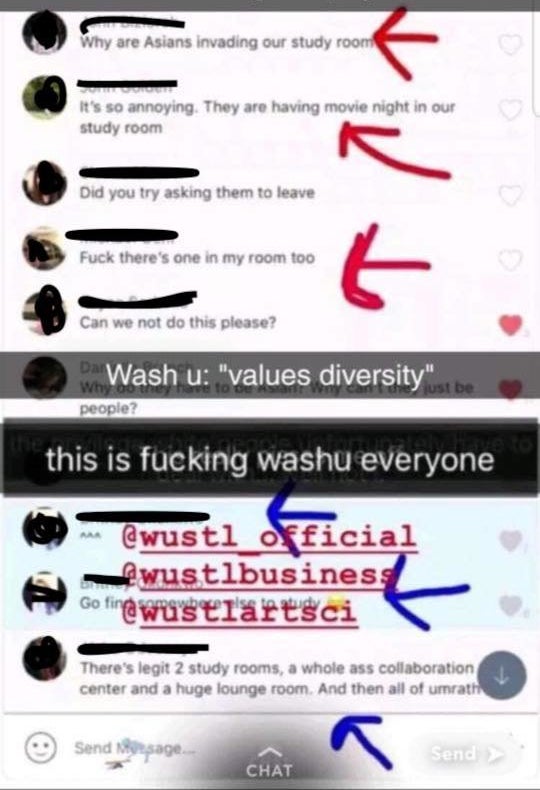 Seo told HuffPost that she was shocked by what she saw and "reacted strongly to the discriminatory language that was being used in the group chat," prompting her to post about the situation. She shared the screenshot on social media last week, and several students submitted bias reports to the university.
The research assistant said the school moved fairly swiftly, sending out emails addressing the incident shortly afterward and calling the comments "offensive and counter to our community values of diversity and inclusion." The email, signed by Lori S. White, Washington University's vice chancellor for student affairs, said the students responsible for the comments came forward, apologized "and are working to restore trust in their community." The school's Center for Diversity and Inclusion hosted events for students to air their thoughts on the issue.
In a statement provided to HuffPost, school officials said they were "disappointed to learn about the insensitive comments."
"We have worked with all students involved to facilitate opportunities for constructive dialogue so we can hold one another accountable and work to prevent something like this from happening again," the statement read. "This was an unfortunate incident, but one that we hope will give us an opportunity to listen, learn and become stronger as a community."
One of the students involved in the conversation apologized to Seo, and she said he appeared "extremely sorry" and "was not trying to offer any excuses about the situation." Though school officials tackled the incident fairly quickly, she said she wonders if the university will put forth efforts to further the conversation around racism against Asian-Americans.
"There have been several conversations that I've been in regarding America's general lack of care when it comes to Asian-American issues, coupled with white privilege and how that bleeds into our university," she said. "I am not certain what the next steps are for the administration, if there are any."
The concept of Asians "taking over" evokes an image of a foreign threat. And it's a not uncommon form of anti-Asian racism, Julie Park, an associate professor at the University of Maryland at College Park told Inside Higher Ed.
At the same time, she added, "Asian Americans are stereotyped as being more passive, which leads to the assumption that people can make these types of comments without Asian Americans pushing back, unfortunately."
Since the situation came to light, Seo has been encouraging Asian-American students to speak out about their experiences with discrimination. She has been collecting responses but is still figuring out how to present them.
"While this might end up as just a one-off project, I have always held the idea that doing something is better than nothing," she said. "We have been taught all of [our lives] to stay silent. Well, now it's our turn to speak."
Popular in the Community