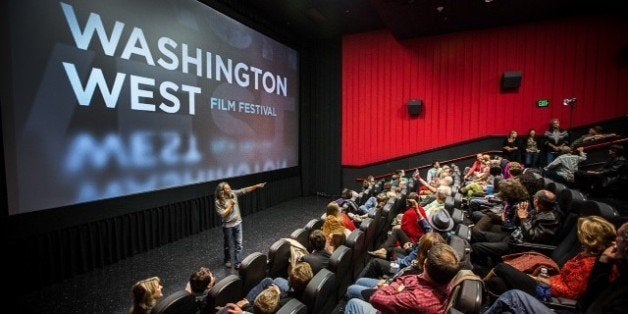 Films make us think... laugh... and sometimes cry. They are a pastime for many as we escape into a story. They are also educational, broadening our perspective and understanding of the world around us.
Films also mean money and jobs. Locally, the film industry provided more than 4,000 D.C. residents with employment, and another 13,700 in Virginia and 6,900 in Maryland, according to the Motion Picture Association of America. But those are a small portion of the more than 1.9 million jobs the industry supports nationwide.
So how do you attract more films and filmmakers to our region? One is being film friendly, making our local region an easy and attractive place to do business. For starts, D.C., Maryland and Virginia all have film offices set up to draw more movie productions. Another important way to make the region attractive is to cultivate an appreciation for film through film festivals -- which in turn fuel the film economic engine.
That's the goal of the third annual Washington West Film Festival, one of the most anticipated and fast-emerging film festivals in the country. The Northern Virginia-based festival -- taking place October 23-27 -- will be the venue for 41 screenings of new independent and Hollywood films for 2,000 filmgoers.
With its tagline -- "Story can Change the World" -- the festival features inspiring films that capture the human condition as part of its goal to turn the region into a true, attractive film market, including by these four local filmmakers:
· Rebekah Wingert-Jabi (VA), short documentary My Neighbourhood
· Bryan Reichhardt (MD) and Paul Glenshaw (VA), feature documentary Barnstorming
· Daniel Stine (VA), short documentary Grape
Last year, the festival screened films produced by Tom Hanks and HBO and hosted red carpet Q&A sessions with actress Julia Louis-Dreyfus and major motion picture director Tom Shadyac. This year, Tom Shadyac and Ed Asner are already committed. Also, in keeping with the festival's vision, all box office net proceeds are donated to a charity that then becomes the subject of a short film debuting at the festival.
The festival is anchored at the Reston Bow Tie Cinemas in the Reston Town Center but screenings will take place in a variety of other locations including the Angelika Film Center in Merrifield. A preview music event at the Artisphere with legendary film music composer W.G. Snuffy Waldenwill set the stage for a great festival, which opens with a screening of Living on One Dollar, a feature documentary that tells the story of four young friends who set out to live on just one dollar a day for eight weeks in rural Guatemala.
To start growing a younger fan base, the festival will host a family screening of Casper and costume party at Sherwood Community Center in Fairfax and show short films produced by George Mason students. Soon we will start offering filmmaking seminars too.
As the region seeks to diversify its economic base, it's through film that we can bring more Hollywood dollars to D.C. Our festival is a small but important step forward in shaping the region as a world class film hub by helping draw great film premieres, provide programs to develop artists and technicians in the film industry, create jobs, and use storytelling as a powerful engine for change and charity.