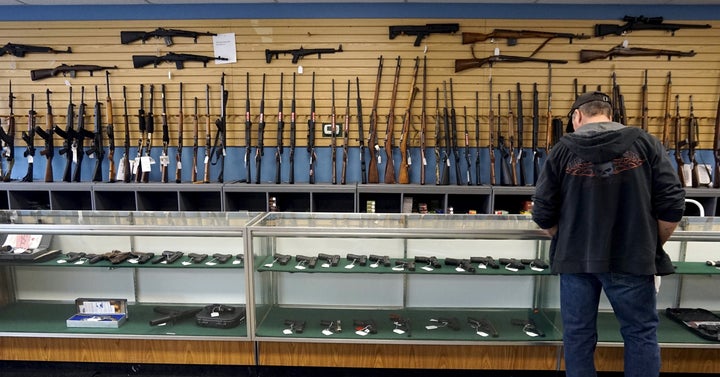 Washington just took a big step to protect survivors of domestic violence.
In the U.S. it's currently illegal for anyone who's been convicted of misdemeanor domestic violence or is under a protective order for domestic abuse to purchase or possess a firearm. Washington's new legislation will create a grant program that would help authorities conduct investigations into failed attempts to purchase firearms or when someone tries to buy a gun but fails the background check. These failed attempts are also known as "lie and try" attempts.
The new law only applies to victims whose abusers were convicted in court or have obtained a court-ordered restraining order. The victim's order will be registered to a "computer-based criminal intelligence information system available in Washington, used by law enforcement agencies to list outstanding warrants," according to the bill
The legislation requires gun dealers and store owners to alert the Washington Association of Sheriffs And Police Chiefs (WASPC) within five days of a "lie and try" attempt. WASPC must then notify the Washington State Patrol (WSP) and that sector is required to incorporate the failed attempt to buy a gun into the state's electronic database, which state law enforcement agencies can access.
The grant program will fund a statewide notification system that will alert any registered person when an abuser attempts to buy a firearm but fails the background check. The bill states that the notification system must allow a person to register using a toll-free phone number or a public website.
"Never before in this state has there been a requirement that when some knucklehead goes to try to buy a firearm and knows he shouldn't have a firearm, that there's some followup on that," Hansen said. "We want there to be follow up on that. We want there to be criminal consequences if you knowingly illegally try to purchase a firearm."
"The best person to assess an abuser's future dangerousness, as well as the lethality of the situation, is the victim."
According to a report from local news outlets KING 5 TV and Northwest News Network, there were over 3,000 "like and try" attempts in January and December 2016 in Washington alone. None of those attempts were ever investigated further.
Linda Seabrook, the General Counsel and Director of Legal Programs at Futures Without Violence, told HuffPost that this legislation can be life-changing for survivors.
"State and federal gun laws that prohibit an abuser's legal access to firearms, when enforced, are often enforced without the victim's input, and sometimes, without her knowledge or participation," Seabrook said. "Safety responses work better when victims are able to be part of the process, are informed, and are provided with some control."
Seabrook pointed out that victims are five times more likely to end up dead, if their abuser has access to a gun.
"The best person to assess an abuser's future dangerousness, as well as the lethality of the situation, is the victim," she said. "Knowledge is power and information is critical for her ability to assess her situation, and seek out assistance from a victim services professional to develop a plan for the safety and well-being of herself and her family."
Popular in the Community